Christine Quinn Clears Up Selling Sunset Contract Confusion With A Shady TikTok Comment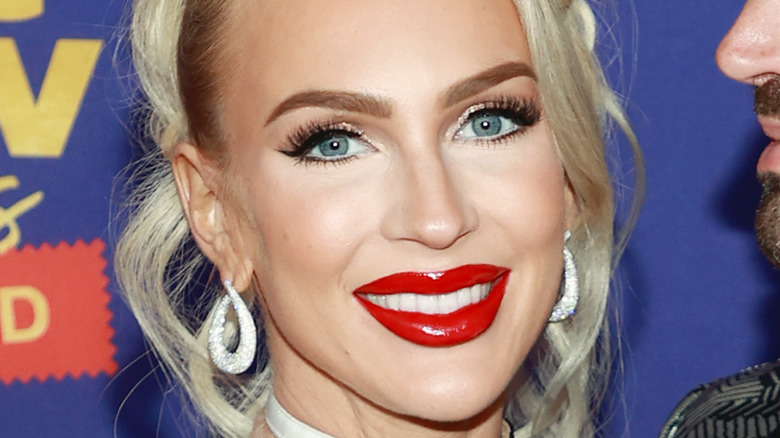 Matt Winkelmeyer/2021 Mtv Movie And Tv Awards/Getty Images
It's rare to have a reality TV character with quite as much star quality as Christine Quinn. Considering the fact that the model/actress has been ostracized by the entire cast of Netflix's "Selling Sunset" and gets significantly less screen time than the rest of them, it's mind-boggling to see how she still manages to commandeer the entire narrative. 
You simply cannot write a better mean girl with quick, witty clap backs. Christine turns being a villain into an art form. However, what began as simple catty coworker drama has escalated into something that looks a lot more like bullying, and who wears the bully hat really depends on which team you're on, per Elle. Whether you think Christine is the spawn of satan, or you're a firm supporter of the theory that Chrishell Stause is actually the show's true villain, you cannot deny the show's environment has become toxic, per Buzzfeed News.
Many fans (and the entire cast of the show itself) would argue that Christine is the source of negativity at The Oppenheim Group. After all, she is feuding with everyone except for newcomer Chelsea Lazkani at this point. But, for someone that is supposedly obsessed with bringing down her cast-mates, Christine is the only one taking action to separate herself from the show. But it looks like even her separation is being called into question. Well, Christine is here to clear things up in the shadiest way possible.
The story behind the shade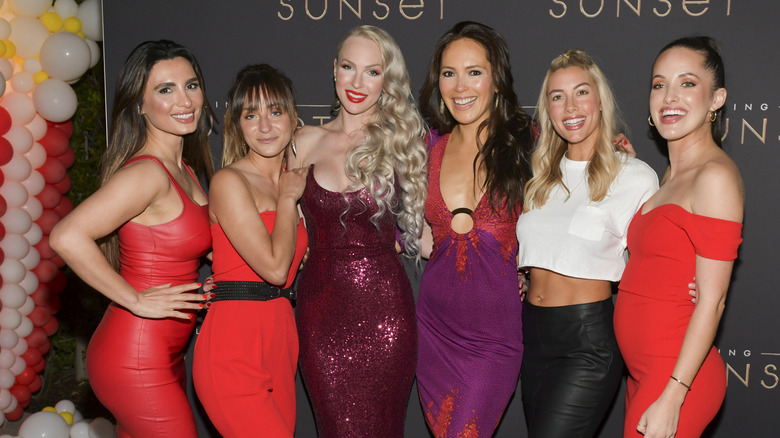 Rodin Eckenroth/Getty Images
 Over the past few seasons of Netflix's hit series "Selling Sunset," Christine Quinn has slowly but surely veered away from the group. While the show began with her at the helm of The Oppenheim Group as the social butterfly that ran the show, Christine has now become the outsider of the group. In fact, the outsider is generous — she's really everyone's nemesis and thrives on shading them right back. 
Season 5 of "Selling Sunset" showed an all-time low, as Christine continued to bicker with the group of women that had no intention of letting her back in and even managed to fault her for the kind gesture of sending flowers, per Meaww. 
After a season of low blows and clashes, fans were disappointed when Christine skipped the first-ever "Selling Sunset" reunion special due to a positive COVID-19 test, per TMZ. That didn't stop Chrishell Stause and Mary Fitzgerald from accusing her of lying and claiming she was running away from facing confrontation, per TMZ.
Well, present or not, the cast was still going to talk about all things, Christine. Even more so considering the fact that Christine's rep announced that she was leaving The Oppenheim Group, per Us Weekly. The source confirmed that "It was Christine's decision to leave the Oppenheim Group," and when her former boss tried to imply otherwise, she was quick to clear things up. 
Christine Quinn reminds Jason Oppenheim that she chose to leave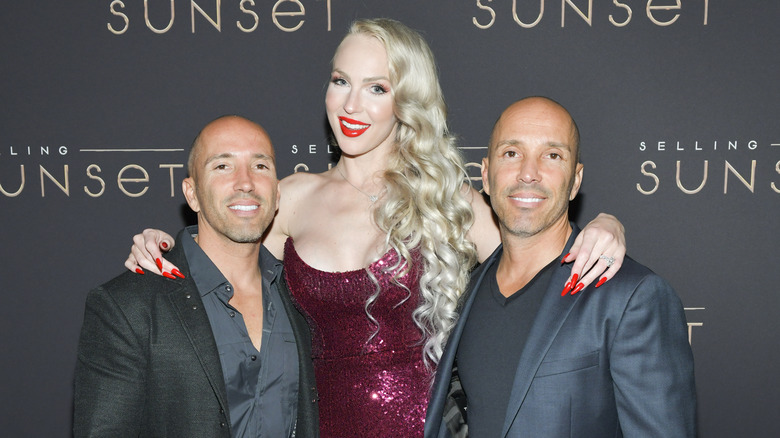 Rodin Eckenroth/Getty Images
 It came as no surprise to any true "Selling Sunset" fan that the ladies of The Oppenheim Group would use their entire hour allocated for the reunion special to bash their nemesis, Christine Quinn. There was a lot to unpack between Jason Oppenheim and Chrishell Stause's breakup and Chrishell's brand new Australian lover G Flip, per Netflix. But, after a season of rising tensions with Christine, her absence was a gaping hole. 
Since the cast was aware of Christine's exit from The Oppenheim Group they were questioned about it by "Queer Eye" star Tan France, per Netflix. While Emma Hernan took the opportunity to accuse Christine of bribing clients, the president and founder of The Oppenheim Group, Jason, made his feelings very clear, "Right now, there's not a place for her at the Oppenheim Group." Jason added, "Now, in the future, if she takes real estate seriously if I can get an understanding of her perspective on things ... there's a lot of reasons where I would consider her having a place at the Oppenheim Group." 
Christine is hardly one to watch from the sidelines in silence. So, when a TikTok appeared of the statement she immediately left a shady comment setting the record straight, "Of course there's no place for me. I terminated my contract weeks ago prior to filming. I have my own company now lol." No absence will stop Christine from saying her piece, and here's hoping for a drama and designer clothing-filled Christine spin-off.