How To Pull Inspiration From '80s Fashion For Summer 2022
Victoria Chudinova/Shutterstock
The hold that the 1980s has on fashion is impressive. Over the years, '80s fashion trends have slowly taken over the fashion industry, and have even become the star of many TikTok style influencers' videos. Layered tops, oversized jeans, and messy waves dominate the social sharing app's "80s" hashtag. 
'80s fashion was a time of comfort, dramatic shapes, silhouettes, and bold colors, reports Harper's Bazaar. In a survey conducted by The List, 22% of style lovers admitted their love of all things neon. The best part about this decade's stylebook is that it is easily replicated. Thrifting app Depop has steadily become a popular source for great vintage finds, per Time, though thrifters aren't too happy with the reselling app's marked-up prices. Whether you're repurposing older pieces from your closet or putting a modern spin on your favorite vintage trends, you're guaranteed to fall for a look that fits your aesthetic. Let the '80s transform your summer fit.
Style bodysuits and swimsuits for every occasion and destination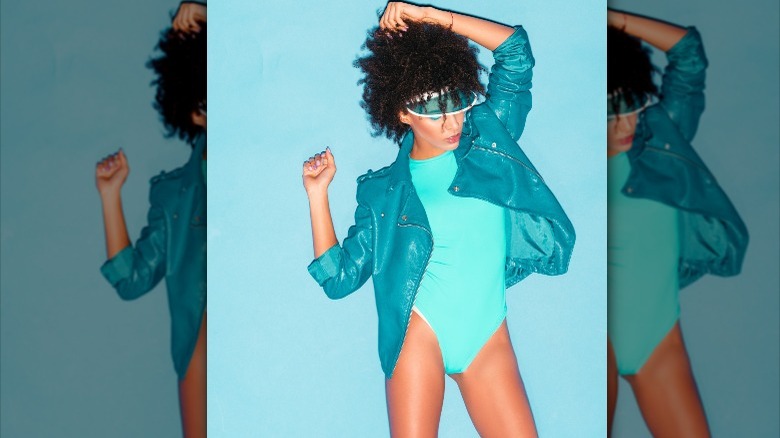 LightField Studios/Shutterstock
A good bodysuit can transform your closet. They can look intimidating at first — depending on the suit, mapping out bathroom breaks isn't always hassle-free — but they're worth it. Per Who What Wear, the right one will skim your curves and eliminate any misplaced lines in your clothing.
The Kardashians helped catapult this fashion trend. Hello! pointed out that Kim's shapewear line SKIMS has an entire collection dedicated to the figure-hugging clothing piece. Bodysuits are perfect for any occasion. Fashion designer and co-founder of JLUX Teresa Jaide shared her best bodysuit-styling tips with InStyle and recommended tucking it into your favorite trousers or a loose skirt.
If your summer plans involve catching rays on the beach, go bold with a high-cut swimsuit. This swimwear defined the '80s and was its own character on Baywatch. The Vou lists their smoothing capabilities as one reason why they belong in your beach bag.
Play around with different silhouettes this summer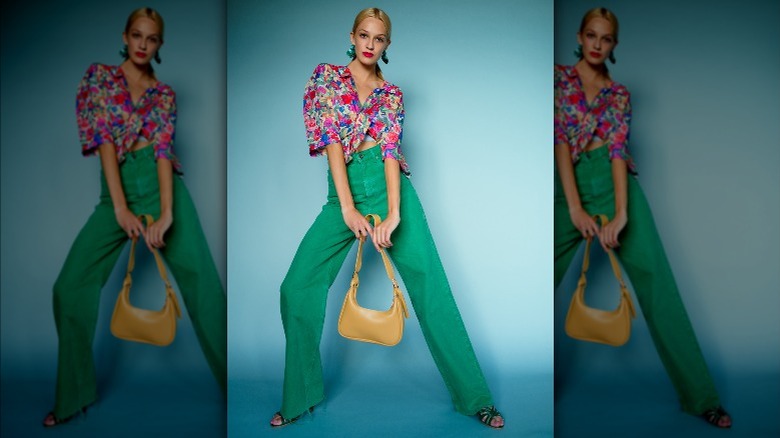 Victoria Chudinova/Shutterstock
Long live high-waisted jeans. This trendy cut has spilled from the runway to every style blogger's lookbook. High-waisted jeans are peak '80s and come in so many flattering styles, reports Style Rave. This summer, channel your inner Kendall Jenner and rock effortless white denim, per The Zoe Report.
If you're going for comfort, mom jeans have also become popular again and provide more than slack traditional denim. You can throw on a pair without having to worry about them being too tight. For those chilly summer nights, ribbed pants are making their rounds, per Refinery29.
Summer 2022 is all about testing out contrasting lengths. For those who are denim-adjacent, Style Rave recommends rocking a two-piece mini skirt set. The magic behind this outfit is two-fold: It will highlight your legs and give your look a more cohesive feel. It can also be worn in multiple combinations.