Where Do Game Shows Get Their Prize Money?
Byron Cohen/Getty Images
From "Family Feud" to "Who Wants To Be A Millionaire," game shows have captivated audiences for decades. Whether you're solving a puzzle, testing feats of strength, or recalling a fun fact from a fifth-grade science class, game shows give contestants an opportunity to show off their skills and win big. The hosts are great and the games are fun, but the real reason we watch a game show is to imagine ourselves winning that new car or the one million dollar prize money.
Game shows have actually been around before television — popular radio shows like "Professor Quiz" and "Ask-It Basket" would ask audience members questions and give the high scorer $25 — which was a lot of money in the 1930s (via Museum of Play). According to PBS, listeners loved the thrill of competition, and when broadcast television entered our homes in the 1950s, game shows were a staple genre of family entertainment. Nowadays, the games are harder, the stakes are higher, and the prize money can be life-changing. But, where do game shows get the money to give each winner stacks of cash?
Game show hosts make all the difference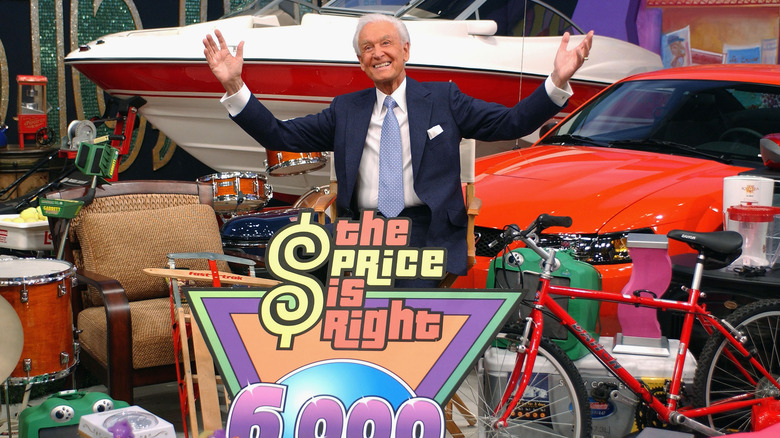 Amanda Edwards/Getty Images
Part of the reason we continue to love game shows is because of the hosts. According to PBS, "The Price Is Right," which began airing in 1956, is the longest-running daytime game show in North American television history. Its popularity was in no small part due to its beloved host, Bob Barker, who hosted the show for over 30 years. Drew Carrey has since stepped in as host and made the show his own, following Barker's own advice.
These days, lots of celebrities have hosted game shows, usually because they "bring immediate attention and recognition" to the show and establish a fan base (via PrimeTimer). But for some, they also bring a charm that takes the show from good to great. According to Screen Rant, big names like Jane Lynch, Dwayne Johnson, Wayne Brady, and Jamie Foxx have all hosted game shows at some point in their career.
Other hosts find their career within the game show — actress and comedian Nicole Byer comes to mind as an incredible host whose natural wit and personality made "Nailed It!" a worldwide success. In a recent interview with Daily Beast, she admits she was unsure at first, saying, "We have these people who don't know how to cook and a host who doesn't really know how to host." Now, Nicole has three Emmy nominations for outstanding host and stars on not one, but two game shows, recently joining John Cena as co-host of "Wipeout," per Deadline. 
Here's where gameshow money comes from
So, where is this prize money coming from? The short answer: game shows are fairly inexpensive to make and generate a lot of ad revenue. Forbes reports that "game shows only cost about $1 million per hour to produce." While this seems like a huge sum of money, it's only a fraction of what a TV drama would cost networks. And multiple episodes can be produced each day, making game shows easy for networks to produce while generating tons of money with each ad break.
One Reddit user explained, "Consider 'Who Wants to Be a Millionaire?' In a 30-minute show, there are probably about 3 competitors and time for about 14 30-second commercial spots. Each 30-second spot costs about $100,000, so that's $1.4 million right there without considering reruns or anything like that." Metro confirms that advertisers are the biggest contributors, and often sponsor prizes as further exposure for their product.
If you're wondering how much money you could possibly win on a game show, ask Brad Rutter, who has won $4.89 million. According to TV Insider, Rutter has appeared in 38 "Jeopardy!" episodes since 2000, making him one of the biggest winners in game show history. While most contestants don't end up winning the grand prize, it's so much fun to watch them play.