Here's What RuPaul Looks Like Going Makeup Free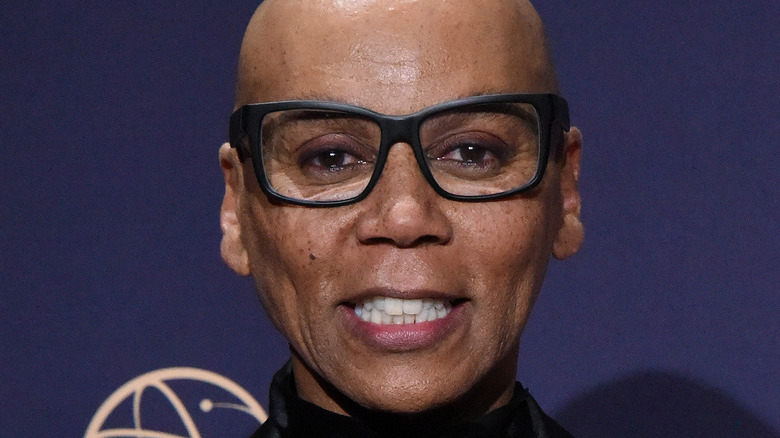 Kathy Hutchins/Shutterstock
RuPaul Charles has made history time and time again — over the course of his decades-long career, he has claimed titles such as accomplished singer, actor, author, Emmy-winning television host, and iconic drag queen (via rupaul.com). In 1993, RuPaul's release of the catchy pop anthem "Supermodel (You Better Work)" shocked and wowed the masses, paving the way for generations of drag performers and queer artists in mainstream media, noted The Echo. These days, RuPaul is the creator and host of the reality competition series "RuPaul's Drag Race", where he is regarded as the most famous drag queen in America, according to Advocate. RuPaul made history yet again in 2021, becoming the most awarded person of color in Emmy history with 11 wins (via CNN).
We love RuPaul for his hilarious coined phrases, his long repertoire of dance anthems, and his stunning looks that grace the runway of "RuPaul's Drag Race" week after week. Note, our current obsession is the newest season of "RuPaul's Drag Race All-Stars." But with or without the makeup, wigs, and glamorous gowns, RuPaul preaches the message of self-love and acceptance.
RuPaul's freckles on full display without a drop of makeup
RuPaul's iconic paint is award-winning. According to The Wrap, Drag Race alum and RuPaul's current makeup artist Raven won an Emmy in 2020 for Outstanding Makeup in a Multi-Camera Series (Non-Prosthetic) category. But even without the magic of makeup, RuPaul is looking fresh-faced and flawless. Allure posted a photo of the drag queen's makeup-free mug, taken from a TikTok RuPaul posted back in October 2021.
While RuPaul is recognizable with or without makeup, we did not expect those freckle-covered cheeks! RuPaul's fresh face shows off the field of freckles that decorate his perfectly defined cheekbones ever so elegantly. Obviously, we need to know what has kept RuPaul fresh-faced and wrinkle-free all these years. Luckily, The Strategist got the scoop on some of the TV host's favorite things, including essential oils and Le Mieux Hyaluronic Serum. RuPaul swears by the hydrating formula, saying, "Your skin drinks it in. It's fabulous," per The Strategist. Adding to our Amazon wish list ASAP!
How RuPaul's legacy has impacted a generation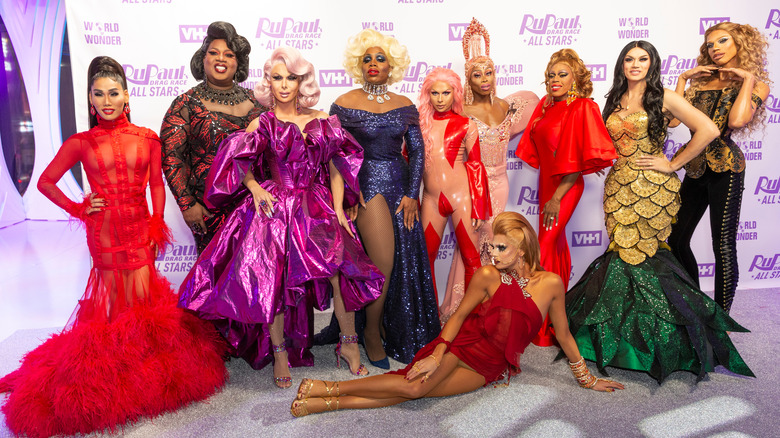 lev radin/Shutterstock
"RuPaul's Drag Race" first aired in 2009, running for 14 seasons and counting, with spin-offs like "RuPaul's Drag Race: All-Stars" and international branches of the drag race family. It combines fashion, art, music, and all elements of drag performance in a reality competition setting, truly unlike anything previously seen on television. According to Vanity Fair it "introduced — and, in turn, redefined — an entire art form to the global general public." 
RuPaul's show has created a platform that has lifted the careers of over 200 drag performers, creating a "new path to stardom" for queer artists, according to Queerty. Some drag race alumni have expanded beyond the "Drag Race" franchise, finding huge success in modeling, music, movies, and television. Out reports that Trixie Mattel, season 3 winner of "RuPaul's Drag Race: All-Stars", has recently become a real estate mogul, opening Trixie Motel in Palm Springs, CA following her career as a drag performer, country singer, and TV personality.
RuPaul ushered drag, queer art, and culture into the mainstream, shining a light on the LGBTQ+ community. Generations of queer people and allies alike enjoy the "Drag Race" franchise, finding a chosen family amongst the masses of fans at DragCon. Makeup or no makeup, gay or straight, RuPaul says it best, "We're all born naked, and the rest is drag!" Amen to that, Ru!