Over 30% Of People Prefer This Classic Style For Their Bangs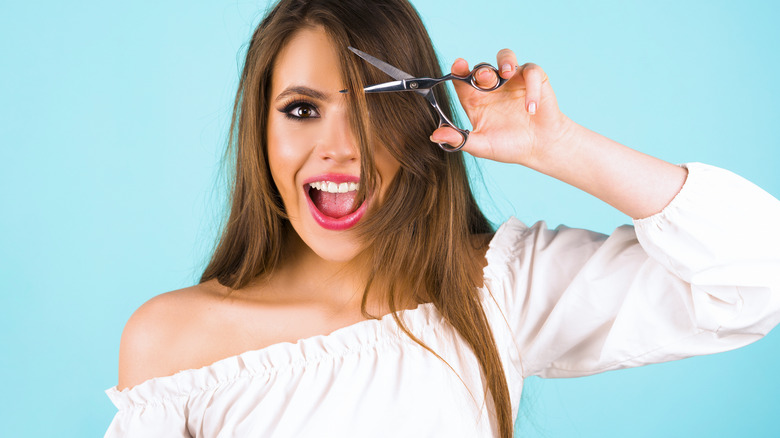 Puppy 9/Shutterstock
When you hear the phrase, "I needed a change," it often means your bestie just came from the salon and is about to show you that she cut her bangs. Getting bangs, or "fringe" as they call them across the pond, is a small hairstyle change that frames a person's face (via Zala). Let's face it, who hasn't thought about cutting their own bangs? The "Gone Girl" style transformation is so tempting, especially when you're going through that post-breakup glow-up. Luckily, you don't need a broken heart to rock the iconic style, but before you grab the scissors, it's important to decide which type of bangs are best suited for you. Ask yourself which style will flatter your face shape and how much time you want to spend each morning maintaining your new hairstyle. With all the different ways to wear your bangs, we were curious to find out which style is totally in, and which we are leaving behind.
The List conducted a survey asking 573 people, "Which style of bangs do you prefer?" The top choice has us ready to call our stylist . . . we need a change!
The most popular bangs you'll see this summer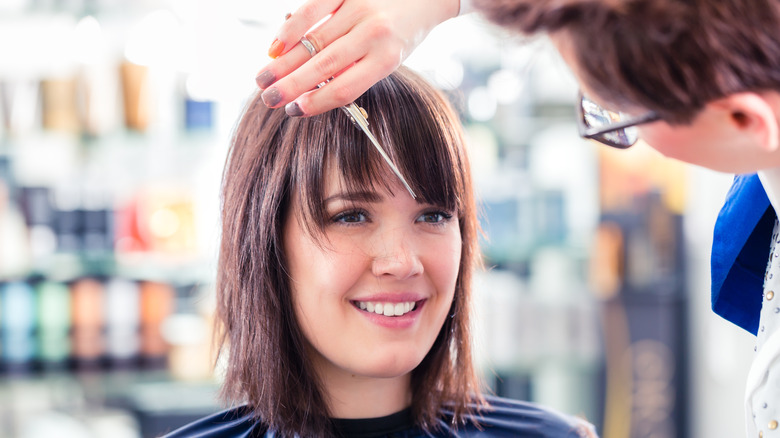 Kzenon/Shutterstock
What comes to mind when you imagine yourself with bangs? Do you prefer classic blunt bangs that hide your forehead or subtle curtain bangs that tickle your cheekbones? According to The List's survey, one style seems to be getting the most love as this summer's hottest hair trend: side-swept bangs. With 30.37% of the vote, side-swept bangs are the top choice when you want your bangs slightly longer to perfectly frame your face. Feathered bangs came in second place with nearly 22% of the vote, a textured style that can be worn parted or right down the middle, according to Good Housekeeping. Another 21.99% of people surprisingly opted out of any bangs at all — we get it, they aren't for everyone. 13.79% of people claimed the classic straight and blunt bang as their style of choice, while 11.87% were swayed by the effortless look of a curtain bang, a style featuring a middle part and feathered fringe pieces (via Glamour).
Not all banged hairstyles fit every person's aesthetic; factors like your face shape and the length and texture of your hair can all determine the right choice for you. But with all the possibilities bangs bring, there's a perfect style out there for everyone.
A short history on the short hairstyle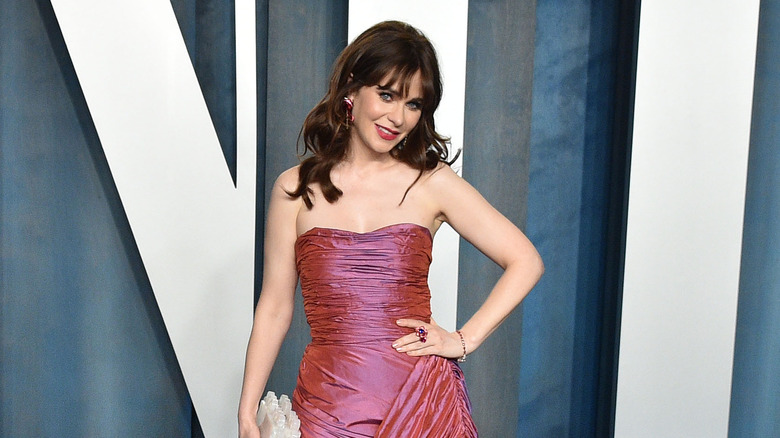 Lionel Hahn/Getty Images
Today, bangs might get a bad rap as the symbol of impulsive decisions, but the history of the bangs hairstyle might actually date back over a thousand years. Bustle credits Joan of Arc and Cleopatra as the "original pioneers of bangs." According to Paramount Beauty, a musician named Ziryab introduced the style to medieval Spain, possibly taking inspiration from the ancient Egyptians. The trendsetting style has only grown in popularity and can be seen all throughout history. Vice reports that around the 1920s bangs were all the rage; women would dress up in glamorous beaded dresses and show off their blunt bangs and bobbed hairstyle. From Jen Aniston's iconic layered bangs of the 90s to Zooey Deschanel's quirky blunt bangs, celebrities and fashion icons have provided banged-style inspiration for decades.
Bangs have been swept to the side, curled, dyed, and styled in every way you could imagine, and are not exclusive to women: iconic men throughout history have pulled off a blunt bang or a side swept fringe as their iconic look. Per Refinery 29, what do Andrew Garfield, Leonardo DiCaprio, Justin Bieber, and Post Malone all have in common? They have all rocked a bang hairdo, and looked great doing it!
So next time you find yourself wondering if the seemingly drastic hairstyle change is right for you, take this as your sign: anyone can pull off bangs. And remember, 30% of people agree that side swept is totally in right now.