How Kate Middleton's Commonwealth Games Outfit Gave A Subtle Nod To Princess Charlotte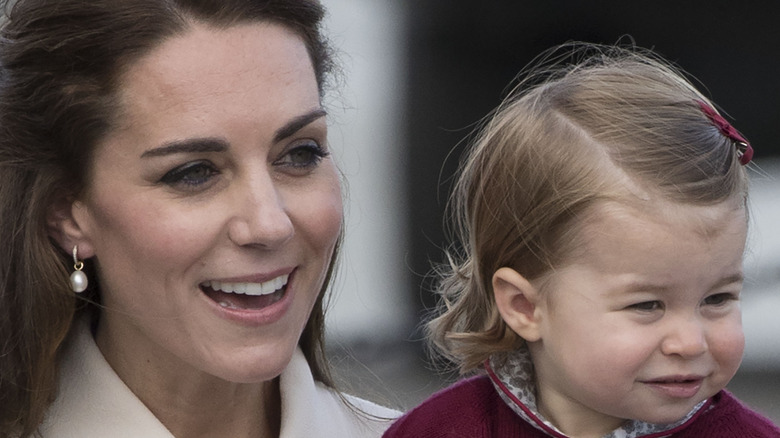 Pool/Getty Images
The Commonwealth Games — also called the "Friendly Games" — have been around since the 1930s, according to Topend Sports. While the first game, which was held in Ontario, involved 11 countries and hundreds of athletes, 72 nations will compete in 2022, according to the Evening Standard. The games inspire intense emotions in the fans who follow along — even royal spectators like Princess Charlotte, who made headlines for her funny facial expressions. That also includes Charlotte's mother Kate Middleton, the Duchess of Cambridge.
As a part of the royal family, Kate somehow always manages to look fabulous. The duchess is known for timeless prints and colors, which she pairs with elegant accessories. She has even taken a more sustainable approach to fashion, choosing to repeat even famous outfits for multiple appearances. Her latest appearance at the Commonwealth Games reveals the habit of recycling clothes and accessories is still in style for the future queen. 
She has done it again, and this time she honored her daughter in a subtle but sweet way.
Kate wore jewels from Princess Charlotte's christening for the Commonwealth Games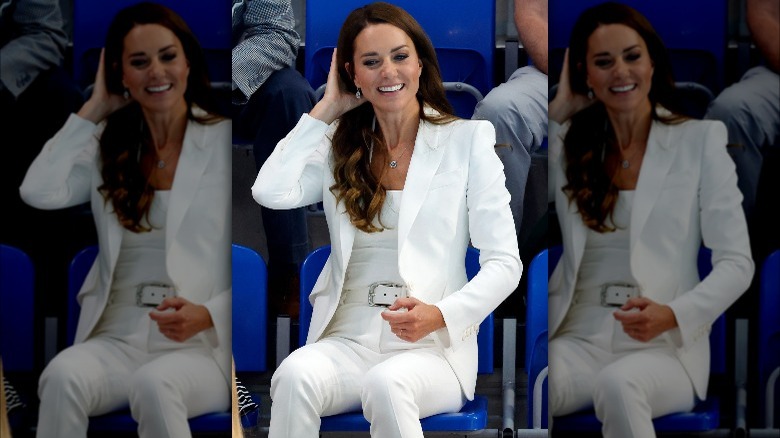 Max Mumby/indigo
Kate Middleton, the Duchess of Cambridge was spotted at the games wearing the same Maupin and Web jewels that she wore at her daughter's christening in 2015, according to the Daily Mail. Princess Charlotte's christening paid tribute to centuries of royal tradition and welcomed Prince William and Kate's only daughter into Sandringham's St. Mary Magdalene church. But that was seven years ago, and the young princess has now made her first solo appearance without either of her brothers Prince George or Prince Louis alongside her, according to Town and Country. The solo outing comes after a surprise video of Princess Charlotte alongside Prince William.
Kate's jeweled necklace and earrings paired well with her white suit and blown-out hair, keeping even a casual sports look elevated to her usual royal level. The outing at the Commonwealth Games marks a stepping stone in Princess Charlotte's public life, and it seems that her mother was sentimental in her outfit choice to mark the occasion.