Princess Diana's Friend Claims Harry's Memoir May Affect One Royal In Particular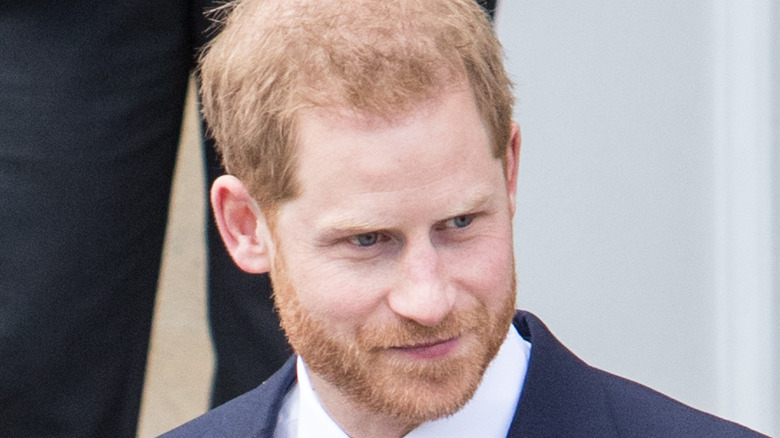 Mr Pics/Shutterstock
Prince Harry's upcoming memoir has been a source of royal angst and nervous speculation since he announced the book in July 2021. In Penguin Random House's press release, the Duke of Sussex promises readers "a firsthand account of my life that's accurate and wholly truthful." The announcement was only a few months after Harry and Meghan Markle's tell-all interview with Oprah, and the royal family started preparing themselves for another shake up. "There is a now tsunami of fear among the royals over what Harry will write," a source told the Mirror.
While reports of the book's delay may have caused some royal family members to breathe a sigh of relief, later developments revealed the memoir's publication date to be right on track, just in time to hit shelves for the holidays — and raise royal stress levels.
With excerpts of the book still out of sight, "There is considerable anxiety in Buckingham Palace circles that Harry, 37, will use the memoir to settle perceived scores with family members and senior courtiers," writes columnist Richard Kay in the Daily Mail. Due to Harry's close relationship with Queen Elizabeth, multiple sources feel the monarch is safe from harsh words in the memoir. "Harry's not going to go after the queen, she's sacrosanct," royal author Tina Brown told The Telegraph. However, other royals are feeling far less secure — especially one person who is particularly close to the crown. 
Prince Harry may target Camilla in his book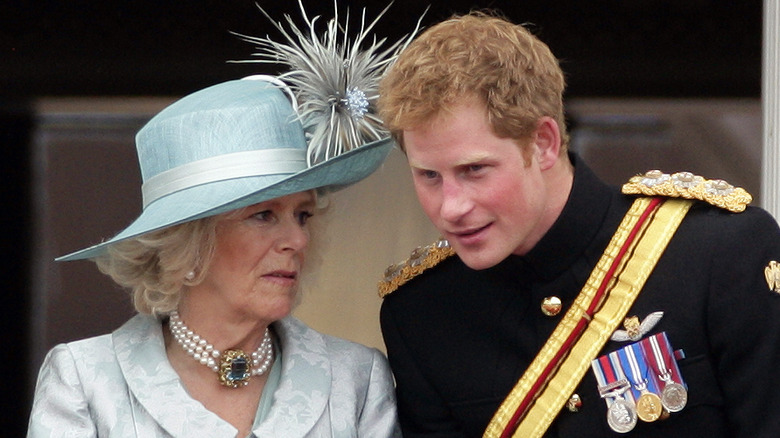 Max Mumby/indigo/Getty Images
Back in 2017, Prince Harry spoke at length to friends of the late Princess Diana. The Duke of Sussex was on a quest to learn more about his mother and the events that resulted in her divorce from Prince Charles. One of these friends spoke about their conversation with Daily Mail journalist Richard Kay. "It was pretty clear that [Harry] did not have a high opinion of [Camilla]," Diana's friend recalled. "He wasn't very complimentary about her and I very much doubt he forgot what we talked about that day."
It is possible that this conversation could play a role in Harry's memoir. While a 21-year-old Harry claimed he "loved [Camilla]to bits" in 2005, per the Mirror, his enthusiasm appears to have diminished with time. "I think Harry was quite happy to accept Camilla in the beginning but then went off the boil about her and I don't think he holds her in great respect," royal author Ingrid Seward said on the Mirror's "Pod Save the Queen."
Harry's silence when Queen Elizabeth announced Camilla as the future queen consort also seemed to imply doom. "Harry is fiercely loyal and protective of his late mother and her legacy, and didn't approve of Camilla sweeping in as the great love of his father's life," a royal source told The Sun. "He might publicly blame Camilla for much of what he believes went wrong in his childhood, and the trauma the whole situation caused."
Camilla has experience weathering media storms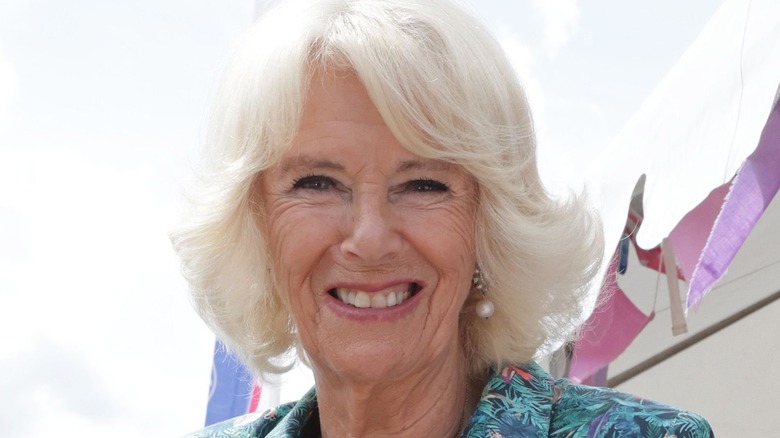 Chris Jackson/Getty Images
Negative accounts of Camilla Parker Bowles could impact her popularity in the United States, notes royal expert Lee Cohen. While Cohen feels the Duchess of Cornwall is "a very admirable person" and "an asset to Britain," he told Express that the late Princess Diana remains a very popular and sympathetic figure in the United States. "I think if Harry does some kind of frontal attack, Americans are not likely to warm to her," Cohen asserted. 
Conversely, in the U.K., an attack on Camilla could backfire. The Telegraph notes that Queen Elizabeth's declaration of Camilla as future queen consort is a powerful endorsement denoting the monarch's respect.
If Camilla is targeted harshly in Prince Harry's memoir, it won't be the first time she has endured negative press. "I was scrutinized for such a long time that you just have to find a way to live with it," the Duchess of Cornwall told British Vogue on the eve of her milestone 75th birthday. "Nobody likes to be looked at all the time and, you know, criticized," she said. "But I think in the end, I sort of rise above it and get on with it. You've got to get on with life."
Typical royal reaction is "dignified silence," according to royal commentator Jonathan Sacerdoti, per Express.  However, where necessary, royal protocol is broken and "they will react publicly if they feel they must," Sacerdoti says, citing a royal statement released after Harry and Meghan Markle's bombshell Oprah interview.