Royals Who Stunned In Pretty Pink Looks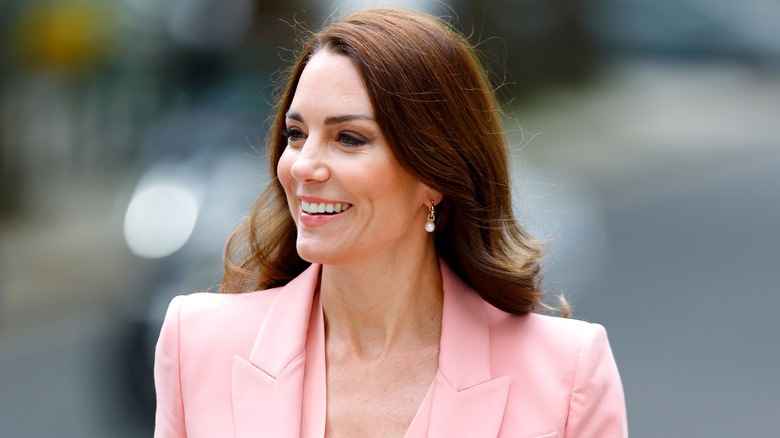 Max Mumby/indigo/Getty Images
In case you haven't noticed, the color pink is having a major moment, thanks in no small part to Greta Gerwig bringing "Barbie" to life on the big screen. But while the movie's hype may have escalated things quickly, the trend dubbed "Barbiecore" has actually been gaining momentum since Valentino's Fall/Winter runway show in 2022, where models heated up the Paris catwalk in hot pink couture.
Since then, stars have been embracing the look faster than you can say, "Hi, Ken," stepping out in punchy, playful pink from head to toe. Perhaps it's because of the message the color conveys. "People feel more empowered to wear more daring shades of pink rather than that muted millennial pink shades that we had embraced before," fashion executive CeCe Vu told USA Today. "It's more of a statement showcasing feminine strength."
For the royals, however, the trend is just another day at the office. For decades, queens, princesses, and duchesses have understood and embraced the power of pink. From blush to bubblegum and, yes, even Barbie pink, this color has factored heavily into the fashions of many members of the monarchy over the years, and it shows no signs of slowing down because trend or no trend, the royals always look pretty in pink. 
Princess Diana commanded attention in a soft pink Versace number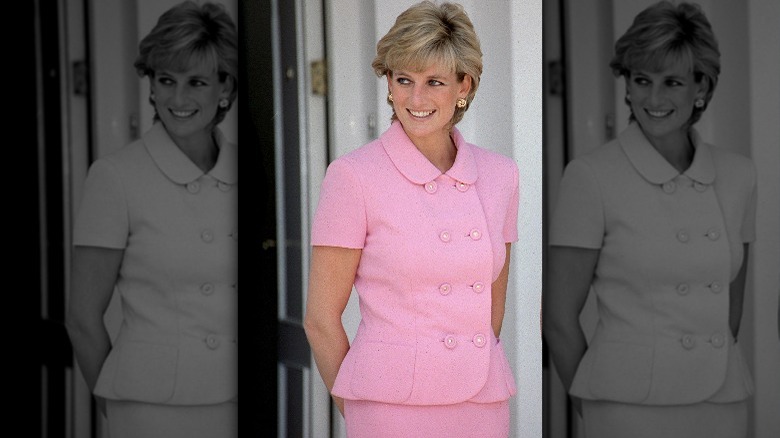 Tim Graham/Getty Images
Was there ever a more colorful royal than Princess Diana? Like a scene from "The Wizard of Oz," the moment she appeared in the public's consciousness, it was like Britain went from black and white to technicolor. A mere 19 years old when she became engaged to England's future king, Diana displayed her youthful exuberance in her wardrobe choices (which, we might add, have only gotten better with age).
Pink was a perennial favorite of the late princess. She even started her life as a royal in the flattering shade, changing into an ankle-length blush "honeymoon" dress and matching short-sleeved jacket by Bellville Sassoon after her wedding ceremony. 
Over the years, Diana was often seen in shades of pink, including a simple yet stunning double-breasted skirt suit by Gianni Versace, with whom she was close friends. Perhaps her apparent love of this soft color added to the public perception of her as kind, approachable, and warm — qualities that appeared in stark contrast to the royal family's notoriously stoic demeanor.
Princess Catherine rocked a pink power suit
Karwai Tang/Getty & Max Mumby/indigo
The red suit once reigned supreme, but the Princess of Wales took a softer approach to power dressing for an appearance at the Foundling Museum in London. Looking pretty in pink in a two-piece pantsuit from one of her go-to designers, Alexander McQueen, the princess went all out, pairing the suit with a shirt in the same color. She broke up the monochromatic look with a white Camilla Elphick belt featuring a statement pearl buckle, pearl earrings from Maria Black, and white heels. 
If you think this look seems familiar, you're right. True to her royal reputation for repetition, the princess was photographed wearing this exact same suit back in 2022 when she hosted her first roundtable with British politicians to speak about her Royal Foundation Centre for Early Childhood. For that meeting, Catherine kept it low-key with a white top and rose-colored heels. According to Color Psychology, pink symbolizes "vulnerability and youth." Who knows, perhaps that's why the princess keeps choosing it to promote her ongoing work with young children. 
Queen Elizabeth embraced a bubblegum pink ensemble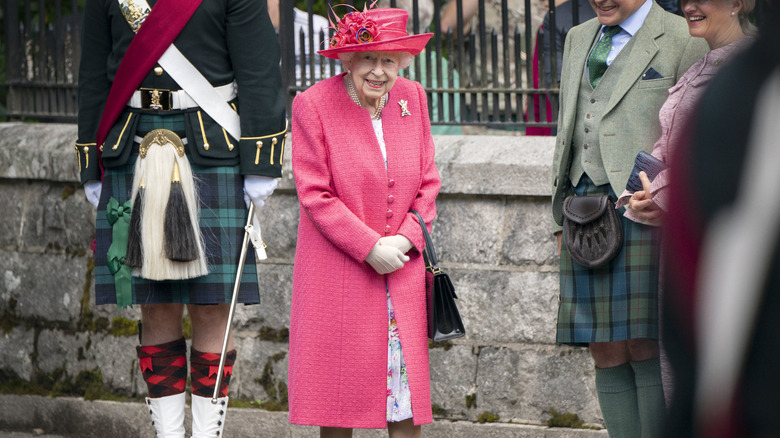 Wpa Pool/Getty Images
It's hard to think of Queen Elizabeth II without picturing her in one of her brightly colored ensembles. In fact, one can't help but imagine that the inside of her closet resembled a box of Crayolas. She often favored matching head-to-toe statements and didn't shy away from shades of pink — like the bubblegum coat and matching hat she wore when arriving for her annual stay at Balmoral Castle in 2021. Accented by a stunning brooch and a multi-strand pearl necklace and earrings, the queen looked rosy, radiant, and ready to enjoy her summer break. 
The queen made a big impression everywhere she went — yet, at the time of her death in 2022, she reportedly only stood at 5 feet, 3 inches tall. Her petite frame is one of the reasons the queen favored bright, colorful clothing."She needs to stand out for people to be able to say 'I saw the Queen,'" Sophie, Countess of Wessex revealed as part of the Smithsonian Channel documentary "The Queen at 90." "Don't forget that when she turns up somewhere, the crowds are two, three, four, 10, 15 deep, and someone wants to be able to say they saw a bit of the Queen's hat as she went past."
Meghan suited up in pink for a Lakers game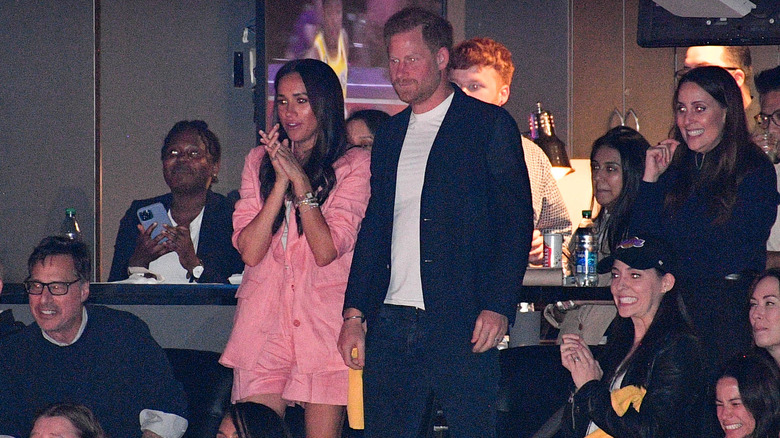 Allen Berezovsky/Getty Images
There's no denying that Meghan Markle knows how to make headlines, but in April 2023 the California girl was noticed for scoring two of the season's hottest trends in one when she accompanied her husband, Prince Harry, to a Lakers game. The duchess turned heads in a pink linen short suit by Staud that featured a structured two-button blazer with pockets. She pumped up the pink chic with a white tank, heels from Aquazurra, and a Prada bag. With her hair long and loose, Meghan looked fresh and feminine as she enjoyed the game beside her handsome prince.
While stylist Tavia Sharp told The U.S. Sun that Meghan's outfit "would've been more suitable for a high-end polo match or a posh daytime event outside," many (us included) loved the getup. "She looks glamorous," one fan said of the suit on Instagram. Another chimed in on an Instagram photo of the duchess, "I went out and bought a bunch of chic bubble gum pink pieces today. Markle Effect is real!
Queen Camilla has re-worn a subtly pink coat dress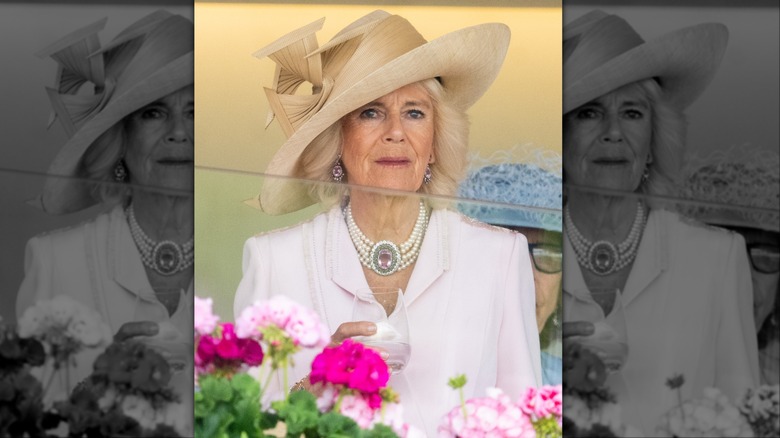 Samir Hussein/Getty
Before becoming the wife of King Charles III, it is safe to say that Camilla, Queen Consort, rarely made favorable fashion headlines. In fact, the Daily Mail once referred to her as a "frumpy country housewife." Camilla has since stepped up her sartorial game. 
At the 2023 Royal Ascot, she appeared in a beautiful soft pink Anna Valentine coat dress paired with a stunning pearl choker set with a dazzling pink brooch. Camilla first wore this dress when she attended the 2018 nuptials of the Duke and Duchess of Sussex., albeit with a fancier hat.
Camilla is by no means the only member of the royal family who recycles her outfits. In fact, she may have taken her cue from Catherine, Princess of Wales, who famously wears her royal looks on repeat. But some wondered if perhaps this choice was more intentional, especially as it came on the heels of a Dior dress worn by Camilla on the previous day that some interpreted as a subtle dig at the duchess. Why? Because Meghan Markle was said to be negotiating a lucrative deal with Dior that didn't pan out. Only the queen consort knows for sure, but it does appear that she had the Sussex family on the brain. 
Sophie, Duchess of Edinburgh, welcomed spring in pink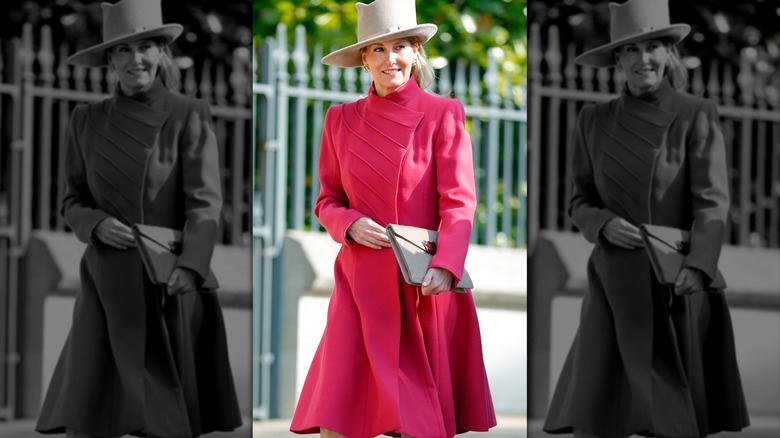 Max Mumby/indigo
A bright pink coat dress in spring might not necessarily be groundbreaking, but when it's the Evie coat dress from Catherine Walker it really is something special. Sophie, Duchess of Edinburgh, seems to agree since she has worn the pleated front coat dress to not one but two Easter Sunday services at Windsor. The first was in 2012, when she paired it with a light hat and heels for the ultimate springtime chic look. More recently, in 2023, she accessorized her Easter Sunday style with gray boots and a Philip Treacy hat that some deemed a misstep for the duchess. The Twitterverse came alive with comments about the ensemble, frequently comparing her to the Mad Hatter from "Alice in Wonderland."
Hat aside, there's no denying that the color and cut of the coat dress is royally on-trend. It doesn't hurt that the designer of the dress was a favorite of Princess Diana's. Although Walker died in 2012, her designs are still a go-to for the royals.
Princess Catherine dazzled in pink sparkles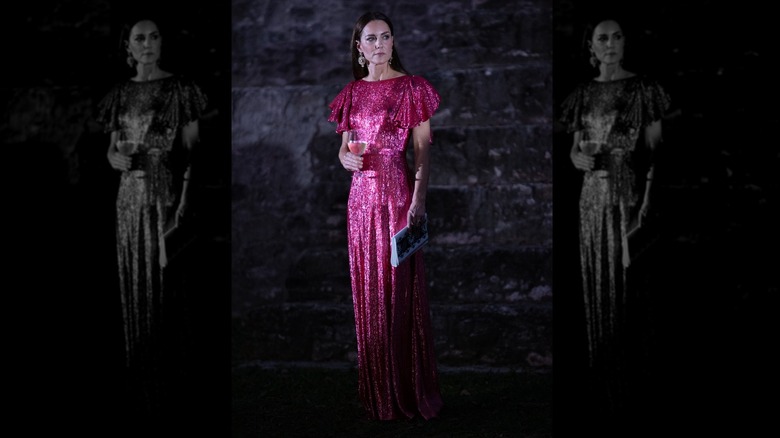 Pool/samir Hussein
Princess Catherine always shines, but she royally sparkled in a hot pink gown from The Vampire's Wife, a British brand by designer and former model Susie Cave that Vogue called a "cool-girl favorite" thanks to its fan club that reads like a who's who of Hollywood. The princess stepped out in the figure-flattering gown with its fluttery capped sleeves while attending a reception in Belize to celebrate the Queen's Platinum Jubilee during a 2022 Caribbean tour.  
The dress may have seemed like a departure for Catherine, who has sometimes been called out for dressing too conservatively, but those in the know may recall that she famously wore the designer's Falconetti gown in a shimmering shamrock green while touring Ireland in 2020. She apparently loved the emerald dress so much that she immortalized it by wearing it for her first official joint portrait with Prince William, unveiled in 2022.
Bethan Holt, fashion news and features director of The Telegraph, says the fashion-forward gowns are all part of the evolution of the princess, telling Grazia, "Kate was very careful not to embrace trends too much at the start because she didn't want to be seen as a fashion plate as Diana had been. But now she's become completely her own woman and can wear edgier labels like Vampire's Wife to her heart's content — hurray!"
Meghan Markle stunned in a pale shade of pink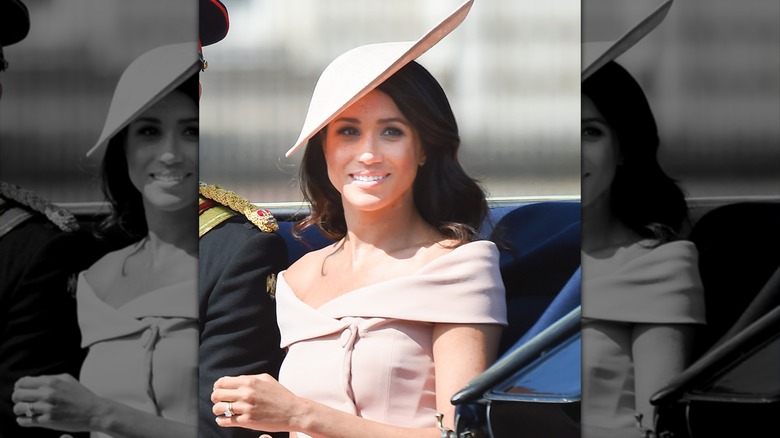 Samir Hussein/Getty Images
In her first official appearance since becoming the Duchess of Sussex, Meghan Markle attended the 2018 Trooping the Colour in an off-the-shoulder Carolina Herrera ensemble. Her choice of the demure pink shade seemed to convey a message that the duchess, who was already weathering hits from the press, was feminine, delicate, and a proper lady.
Unfortunately, though, some criticized her for daring to bare too much skin for the occasion. Trooping the Colour is a tradition that celebrates the monarch's official royal birthday. Like any royal event, it comes complete with a set of rules the royals must follow, including a traditionally conservative dress code. However, off-the-shoulder dresses like the one worn by Meghan, are not expressly forbidden. 
"There was nothing offensive about her outfit," royal expert Victoria Arbiter told Town & Country. "Last year Princess Eugenie wore a sleeveless dress. In the past, Sophie Countess of Wessex has worn a dress that didn't quite go off the shoulder, but it was rather revealing on the top. There are no set rules, other than being dressed appropriately for the occasion, which Meghan was." The expert continued, saying, "I think she looked rather lovely."
Beatrice glowed in a pink dress with an especially sentimental name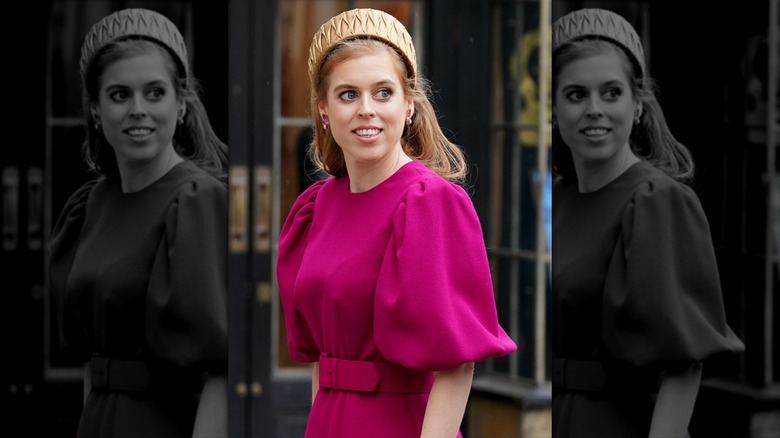 Wpa Pool/Getty Images
Princess Beatrice is perhaps best known for her love of over-the-top headpieces, but at the coronation of her uncle, King Charles III, it was her pink dress by Beulah London that stole the show. The perfect combination of timeless elegance and a trendy color, the understated midi dress featured puff sleeves and a waist-snatching belt that accentuated Beatrice's figure. The princess kept the rest of her look equally simple and stylish with nude heels, a gold bag, and a coordinating headband. The most important detail of her look, however, was one you couldn't see — and it had a special significance. 
The princess' dress, known as the Sienna, shares the same name as Beatrice's then 18-month-old-daughter. Sienna Mapelli Mozzi was not at the coronation with her parents in person, but she was there in name. While we can't say for sure if this was coincidental or purposeful, we love it all the same. 
Princess Margaret partied in pink at the White House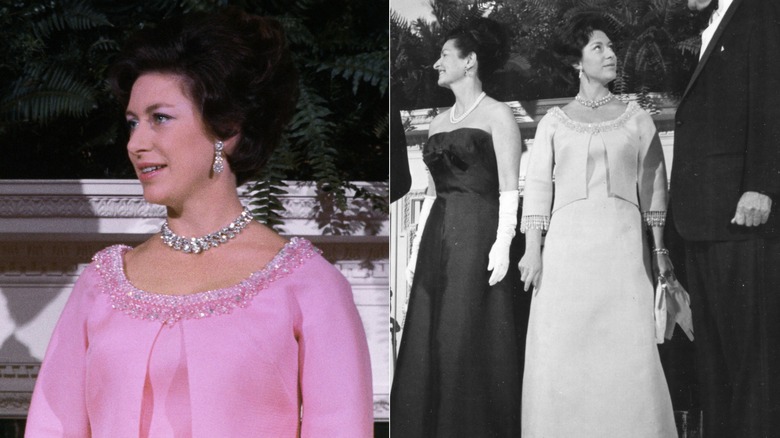 Photoquest/Getty & Bettmann/Getty Images
It was a pink political party at the White House when Princess Margaret and her husband, Lord Snowden, attended a dinner dance hosted by President Lyndon B. Johnson. But don't let the floor-length pink gown, bejeweled jacket, and diamond jewelry fool you. The younger sister of Queen Elizabeth II had a famously wild streak and loved to stir things up — even on the night in question when she reportedly danced, drank, and smoked with President Johnson and his guests until 1:45 a.m.  In fact, the only thing that could hold a candle to her reputation as a wild child was her reputation as a style icon. 
Cassie Davies-Strodder, curator of the Fashion Rules exhibition at Kensington Palace, told Grazia, "Margaret was a distinctive fashion icon because she was so glamorous – with all the beauty of a Hollywood film star, she brought a new kind of style of the Royal Family." Often characterized by fit and flare dresses and bold accessories, Margaret's was all about sophisticated and unabashed glam. While she may have taken a back seat to her big sis, Margaret was clearly the star of her own show.
Princess Charlotte looks precious in pink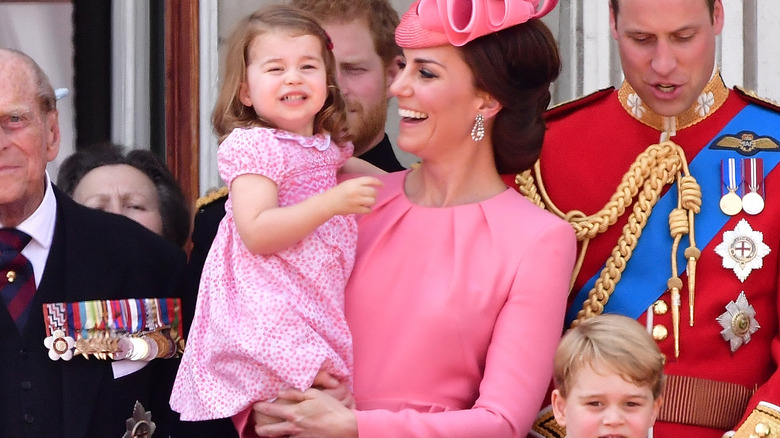 James Devaney/Getty Images
When your mother is Princess Catherine and your grandmother is Princess Diana, a flair for fashion runs in your royal genes. Such is the case with Princess Charlotte, who apparently has had strong opinions on her clothing since the ripe old age of two.
According to Vogue, during a 2017 visit to Hornsey Road Children's Center in London, the princess had a brief chat with a six-year-old and shared that pink was her toddler's favorite color. Perhaps that explains why both princesses wore pink to view the Trooping the Colour parade that same year. Prince William later confirmed his daughter's passion for all things pink when he received a gift of three monogrammed bags, one for each child, from Liverpool's Leather Satchel Company while visiting the International Business Festival in 2018. Charlotte's, of course, was pink. As Marie Claire reported, the prince told designers Keith and Gail Hanshaw, "Charlotte will be obsessed with that — I'll never be able to get it off her."  
While we can't say for certain if Charlotte, who turned 8 years old in May 2023, is still partial to pink, we can say that she shows great promise when it comes to following in her mother and grandmother's fashionable footsteps. 
Queen Elizabeth's pink coat was perfect for the Chelsea Flower Show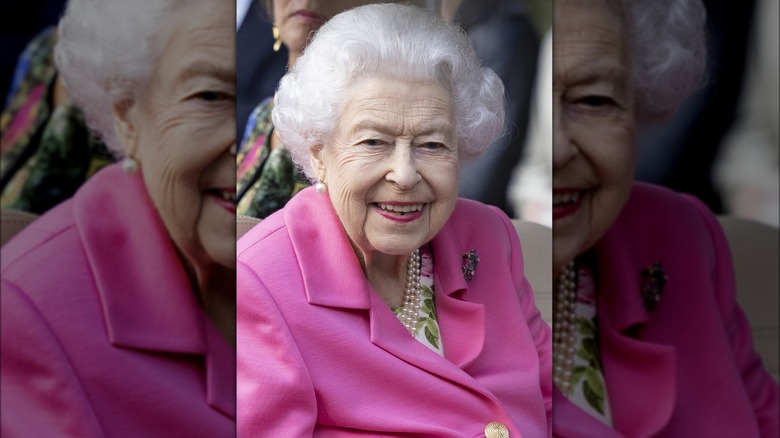 Dan Kitwood/Getty Images
The Chelsea Flower Show is a tradition within the royal family, and Queen Elizabeth II attended since childhood. In fact, she attended the show more than 50 times during her 70-year reign. 
When attending the 2022 Chelsea Flower Show, the queen gave the roses a run for their money, looking positively perfect in pink. In keeping with the theme of the day, the queen attended the event, held at the Royal Hospital Chelsea in London, wearing a floral dress underneath a beautiful, bright Pink Lemonade coat by Stewart Parvin. The coat featured simple gold buttons, and the queen kept the rest of her look toned down with her signature pearls, brooch, gloves, and sensible black shoes. The look is in keeping not only with the occasion but also with the queen's commitment to colors that allow her to stand out in a crowd.