Why Jennifer Aniston Doesn't Think Her Previous Marriages Were Failures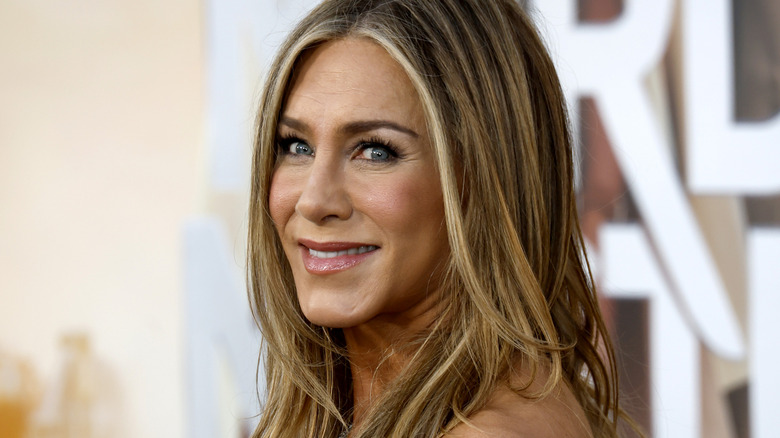 Frazer Harrison/Getty Images
Coming out of a broken relationship with a positive mindset is already hard enough, but when the pressure of global scrutiny is thrown into the mix, it can seem nearly impossible — unless you happen to be Jennifer Aniston. The actor, producer, and director spoke about her two highly publicized (and criticized) marriages and divorces with Elle in 2018, revealing that, despite what the tabloids had to say about it, she doesn't consider either to be a failure. 
First, let's travel back in time to 2000: The start of a new century and of the blonde-haired, blue-eyed power couple that was Aniston and fellow actor Brad Pitt. Though Aniston once gushed about her instant chemistry with the "Fight Club" actor, the couple ended up splitting for good in 2005. Six years later, Aniston began a relationship with actor and filmmaker Justin Theroux, and the two eventually married in 2015. 
As of 2023, Aniston finds herself single once again. But as she told Elle, in the end, the marriages were successful, not failures.
Jennifer Aniston isn't afraid to choose happiness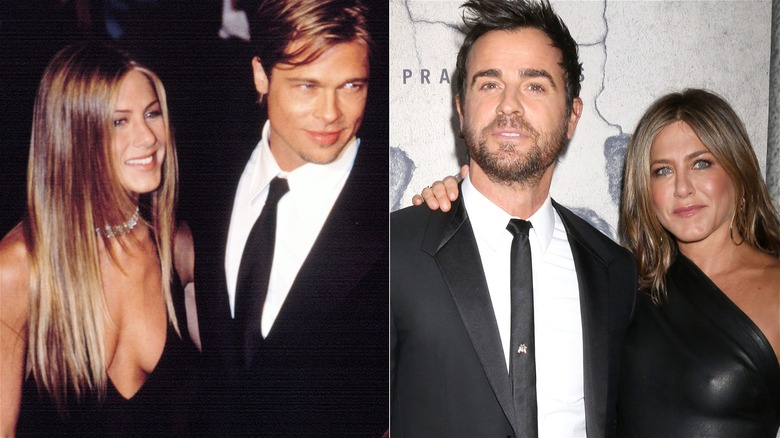 Everett Collection & Kathy Hutchins/Shutterstock
Since becoming a household name in the '90s as Rachel Green on "Friends," Jennifer Aniston's love life has been a popular topic of conversation, from her real-life romances to the famous will-they-won't-they between characters Rachel and Ross. While many tabloids tried to paint Aniston as a woman who couldn't make her marriages work, the actress told Elle that she has no regrets. 
"I don't feel a void," she explained. "My marriages, they've been very successful, in [my] personal opinion. And when they came to an end, it was a choice that was made because we chose to be happy, and sometimes happiness didn't exist within that arrangement anymore. At the end of it, this is our one life, and I would not stay in a situation out of fear of being alone."
Ultimately, Aniston told Elle that when the proper work has been put into a relationship and it still doesn't work, the best thing either party can do is accept it and move on, both for themselves and the other person. Of course, these types of open-minded revelations take time. It took Aniston nearly two decades to open up about her divorce from Brad Pitt, but when she finally did, she revealed a self-assured woman who was confident in her choices.
Focusing on Jennifer Anniston's love life feels shallow to her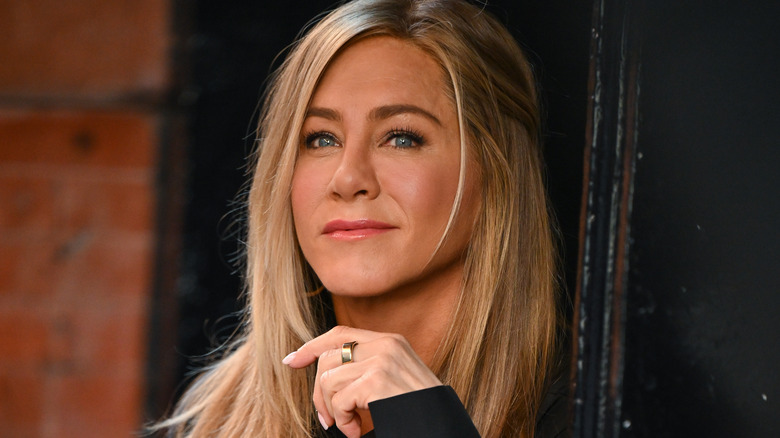 James Devaney/Getty Images
In a perfect world, the media would celebrate Jennifer Aniston's approach to relationships. But a perfect world, this is not, and tabloids have thrived on pushing narratives of drama, tension, and jealousy. Rumors surrounding whether Brad Pitt cheated on Aniston with Angelina Jolie prompted the media to pit the two actresses against one another, though everyone involved refuted the infidelity claims. 
Similarly, rumors concerning whether Aniston and Justin Theroux got legally married hung over the "Murder Mystery" actress' second marriage after TMZ reported that it couldn't locate the couple's marriage certificate. Regardless of what actually happened behind closed doors, Aniston remains cordial with Pitt and Theroux today. And frankly, she finds all this focus on her love life to be a belittlement to her other accomplishments. 
Aniston told Elle that those obsessing over her relationships are "diminishing everything I have succeeded at, and that I have built and created. It's such a shallow lens that people look through. It's the only place to point a finger at me as though it's my damage." But with a net worth estimated at $320 million and a list of exes who still sing her praises, it's clear that Aniston is anything but a damaged failure.