The Rumored Influence Gwen Stefani Had On Donald Trump's Run For President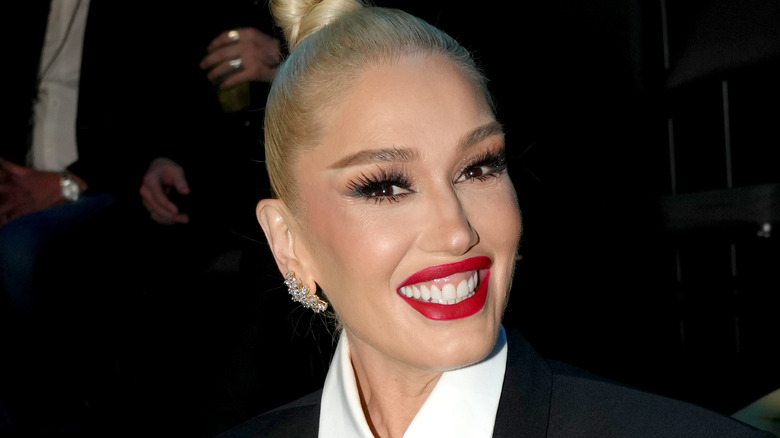 Jeff Kravitz/Getty Images
The driving forces behind former President Donald Trump's ascent from wealthy businessman and TV personality to leader of the free world have been a topic of debate since he was elected the 45th President of the United States in 2016. But documentarian Michael Moore has a theory you've likely never heard: the true catalyst of Trump's mogul-to-president journey was none other than the "Hollaback Girl" herself — Gwen Stefani. 
How, exactly, would the former No Doubt frontwoman and "The Voice" judge be responsible for Trump entering the political realm? It's a fair question to an arguably zany claim outlined in Moore's documentary "Fahrenheit 11/9." According to Moore, it all started at NBC after Trump discovered Stefani was making more money on "The Voice" than Trump was on his reality series, "The Apprentice."  
This pay discrepancy, Moore argues, is what kickstarted Trump's desire to prove his popularity (and, in turn, his deserving of a higher paycheck) to the television network with his 2015 presidential campaign announcement.
Michael Moore claims Donald Trump wanted to prove his star power over Stefani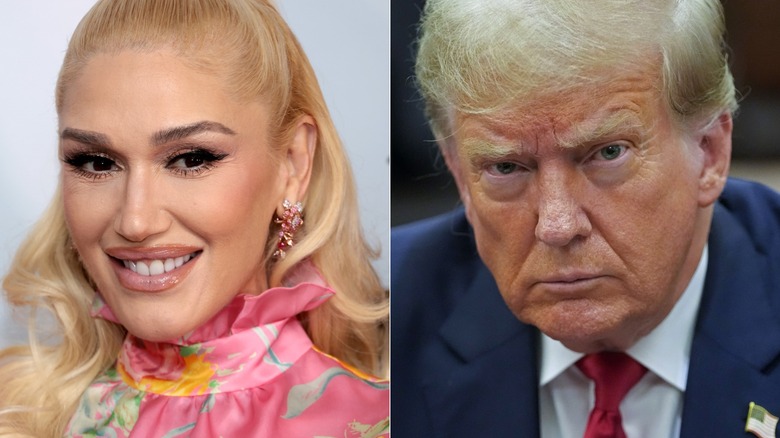 Pool & Dimitrios Kambouris/Getty
According to Money Nation, NBC paid pop singer Gwen Stefani $20 million to be a coach on "The Voice" in 2014 and 2015. Meanwhile, the television network had been steadily decreasing Donald Trump's payments for his appearance on "The Apprentice," with his per-year salary dropping from $51 million in 2011 to $3 million in 2018, The New York Times. Although the NYT lists Trump's salary as $21 million in 2014, the year Stefani was paid $20 million on "The Voice," filmmaker Michael Moore claims this sparked Trump's fight for relevance.
"He'd been talking about running for president since 1988, but he didn't really want to be president," Moore told The Hollywood Reporter. "There's no penthouse in the White House. And he doesn't want to live in a black city. He was trying to pit NBC against another network, but it just went off the rails." And went off the rails it did — if Trump's announcement was a stunt to get more money from NBC, as Moore suggests, that certainly wasn't the outcome. 
Trump's speech announcing his presidential run vilified Mexico and immigrants from several parts of the world, causing NBC to release a statement of its own shortly after that. "At NBC, respect and dignity for all people are cornerstones of our values. Due to the recent derogatory statements by Donald Trump regarding immigrants, NBCUniversal is ending its business relationship with Mr. Trump," the network said in a June 2015 statement, per NBC News.
Trump capitalized on a presidential bid two decades in the making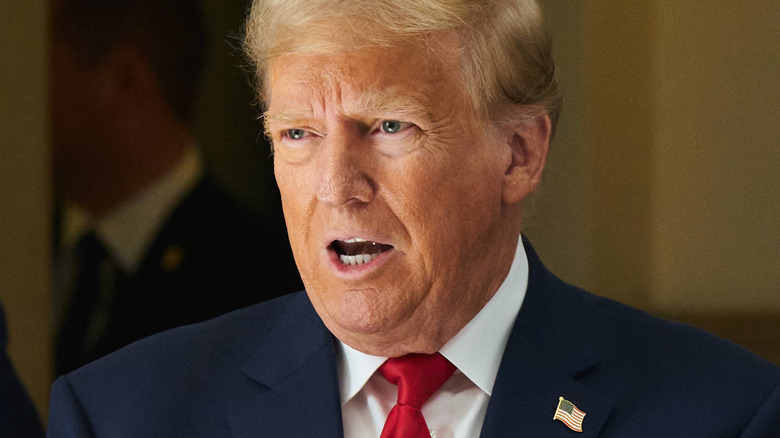 Bloomberg/Getty Images
Documentarian Michael Moore's notion that Gwen Stefani inspired Donald Trump's 2016 presidential run is 90 unverified. However, the filmmaker was correct in saying Trump's political musings stretch back to the late 1980s. In a 1988 appearance on "The Oprah Winfrey Show," the real estate mogul discussed the possibility of running for president, saying, "I probably wouldn't do it, but I do get tired of seeing what's happening to this country, and if it got so bad, I would never want to rule it out entirely."
In his documentary "Fahrenheit 11/9," Moore says that Trump continued with his presidential bid after seeing how much support and media attention the announcement created. As for Stefani's influence? If the musician did light Trump's political spark, it seems as though it wouldn't be intentional. While speaking to Paper about her political affiliations in relation to her husband, Blake Shelton, who fans suspected of supporting Trump despite him never making an official endorsement, Stefani said, "I think it's pretty obvious who I am." The singer cited her music's overall themes of social unity and its inclusion on one of former President Barack Obama's playlists.
Regardless of what (or who) prompted Donald Trump to run for president in 2016, he shows no signs of leaving the political arena. Despite ongoing legal woes and the possibility of serving prison time, Trump has been actively pursuing his 2024 campaign, which he announced at Mar-a-Lago in November 2022.