Why Fans Think The Weeknd's New Look Is A Message To His Ex, Bella Hadid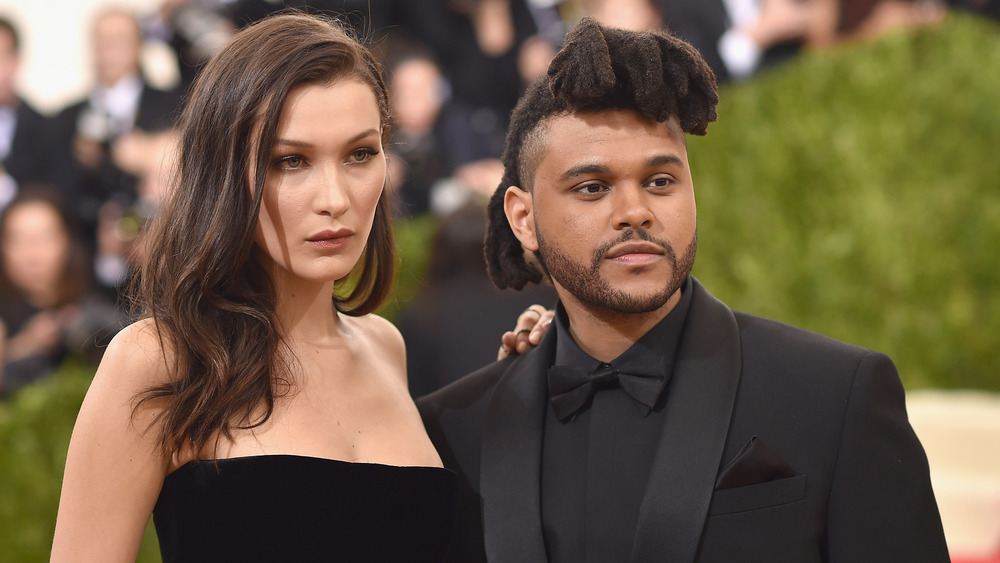 Dimitrios Kambouris/Getty Images
The Weeknd has never been one to mince his words, most recently letting the Grammys know exactly how he felt about being snubbed by them. He's also well known for being an inventive and risky artist, simultaneously shocking and delighting fans with his creative output. Earlier this week, the man born Abel Makkonen Tesfaye left followers' jaws on the floor when he debuted a new look on Instagram. Resembling someone who either had some drastic plastic surgery procedures done or was rocking creepily convincing prosthetics, the boundary-pushing star boasted extraterrestrial-aping cheekbones and pufferfish lips in the shot. 
It was later revealed, of course, that The Weeknd was simply posting a behind-the-scenes shot from his latest music video, "Save Your Tears." The single appears on his 2020 album After Hours and its hallucinatory complementary clip immediately had fans ruminating on just what the heck he was trying to say. Certain commentators even claimed to have heard The Weeknd whispering his ex-girlfriend, Selena Gomez's, name at one point. However, the more pressing allusion seems to be to his other famous ex, supermodel Bella Hadid, to whom certain commentators reckon The Weeknd is allegedly making some highly unflattering comparisons.
Is The Weeknd's face meant to shade Bella Hadid?
The Weeknd has been sporting artfully bloodied bandages for the past few months, even showing up to collect awards seemingly banged up, and the big reveal is apparently he's had a load of plastic surgery done. Although the singer-songwriter clearly hasn't actually gone under the knife, his drastically altered face has fans seeing double. One fan argued simply, "The Weeknd is definitely bashing Bella Hadid with the whole plastic surgery themes," while another even provided a damning side-by-side comparison. 
Hadid previously responded to rumors her ex was using their relationship as fodder for his music, with a source telling Hollywood Life, "Bella knows that Abel has always put his heart and soul into his music. She can definitely see why fans would think his music references their relationship and she can't help but think the same." The supermodel has furiously denied plastic surgery rumors in the past, however. "We can do a scan of my face, darling. I'm scared of putting fillers into my lips. I wouldn't want to mess up my face," she argued in an interview with InStyle. 
Maybe The Weeknd is simply making a statement about Hollywood's prohibitive standards of beauty? We'll probably never know the truth, but the clues are certainly there if you want to look for them.