Steph Curry's Gift To Kamala Harris Sends A Powerful Message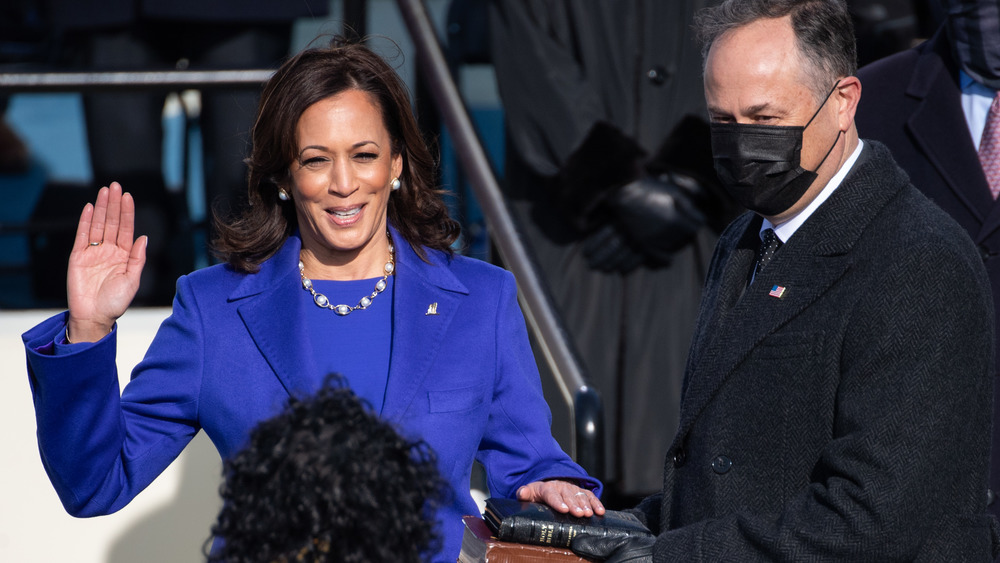 Pool/Getty Images
Kamala Harris made history on Jan. 20, 2021 when she was sworn in as the first ever female vice president of the United States. The former district attorney is also the first Black and first South Asian VP. Her glee was apparent as a massive smile spread across the Californian's face as she was sworn in while, on Twitter, Harris heralded all the women who paved the way for her to reach this incredible position. 
Many proud people from all different backgrounds were spotted cheering Harris on at the inauguration, including Barack and Michelle Obama, who fist-bumped both the incumbent VP and president-elect Joe Biden when they first entered the prestigious event. Millions of little girls watching at home were no doubt inspired by the mixed race child of immigrants ascending to the office of vice president. However, one long-time Harris fan and fellow Californian paid respect with a powerful and super thoughtful gift. 
VP Kamala Harris has some impressive new wall art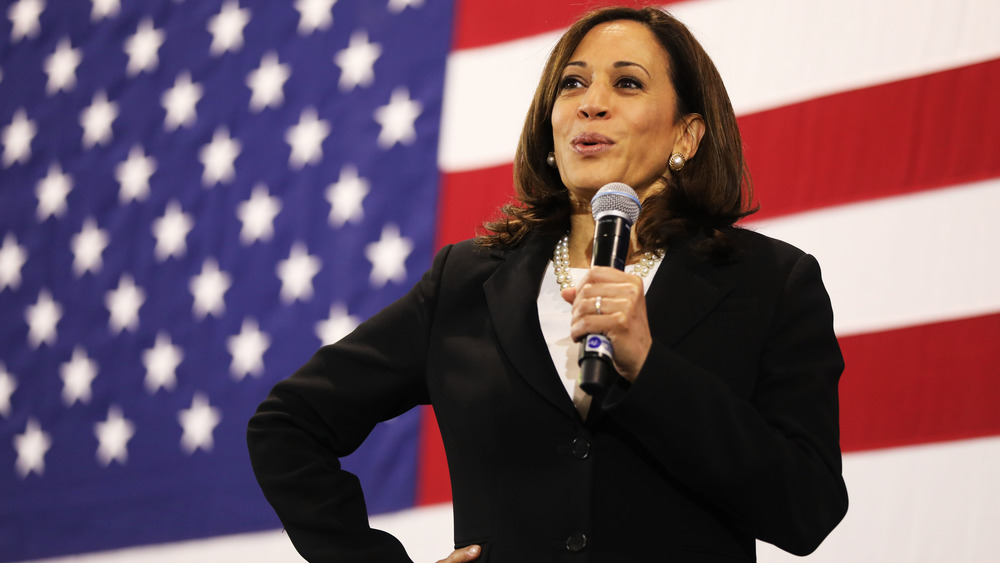 Spencer Platt/Getty Images
The Golden State Warriors' own Steph Curry gifted Harris a framed, personalized "Madame VP" #49 jersey, alongside his own autograph, ideal for displaying at her new job. The team's official Twitter account shared a stirring video in which the superstar player quips, "Madame Vice President, I'm not saying you've got to put this up in your office at the White House, but it probably would be a good idea." Harris is from Oakland and a vocal super-fan of the Warriors, so the present is perfect for the new VP. 
She was clearly overwhelmed upon receiving it, thanking the team profusely for their generosity. Harris gushed, "This means so much to me, you guys." Curry added, in his message to the VP, "Congratulations! Blazing your own path, we are all rooting and supporting you the whole way." As TMZ notes, the Warriors famously refused to visit the White House while Trump was in office. When asked about the team's decision during a press conference, Curry himself stated plainly that he simply didn't want to go.