The Biggest Mistakes You Could Be Making With Your Knotless Braids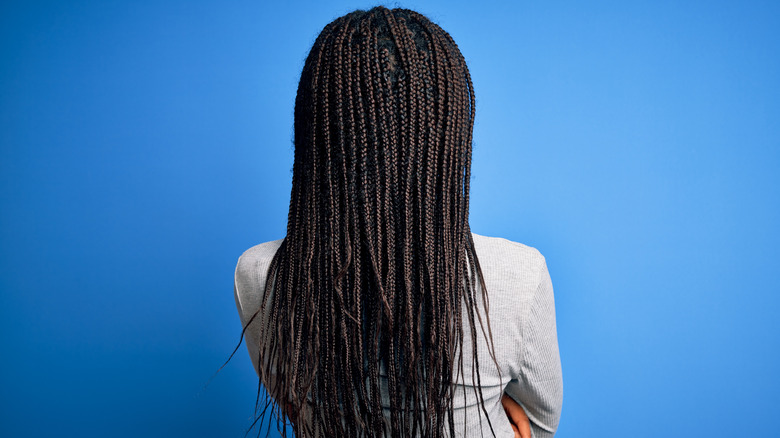 Shutterstock
Braids are the go-to hairstyle for any Black woman. After all, Black female stars have been wearing this style for decades. Janet Jackson in Poetic Justice, Brandy in Moesha, or Zoey Johnson in Black-ish and Grown-ish — all Hollywood representations of Black women wearing braids.
One popular form of braids that took the natural hair community by storm is knotless braids (via Camille Rose). Unlike regular box braids where the fake hair is attached to your natural hair via a knot, knotless braids are simply feed-ins, according to Un-Ruly. The stylist slowly braids your hair, attaching the fake braiding hair with each strand; hence the name "feed-ins," the outlet explains.
Not only are knotless braids more natural-looking, but they're easier on the scalp, per Camille Rose. However, the outlet also warned that you can suffer from hair neglect if you're not careful. Even though your hair is braided, you still must moisturize and oil your scalp, so your hair isn't neglected.
How to take care of your natural hair when wearing knotless braids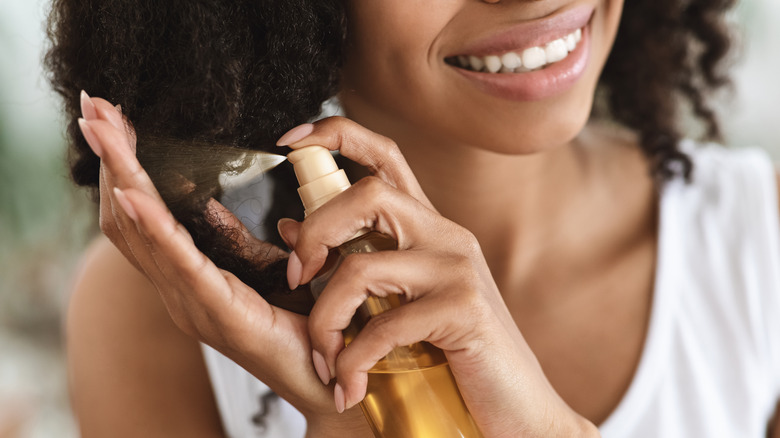 Shutterstock
After your knotless-braids install, maintain the health of your hair by washing, moisturizing, oiling, and hydrating it (via Byrdie). Hair-care brand Curlkalon recommends spraying your scalp with water and a light oil — olive oil, jojoba oil, or coconut oil — to maintain your hair hydration while under the braids.
Next, per Camille Rose, you must not overdo a protective style; the outlet recommends wearing one for no more than four to six weeks. It's a common fallacy that wearing a protective style such as knotless braids for long periods will help your hair grow, but that's simply not true, according to Curlkalon. The brand notes that by wearing a protective style longer than its duration time, your hair is growing weaker.
Lastly, pay attention to your hair! Yes, knotless braids are cute and you should flaunt your hairstyle, but remember the purpose of your braids — to protect your natural hair. Camille Rose says wrapping your hair in a silk scarf or bonnet is the perfect way to prevent breakage while sleeping. The outlet also recommended paying attention to your hair's porosity, so your hair can stay moisturized and oiled.
Knotless braids are the protective style to wear this summer. It'll help your hair grow and keep you fabulous. Just make sure you're taking care of your natural hair in the process because if not, you're only defeating the purpose of wearing braids.