Body Language Expert Reveals The Unexpected Star Of The ACM Awards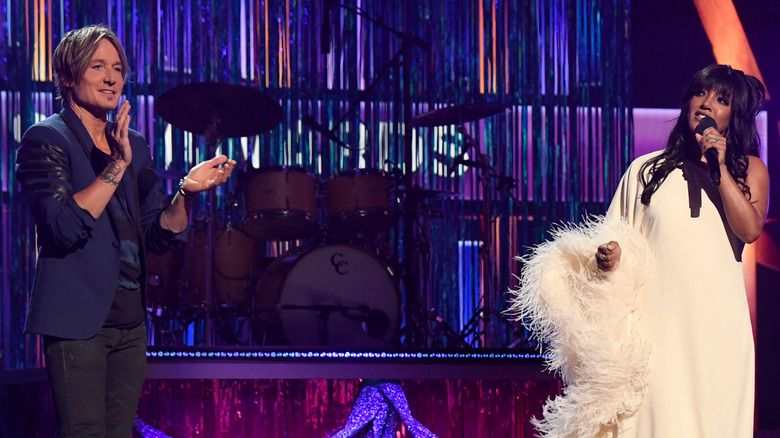 Kevin Mazur/Getty Images
The 56th Academy of Country Music Awards took place in Nashville, Tennessee, on Sunday night (April 18). In the show, 29 of country music's top artists took to the stage to perform, according to Meaww. There was a "heavenly" show-stopping performance from Carrie Underwood and CeCe Winans as well as multiple appearances by Miranda Lambert. Along with the musical numbers, there were also several awards presented during the show, like Entertainer of the Year which went to Luke Bryan (via Rolling Stone). Some artists, like Maren Morris, even walked away big winners with multiple awards. 
However, it wasn't any of the winners who ended up being the real star of the show. Instead, that title went to co-host and New Female Artist of the Year nominee Mickey Guyton. Body language expert and certified movement pattern analyst from Moving Image Consulting LLC, Alison Henderson, spoke exclusively with The List about why "The 56th ACM Awards belonged to hostess Mickey Guyton."
Mickey Guyton was at ease whenever presenting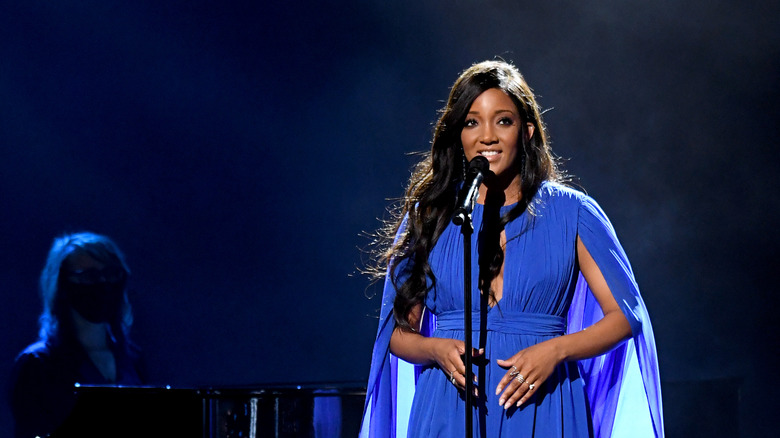 Kevin Mazur/Getty Images
The reason for Mickey Guyton's success at this year's ACMs was that she seemed so relaxed and relatable. While this was the first time Guyton was taking on hosting duties for a major award show, you would think she's done it for years (via NBC News). According to Henderson, Guyton got into the groove of things early on and "owned her moments with confidence and relaxed ease." 
If you've watched enough awards shows, you know that presenters and hosts can struggle to read off a teleprompter. In fact, the 2020 Emmys were criticized for having stiff intros that felt like just "reading off a teleprompter" coldly (via IndieWire). But Henderson noted that Guyton "still connected with the home audience" whenever presenting. And not only did Guyton keep her read of the teleprompter natural, but her subtle body movements also helped her to seem genuine. 
As Henderson points out, Guyton had "little micro movements in the torso" when speaking. You may have missed them upon first glance, but these small body movements are very noticeable when they're missing. When someone's body is stiff, it gives off a feeling of "distrust." Not only was Guyton relaxed and casual, but she made you feel like you could be friends. Not to mention, her ACM performance of "Hold On" was "grounded, heartfelt, and embodied real honesty and authenticity," according to Henderson. So, not only does Guyton deserve a congratulations, but definitely more hosting duties in her future.