Body Language Expert Noticed Something Unexpected About Miranda Lambert At The ACMs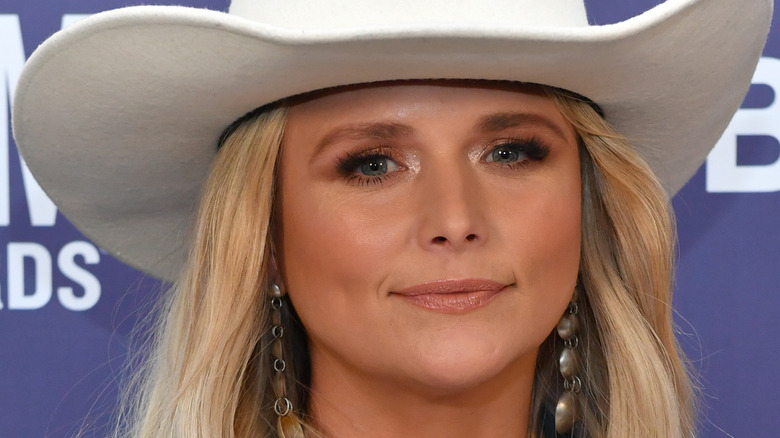 Jason Davis/Getty Images
No ifs, ands or buts: Miranda Lambert and Elle King killed it in the costume department during their 2021 ACM Award opener. As for the singing, Lambert told People after a rehearsal of their hit song, "Drunk (And I Don't Wanna Go Home)," that "It was hard ... I mean, honestly we had never sang it together live at all, and none of us have done shows in a really long time, so it's a weird feeling." She added: "It's fun to sing a song called 'Drunk' with a pregnant lady." King, in case you hadn't heard through the grapevine yet, is expecting, which is more than a big deal. "This is something that I have not only wanted since I could remember, but it's something that I have struggled with for a really long time. Every single day of this pregnancy is such a miracle," the singer-songwriter told People.
But while Lambert had a sense of humor while rehearsing with King, during 2021 ACMs, the country star might have felt differently. That's according to what Joseph Hoelscher, a body language expert, and Managing Attorney at Hoelscher Gebbia Cepeda PLLC, told The List when he sat down exclusively with us to talk about Lambert's ACM experience.
This is the ACM duet that Lambert was more at ease with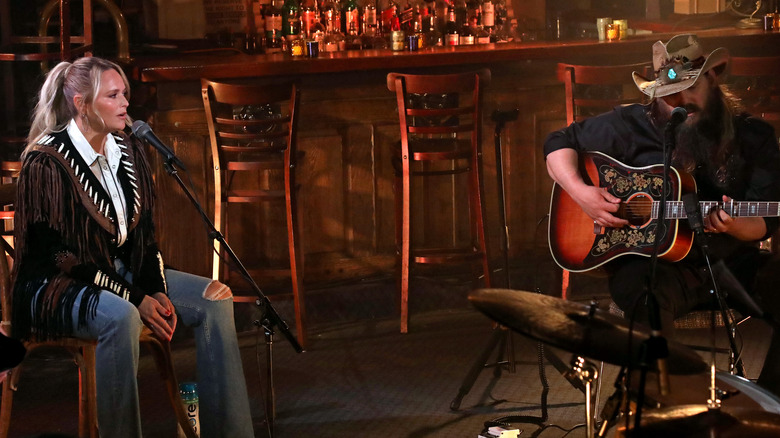 Terry Wyatt/acma2021/Getty Images
"Elle King seemed nervous during her duet but she's pregnant so it may have been physical stress," Hoelscher told The List. "She struggled to breathe between lyrics and was very flushed, losing her focus on the camera at times." King's possible physical stress may have, in turn, worried Lambert. Lambert, as Hoelscher noticed, "glanced at King as though checking on her during their duet." That may have prevented her from concentrating as much as she otherwise could have on the music. 
On the other hand, the "Bluebird" singer "seemed more relaxed during her duet with Chris Stapleton, which was unplanned." When Lambert performed "Maggie's Song," she "seemed to just roll with Stapleton and get into the music." Hoelscher, however, was quick to add that there's more than one reason that Lambert may have been more at ease with Stapelton than with her long-time friend, King. "Possibly [it was] because she didn't feel any pressure to deliver on an act that wasn't her responsibility."
While performing with Stapleton, Lambert was filling in for Stapelton's wife, Morgane. Morgane bowed out of the ceremony, last-minute, "due to a 'prior doula commitment," as per what People reported.