The Truth About Reese Witherspoon And Mindy Kaling's Friendship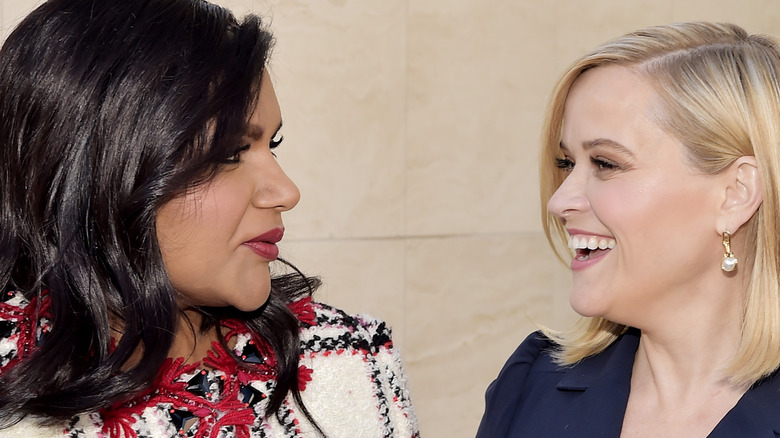 Stefanie Keenan/Getty Images
They're two of the most successful and beloved women in Hollywood, so it's unsurprising to learn Reese Witherspoon and Mindy Kaling are friends. 
As W magazine notes, they go way back, with Witherspoon guest-starring on Kaling's hit sitcom "The Mindy Project" in 2017 before the two shared the screen in "A Wrinkle in Time," alongside Oprah Winfrey herself, while Kaling subsequently enjoyed a recurring role on "The Morning Show," in which her buddy starred and also produced.
When the time came to find a funny lady to tackle the "Legally Blonde 3" script, Witherspoon naturally went straight to Kaling. The "Office" alum, who also wrote on the hit show, took to Twitter to share her excitement about reuniting with her friend, who responded, "I'M SOOOOO EXCITED!!" They reportedly got super close while filming "A Wrinkle in Time" in New Zealand (via Islands) and have become pretty much inseparable ever since. 
Mindy was handpicked for Legally Blonde 3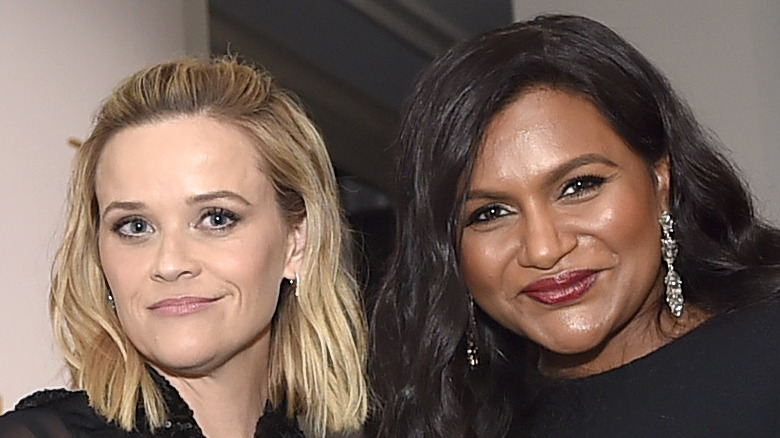 Stefanie Keenan/Getty Images
During an October 2020 appearance with Good Morning America, Mindy Kaling revealed how she got roped into co-writing "Legally Blonde 3." In relation to her pal Reese Witherspoon, Kaling noted, "I have been working with her on a couple movies, and we've been friends for a while and I have always quoted the movies to her. I was that annoying friend that would be like, 'Bend and Snap' to her." 
When Witherspoon expressed an interest in bringing Elle Woods back for a third outing, the "Mindy Project" creator was all ears. Kaling revealed, "I was nervous because the movie is so iconic, but then I thought it would be really fun to see that character in her 40s. What is Elle Woods dealing with as a 41-year-old woman? And it's been really funny to write." She added, "I think it's going to be a great movie." 
The two actresses are incredibly close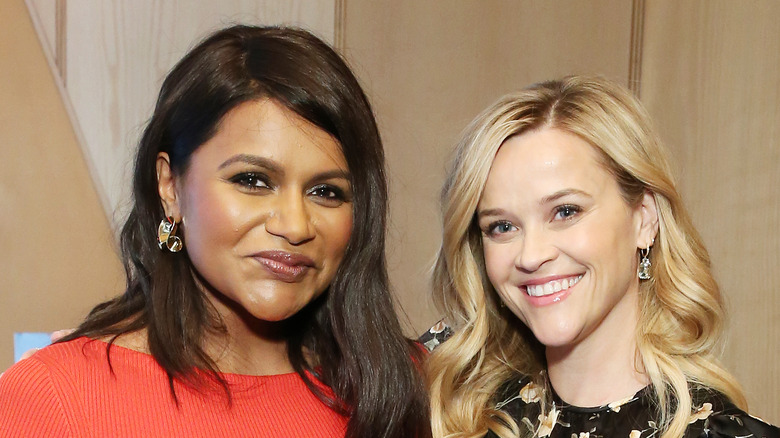 Monica Schipper/Getty Images
When Mindy Kaling's son Spencer was born in September 2020, Reese Witherspoon was one of the first to shower him with gifts. 
In an interview with Pop Sugar, Kaling described what was waiting for her when she returned home from the hospital. "This is why you know a gift is from Reese Witherspoon — she also got my older kid something," Kaling gushed. "My daughter, who didn't do anything, got all these beautiful clothes and toys, too." Apparently there was also enough food to last the family four days, which the "Office" alum described as "a very Reese Witherspoon-type present." 
As for Withersppon, she told Entertainment Weekly, "We talk all the time," noting the two women have grown "really close." Kaling also admitted to Today that Witherspoon is her parenting inspiration with the two ladies frequently comparing notes on their kids. In fact, the Hollywood starlets are so close the "Legally Blonde" breakout calls her buddy Min Diesel, after "Fast and Furious" actor Vin Diesel, (via Instagram).