Is Steve Ford From Restored By The Fords Single?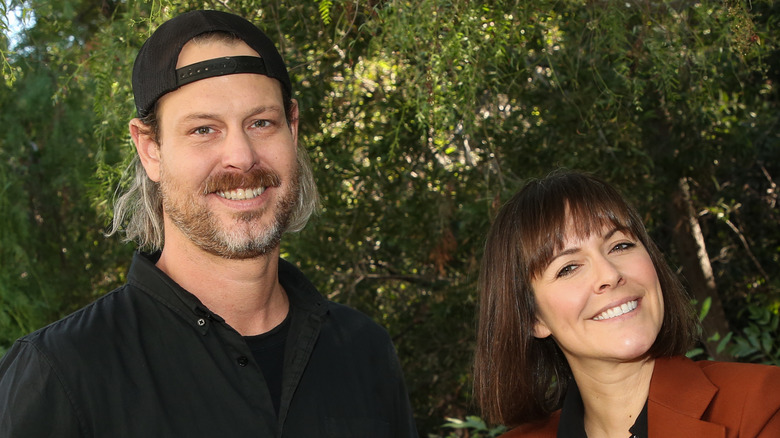 Paul Archuleta/Getty Images
"Restored by the Fords" takes a well-worn HGTV trope, home renovation, and gives it a sibling spin as brother-sister duo Leanne and Steve Ford make under-loved houses into spectacular homes. Leanne is happily married to husband Erik, with the two sharing a daughter, as Distractify notes, but one particular season of their hit show seemed to hint Steve had no interest in settling down any time soon. The super close duo sets about building what was ostensibly a bachelor pad for Steve, with Leanne quipping, "Every good bachelor pad deserves a good bar cart," on her official site following its completion.
Followers of Steve's popular Instagram page will know he loves outdoor pursuits, so anybody looking to be with the talented carpenter will need to up for those kinds of activities too, but whether or not he's actually available is difficult to ascertain. Back in 2018, Steve mentioned a girlfriend named Sara in an interview with People, while referring to celebrating her birthday, but the couple has reportedly since parted ways. Is the "Restored by the Fords" star currently single or, like his sister, is Steve headed towards familial bliss and sharing his bachelor's pad with some lucky lady?
Has the HGTV fan favorite finally found love?
In February 2021, The Cinemaholic reported that Steve Ford was still single, or at least unmarried, as far as anybody can tell since the Pittsburgh native doesn't share much about his personal life either on the show, in interviews, or even on social media. He's got a sweet relationship with niece Ever Allen, frequently sharing adorable shots of her to Instagram, so it would appear he might want kids someday. In March 2021, Steve posted a shot of him snuggling up to a woman named Andrea on the beach, captioning it, "Much needed time off with @absolutely__andrea." Although Andrea's page is private, many fans commented that they were happy to finally meet their HGTV fave's girlfriend. 
Although the "Restored by the Fords" star hasn't confirmed anything either way, it's safe to assume their relationship is romantic since the two are openly posing for cute shots and taking vacations together. Regardless, the main woman in Steve's life will always be his sister, Leanne. The sibling duo fell into their hugely lucrative fixer-upper business by chance, after Leanne enlisted her brother's help in turning her own enigmatic find into the family home of her dreams. The Fords quickly realized that, by joining forces, they could make some serious dough. HGTV soon came calling and the rest is history. Even if Steve struggles to find the right romantic partner, his business partner is guaranteed for life.