Meghan Markle's Former Best Friend Has Something To Say After Prince Harry's Latest Interview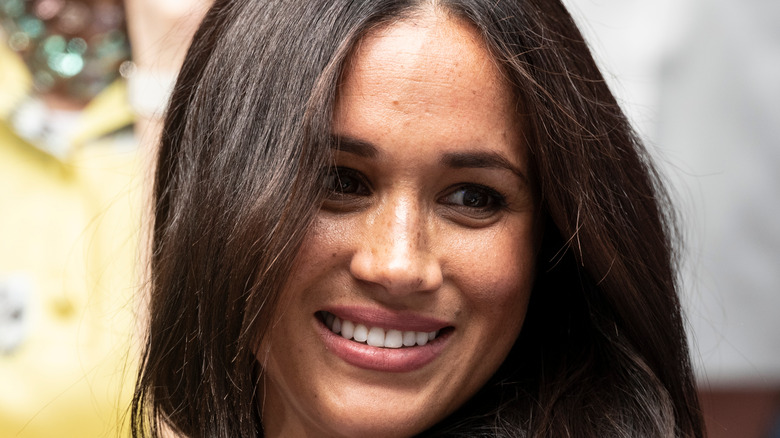 Shutterstock
In Prince Harry's latest interview, which aired as part of the docuseries "The Me You Can't See," he shared further, jarring details about both his and Meghan Markle's mental health struggles and their difficulty getting help. The Duke of Sussex's participation in the docuseries gained international press attention, particularly because Harry spoke candidly about using drugs and alcohol as a crutch after failing to receive the support he needed to process his mother's death. According to Oprah, Harry didn't necessarily share his grief to communicate (or reconcile) with his family, but instead to tell his truth in a way that might inspire others to do the same. She explained to Gayle King in an interview, "He knows that by sharing the story of his own grief with his mother, that many other people who haven't processed their grief will say, 'Oh, you know what? That's what's going on with me, too'" (via CBS This Morning).
Harry received positive feedback for being so open about his mental health problems, especially in a world where men are often discouraged from talking about their feelings and emotional struggles. But he also received some criticism from viewers who described the interview as repetitive of what Harry and Meghan have already shared. Amid gossip column rumors that Harry had deeply hurt his father Prince Charles (via The Daily Mail), some waded through the social media backlash to plant themselves firmly in Harry's corner. Jessica Mulroney, a fashion stylist who worked with Meghan on "Suits," might just have gone to bat for Meghan's husband in a big way.
Did Jessica Mulroney instagram her support for Prince Harry?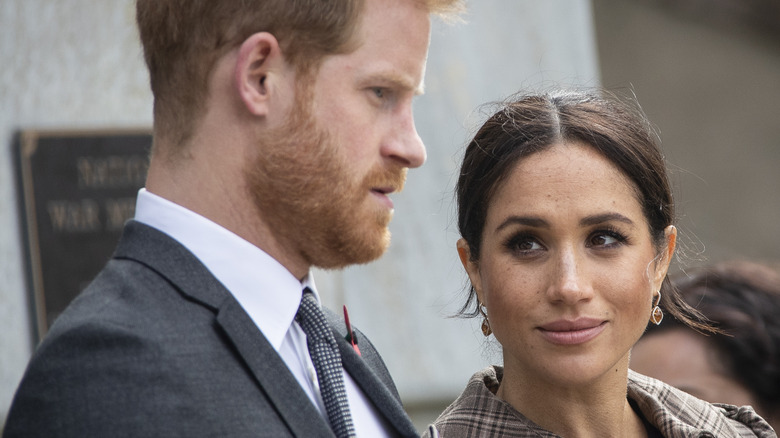 Pool/Getty Images
Mulroney's long been in Markle's inner circle. She was, for example, among those invited to the baby shower Markle held while pregnant with Archie, along with (no big deal) Serena Williams and Amal Clooney (via Harper's Bazaar). And those tabloid rumors that Mulroney and Markle had some sort of dramatic falling out in the summer of 2020? Lo and behold, they were (probably) just rumors. That's at least according to Vanity Fair, which picked up on the fact that, in March, Mulroney posted a picture of pink roses that Meghan sent her in honor of Mulroney's 41st birthday. March, you say? You're right, that was right around the time that Meghan and Harry's conversation with Oprah went live. Mulroney stood up for Meghan then, too, posting an Instagram photo of the two friends together, captioned: "I don't know that anyone has ever had to deal with the pressure, the politics and the press like this woman. In the face of it all, I have never seen her waver from kindness, empathy and love."
Jessica Mulroney's latest cryptic Instagram message doesn't name Harry directly, but many believe it's nonetheless a reference to Harry's latest interview. "Speak out for what you believe in when you are ready," Mulroney wrote on her Instagram story on May 22, 2021, the day after "The Me You Can't See" came out (via Page Six). "No matter how loud the other voices are, yours is the only one that should matter." Mulroney's powerful message and the timing of it speaks for itself.
Jessica Mulroney has been vocal about mental health on Instagram
Like we said, this time around, she didn't mention Meghan Markle or Prince Harry by name. And, it's far from the first time that Jessica Mulroney has used her social media platform to speak out about mental health and the importance of breaking down the stigma surrounding mental illness. Shortly after Harry's interview aired, Mulroney shared an image to Instagram that read, "Some people think it is dangerous to tell people going through bad mental things that things will change. I'd just like to say I find it far more dangerous to tell someone things won't. Perspective doesn't make conditions evaporate. But reframing an experience can keep you alive," via the Daily Mail.
In the caption of the now-deleted post, Mulroney wrote that those who genuinely know what it's like to suffer from mental health illnesses are oftentimes stuck in difficult situations. "Putting on a brave face is what's expected. However, you can be honest about not feeling ok. #mentalhealthwareness," Mulroney wrote. She tagged Matt Haig, a mental health advocate who was included in Meghan's guest edit of British Vogue, in the post.
Wondering why Mulroney may have deleted her mental-health-positive post? She answered that question on her Instagram stories back in September 2020. "People often ask why I delete certain posts," she wrote (via Vanity Fair). "The amount of bullying and hatred I've had to put up with for 3 years....I'm tired of looking at it. Be kind. Be gracious. We are grown ups...stop acting like teenagers. Real women don't put down other women."