Why Andy Cohen Doesn't Trust The Details Revealed In The Erika Jayne Documentary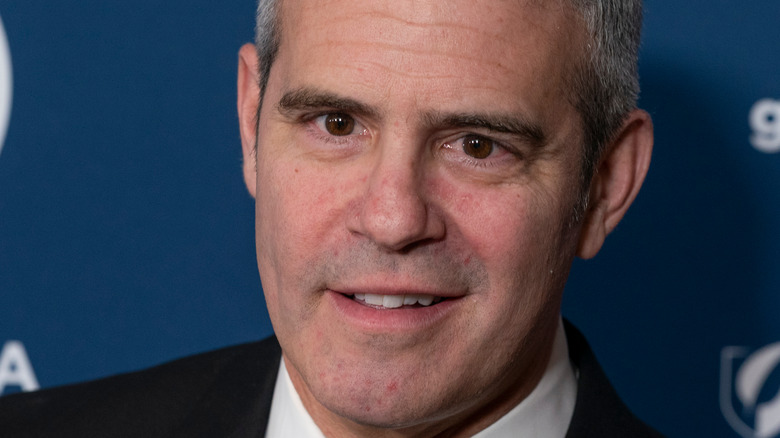 Shutterstock
Anyone who saw "The Housewife and the Hustler," a new Hulu documentary purporting to tell all about the scandalous divorce of "Real Housewives of Beverly Hills" star Erika Jayne and her husband of 21 years, lawyer Tom Girardi, may have felt the allegations against them are pretty strong. After all, alleged victims of Girardi's shady financial dealings spoke out vehemently against him, accusing him of withholding settlement money to fund his and Jayne's privileged lifestyle. In the aftermath of the doc airing, Jayne has fallen under intense scrutiny, with her lawyers even quitting.
Likewise, Twitter soon exploded with opinions, with many viewers condemning Jayne with tweets like, "I did not understand the depths of it all till now. Genuinely feel sick. This is unreal. I hope the families are able to get most of their settlements."
Nevertheless, and despite all evidence to the contrary, at least one person close to Jayne isn't buying what was revealed in "The Housewife and the Hustler." Indeed, Andy Cohen is cautioning folks not to take everything they saw in the film at face value.
Andy Cohen wants fans to consider the source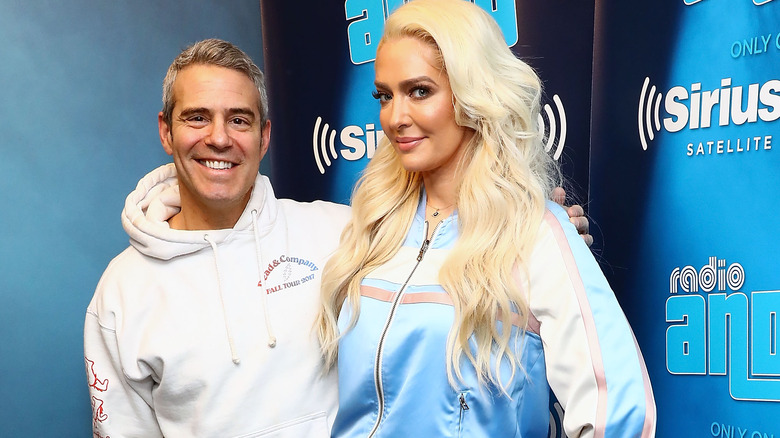 Astrid Stawiarz/Getty Images
For Cohen, it's who participated in "The Housewife and the Hustler" that is causing him to raise his eyebrows. Specifically, former "Real Housewives of New Jersey" cast member Danielle Staub, who is the first person we see in the documentary, and former friend of "RHOBH" Dana Wilkey, speak out pretty harshly against Jayne in the film (via Page Six).
This doesn't sit well with Cohen, with the Bravo personality saying on his "Andy Cohen Live" radio show, "I will say the idea that Danielle Staub and Dana Wilkey are the experts in this documentary about Erika is questionable at best. So I kind of realized I wasn't gonna learn anything new from them about Erika."
It seems Staub and Wilkey both have beef with Jayne and may be motivated to speak ill of her. Consider what the former said about Jayne in the film, "Erika Jayne, I have seen on the show, and I also worked with her on 'Watch What Happens Live' one or two times. Didn't get the best vibe from her but I know a lot of fake people, and it turns out, she's just one of them" (via Heavy).
Meanwhile, it's worth noting that Wilkey has had her own legal problems as well according to Distractify and is no longer on "RHOBH."
Ultimately, Cohen stated he finds the allegations about Girardi "disturbing" but also said he didn't think what has come to light about Jayne would impact her role on the show.