The Surprising Moment That Had A Major Impact On Sofia Carson's Life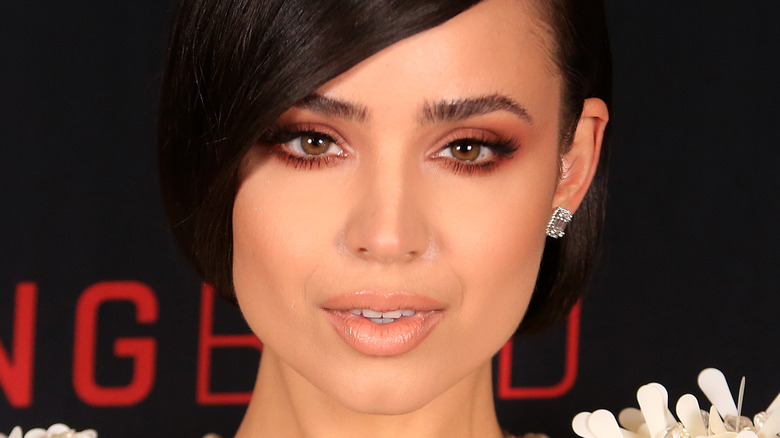 Jesse Grant/Getty Images
Sofia Carson is everywhere these days, but it's her work off screen that is capturing the attention of her fans. Aside from her portrayal as Evie, the daughter of the Evil Queen from "Snow White and the Seven Dwarfs" in Disney's "Descendants" franchise and her dramatic debut in "Ashbury Park," the actress is known for her philanthropic endeavors (per IMDb).
The "Songbird" actress has worked with UNICEF since 2017 and was named a UNICEF Ambassador in 2020, according to UNICEF USA. She joins fellow celebrity ambassadors Pink, Selena Gomez, Lucy Liu, and Alyssa Milano. Her primary advocacy centers on empowering girls and amplifying their voices, according to the charity. "It always goes back to helping and educating young women. When women are educated, societies thrive," she told Teen Vogue in 2020.
Carson's dedication to ensuring girls have access to education was inspired by a surprising moment that had a major impact on her life. That experience lit a fire deep inside the "Feel the Beat" star to fight for those whose voices go unheard.
Sofia Carson is an activist for girls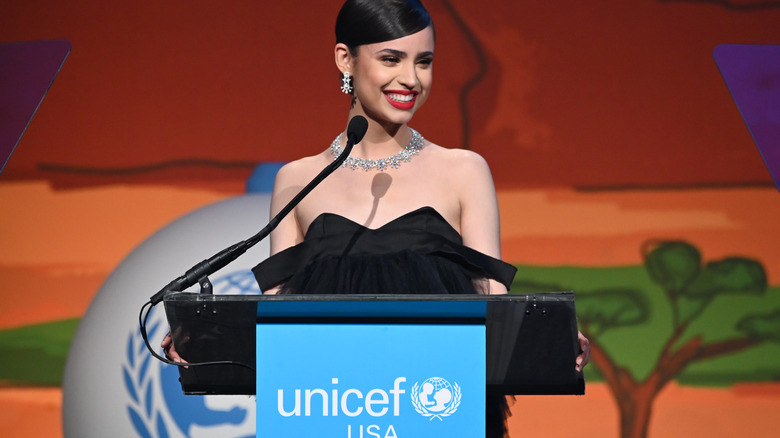 Noam Galai/Getty Images
Teen Vogue reported that Sofia Carson's philanthropic endeavors began when she was 12 years old after traveling to Colombia with her mom and sister to volunteer at a shelter for battered women. She told the outlet, "We met a girl whose name was Maria — she was 11 years old and she had just given birth to her stepfather's child. We realized that no matter what we did for the rest of our lives, we have a duty to this girl, and to the world, to give." 
From that point on, the singer has sought ways to use her platform to inform others about UNICEF's mission and raise awareness about the struggles girls face around the world. In 2019, she penned an op-ed in Teen Vogue expressing her support for Keeping the Girls in School Act. On her Instagram page, she shares posts telling her followers why she is dedicated to UNICEF's mission. She also posts some pictures from her trips in her Instagram Highlights to give others an closeup look at all UNICEF does. 
The Disney star is actively using her stardom to encourage others to become active in advocating for underserved children. In an exclusive she wrote for People, Carson said, "No matter how big or small, your voice is your super power. And the power of our united voices, standing up for the lives of children in every corner of the world, is an unstoppable force."