Why Meghan Markle Called Her Book The Bench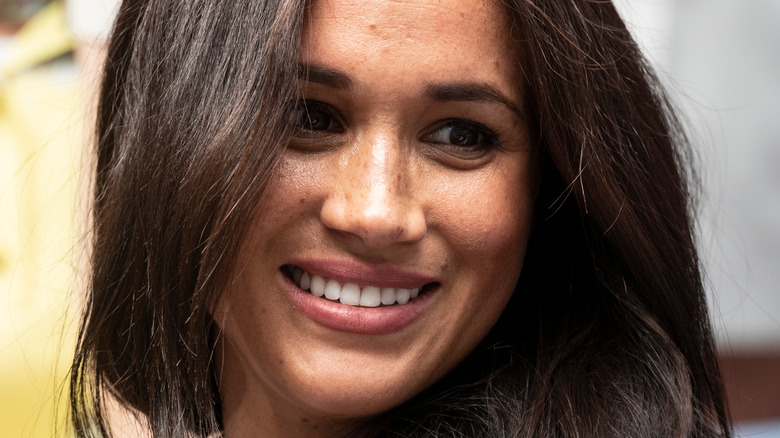 Shutterstock
On June 20, 2021, Meghan, Harry, and their two little ones, Archie and Lilibet, are busy celebrating Father's Day. Maybe Meghan's whipping up some of her famous organic waffles with the waffle maker that Queen Elizabeth gave her grandson for Christmas. Remember when Harry gushed about his partner's waffle-making skills and waffle-filled breakfasts with "a bit of yogurt, bit of jam on top, bit of berries, some honey, and maybe some syrup" to James Corden (via Youtube)? Because TBH we haven't stopped dreaming of waffles since.
We digress. While Meghan, Harry, Archie, and Lili (maybe) eat waffles for breakfast, Meghan's given us all something else to munch on. (Yes, we're aware, Lili's probably not having any waffles at her age.) In an interview with NPR, the Duchess of Sussex revealed the inspiration behind the title for her new children's book, "The Bench," which began, per Meghan as "a love letter to my husband and son" (via Archewell). Meghan's first book topped The New York Times bestseller list for children's picture books just days after its release.
Meghan Markle named "The Bench" after a sweet Father's Day gift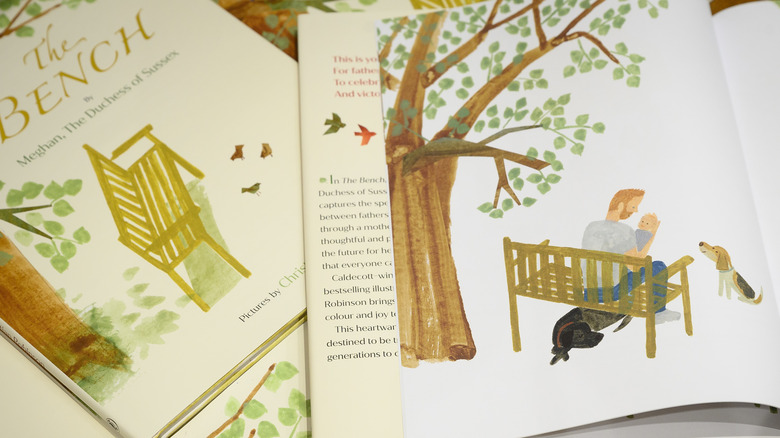 Leon Neal/Getty Images
Back to Father's Day 2021. Maybe, after eating waffles, Prince Harry will spend some time on his bench with his kids. Yes, he has a bench. As Meghan explained to NPR, the Duchess of Sussex gifted her husband a bench for Harry's first Father's Day in 2019. "As most of us do, you go, what am I going to get them as a gift?," Meghan explained to the news outlet. "And I thought I just wanted something sentimental and a place for him to have as a bit of a home base with our son." There's a plaque on the back of the bench. On it, Meghan engraved a poem she wrote expressing her wish for the time she wanted to spend there with her little family. "This is your bench," the poem starts, "Where life will begin, For you and our son, Our baby, our kin."
Actually, we're not sure whether that bench made it to Meghan and Harry's Montecito home. Meghan bought the bench for Harry when the two were still working royals, living in the U.K. The couple moved to Canada in March 2020 (via Foreign Policy) and bought their 14.65 million dollar California home in July that year (via Harper's Bazaar). Yes, you needn't have asked. You'll see Archie's chickens in "The Bench," too.