Harry And Meghan Finally Give Us A Glimpse Of Archie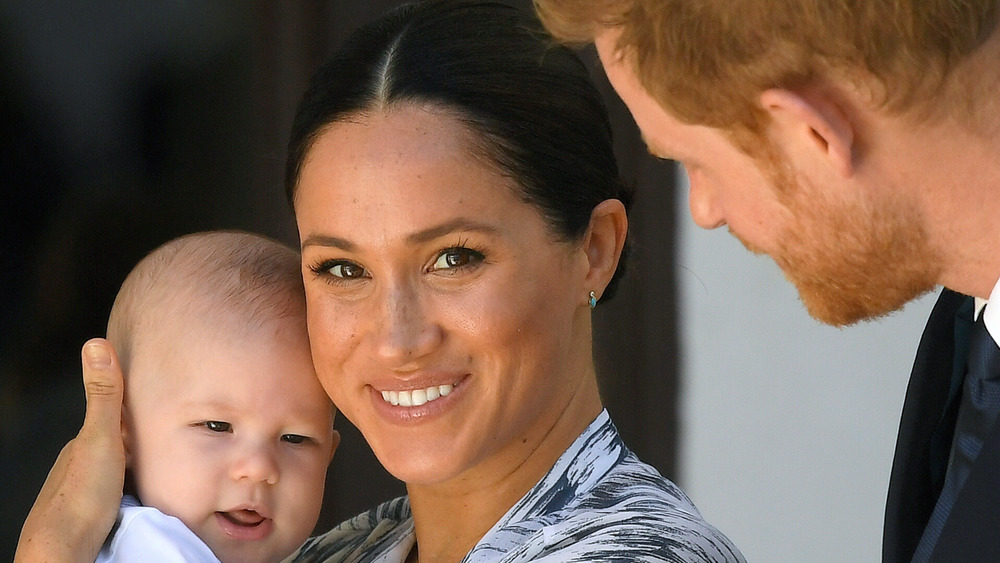 Pool/Getty Images
Prince Harry and Meghan Markle's highly-anticipated interview with Oprah Winfrey included many heartbreaking and upsetting moments, such as the royal family's "concerns" about Archie's skin tone and Meghan opening up about her own suicidal thoughts. 
But it contained some happier notes, too. Like when Meghan told Oprah, that "I've been a waitress, an actress, a princess, a duchess. I'm clear on who I am independent of that stuff. The most important title I will ever have is 'Mom'" (via The Oprah Magazine). Meghan and Harry seem to be doing a pretty spectacular job at parenting. In Santa Barbara, California, for example, Archie has his own chickens, which Meghan told Oprah, that he's always wanted. They're rescue chickens and reside in "Archie's Chick Inn" in the couple's backyard. And, did you catch the end of the interview, when Meghan and Harry shared adorable video footage of Archie, who will turn two in May? 
The black and white video shows Meghan on the beach with Archie and their dog. The couple also shared that Archie's favorite word is "hydrate." (We're not surprised, his first word was "crocodile"). He always says "drive safe!" when anyone leaves their home.
This summer, Archie will become a big brother — and Harry and Meghan shared the baby's gender for the first time during the interview. Archie will be getting a little sister. "[This is] just the beginning for us," Meghan told Oprah about the family's new life in America, describing it as "greater than any fairytale you've ever read" (via The Telegraph).
Harry shared how much he loves being outdoors with Archie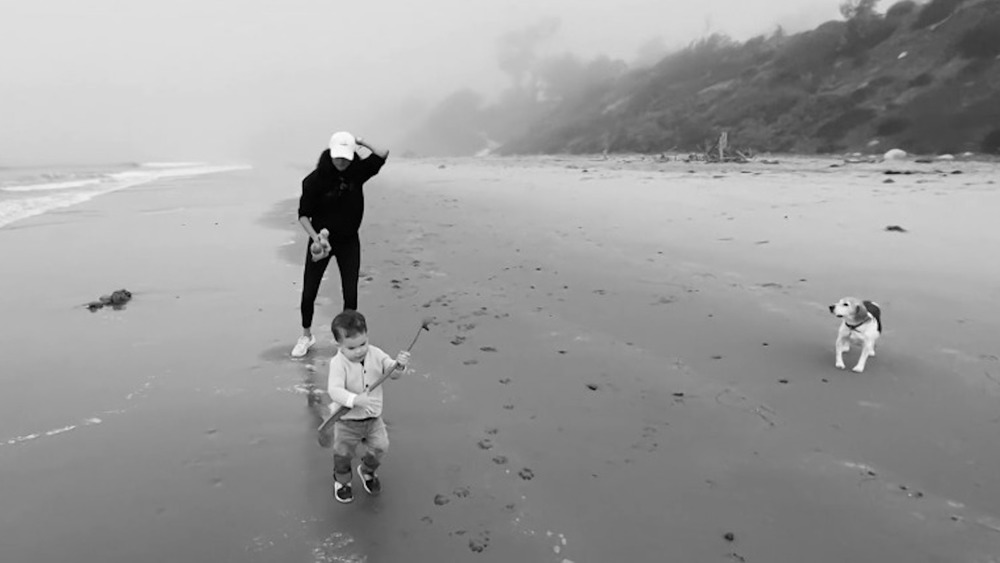 CBS
Harry described the past year as "crazy for everybody" but expressed how much he loves having outdoor space where the family can take walks and hikes with Archie and their dog, or go to the nearby beach. "I guess the highlight for me is sticking [Archie] on the back of a bicycle in his little baby seat and taking him on bike rides, which is something I was never able to do when I was young," Harry told Oprah, I can see him on the back, and he's got his arms out, chatting: 'Palm tree?' House?'" (via People). According to The Duke of Sussex, Harry, Meghan, and Archie also go on on walks together as a family, dogs included.
On a side note, it seems like "Archie's Chick Inn" is actively churning out eggs. Even Oprah snagged some, as comedian Larry Wilmore was happy to point out (via Twitter). But that seems fair, as Oprah apparently gifted Archie an entire bookcase filled with books (via The Oprah Magazine). And while some of Twitter wants to know what Oprah's planning on making with Archie's eggs, we have a bigger question. 
Do the organic breakfast waffles that Meghan makes Harry and Archie with the waffle maker the Queen sent Archie for Christmas require Archie's Chick Inn's eggs, and nothing else (via Youtube)? Meghan, we know you're not reading this, but we'd love the recipe when you get a chance. 
What Archie's life might look like moving forward
What will Archie's day-to-day look like now that his parents aren't working royals?
During the interview, Harry shared that the royal family has cut them off financially and the couple was able to move to America with Archie thanks to his inheritance from his mother, Princess Diana. "I think she would feel very angry with how this has panned out and very sad," Harry said. He added that he's felt his mother's presence throughout the ordeal and that he even felt that she may have predicted the outcome after her own tumultuous experience with the royal family.
"I think she saw it coming. I certainly felt her presence throughout this whole process," Harry shared. "I'm just really relieved and happy to be sitting here talking to you with my wife by my side... Because I can't begin to imagine what it must have been like for her, going through this process by herself all those years ago" (via Marie Claire).
Harry and Meghan, having recently signed contracts with Spotify and Netflix, are probably okay, financially now (via Harper's Bazaar). But how to move forward without a royal security detail remains salient. In fact, when the family moved to California a source told The Sun that they chose their Montecito home in part due to privacy concerns. As per the source, Meghan and Harry "realized they needed a big home with a lot of space for Archie because they can rarely leave the house due to their fame."