Does Khloe Kardashian Still Want A Second Baby With Tristan Thompson?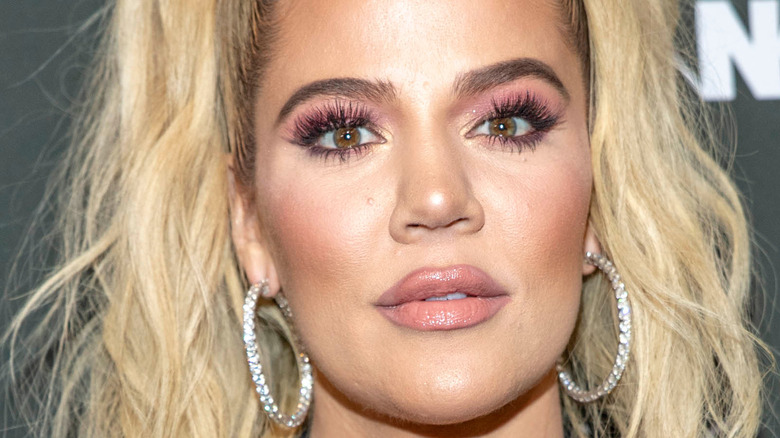 Shutterstock
Now that "Keeping Up With the Kardashians" is coming to an end at its 20th season, the glamorous and entertaining family is on our minds now more than ever. But it's not just the final season that fans are buzzing over — it's the stunning tell-all that the Kardashians/Jenners took part in with Andy Cohen as the host. Cohen teased back in April that the interview covered "everything," and that by the end of the day, there wasn't a single topic that they didn't discuss (via People). Well, the interview certainly didn't disappoint, and Cohen wasn't lying when he said they discussed it all.
Of the many nail-biting topics that were covered — including relationships, controversies, personal struggles — Cohen couldn't help but ask Khloé Kardashian about the status of her relationship with Tristan Thompson. For those who might have forgotten, the relationship between Kardashian and Thompson has been incredibly up and down, resulting in countless breakups and re-kindlings; but the alleged beginnings of the drama began when Thompson was caught kissing Kylie Jenner's best friend, Jordyn Woods, in 2019 (via Glamour).
So where do Khloé Kardashian and Tristan Thompson stand now, and what does their future as a family look like?
Khloé and Tristan were working with a surrogate agent
Jerritt Clark/Getty Images
Khloé Kardashian gave birth in 2018 to her first child, True, whom she shares with boyfriend Tristan Thompson. But as thrilled as the parents were about their new bundle of joy, the whole experience was inevitably tainted by Thompson's cheating scandal hitting the public just days before Kardashian gave birth. Despite the infidelity, however, the couple stayed together (via Seventeen). As the years progressed and through multiple other rumors of cheating, the couple called things on and off a few different times.
In May 2021, Kardashian and Thompson revealed on an episode of "Keeping Up With the Kardashians" (per Insider) that they would be interested in having a second child. In fact, they had even been making active moves to make this happen and giving True a sibling. "A few months ago, Tristan and I made embryos," Kardashian explained, via Insider. "And during that time, I was also told that I would not be smart if I carried my second pregnancy, I would be high risk and to explore surrogacy options, so Tristan and I have decided that's what we're going to do," she said.
On the subject, Thompson said, "It is a big commitment, and you want to find the right fit, but we got this new chapter, we've got this together, we're a team. I'm there as moral support, and, you know, whatever she needs for me, I'm two feet in."
Plans have changed in light of this big update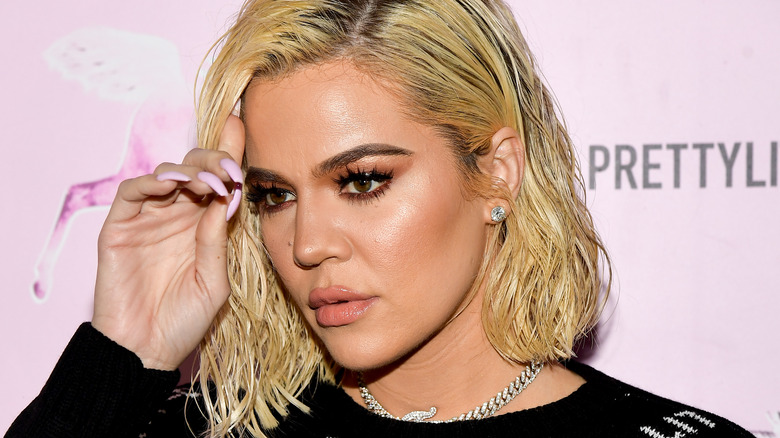 Matt Winkelmeyer/Getty Images
Oh boy, have things changed. According to ET, the couple have called it quits again, with a source explaining, "Tristan was at a birthday party in Bel Air on Friday night and was acting very single throughout the evening," the source at ET! said. "The Kardashians were invited to the party but did not attend. Tristan and Khloé will continue to co-parent True together in a healthy, loving way."
So what about their big plans for a second child? Well, according to a source, a second child is no longer in the picture. The source told Life & Style that a sibling for True is "off the table now." The source added that Khloé "really wanted [Tristan] to be the father of True's sibling." However, after this last breakup, "it just seems like it's time to move on."
Only time will tell if the couple will find their way back to one another, if this is really the end of the relationship, or if True will ever have the sibling that Khloé has dreamed of.