The Best Lip Color Based On Your Zodiac Sign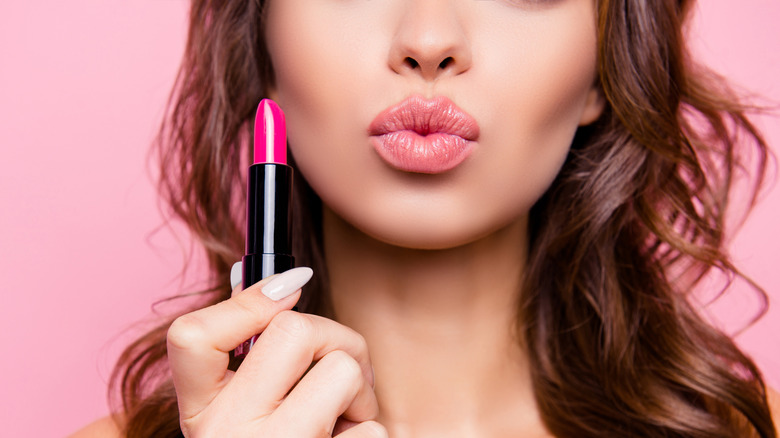 Shutterstock
Now that mask mandates are being lifted in places like in California, people are starting to get more comfortable showing the bottom half of their faces in public again (via ABC7). It's time to start incorporating lipsticks back into your daily makeup routine. This summer, you may even decide to go for bold — as in a bold lip color. 
The question is what color should you choose. Taylor Swift would agree that it never hurts to go with a basic red, and Allure has listed shades like coral and pink in their list of best lipsticks for summer 2021. However, you're looking for something more specific to you. One way to narrow down your choices is to go with a lip color that best matches your zodiac sign.
Each one of the 12 astrological signs has different personalities and quirks that make them totally unique. The same way you can spot a charismatic and talkative Gemini a mile away, you can also easily tell the difference between a warm Leo and motivated Capricorn. If you really relate to your sun, moon, or even rising sign, you might want to go with a lip shade that relates to it as well. 
Air signs might prefer unique color choices, where as earth signs will keep is subtle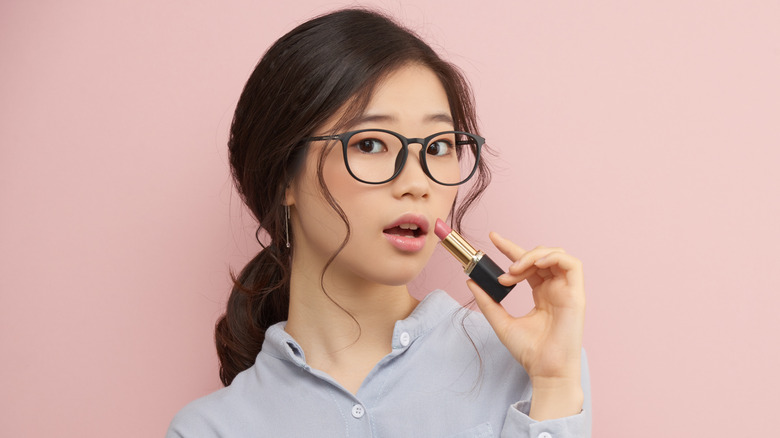 Shutterstock
Let's start with the air signs — Gemini, Libra, and Aquarius. According to The Cut, air signs tend to go with the flow, so you'll be down to try some unique colors. Both Live Glam and InStyle suggest that those with Aquarius signs should try a blue lip color, because you're willing be a bit "daring." Teen Vogue believes that Gemini who are "prone to changing their minds" should try something fun like a color-changing lipstick that goes from green to pink. Speaking of pink, Teen Vogue also suggests a flirty shade of pink for Libras, because they're "quick to embrace their inner romantic." You never know where date night may take you, and pink is a solid go-to. 
Now, if we're talking about the earth signs — Taurus, Virgo, and Capricorn — you're totally grounded, according to Cosmopolitan. This means you may tend to lean towards the more professional and natural colors. In fact, Astrologer Rebecca Gordon suggests to InStyle that Capricorns should go with "pale to deeper nude shades" to stay on the "profesh side." A more earthy neutral color like tan is what FabFitFun suggests for Tauruses, especially during the fall season. Teen Vogue also stays in the same realm suggesting some "subtle neutrals or pinks" for any Virgo peeps. 
Water signs need to feel out their color, while fire signs will want to stand out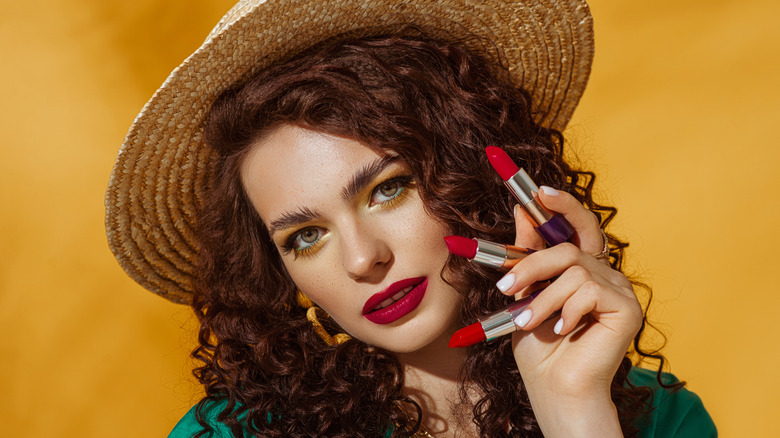 Shutterstock
Moving on the water signs of Cancer, Scorpio, and Pisces. Women's Health states that these three zodiac signs tend to be sensitive and creative. You're all about your feelings, so you've got to really feel like these lip shades are for you. Cancer season has arrived, so if this is your time to shine, you may want to wear out a "muted pink," according to InStyle. As long as you feel comfortable in the color, you're good, so you might even want to go for something that has a hydrating element to it as well. Scorpios are super passionate, and there's no other color that screams passion more than red (via FabFitFun). When it comes to Pisces, you're considered the "dreamiest sign," according to Refinery29, so go with a peachy lip color that has an ethereal quality to it. 
Last up, we've got the fire signs — Aries, Leo, and Sagittarius. You were "born for greatness," according to Cosmopolitan, so you'll want to find shades that stand out. An Aries babe was made for a bold red lip, according to InStyle. Since Leos are represented by lions, you'll want to be inspired by their manes and go with "a fiery red with obvious orange undertones," according to iDiva. Both FabFitFun and Teen Vogue wanted to point out that Sagittariuses are busy, so you'll need a long-lasting lip shade in either red or a cheery coral.