Lizzo's New Look Has Fans Making This Surprising Comparison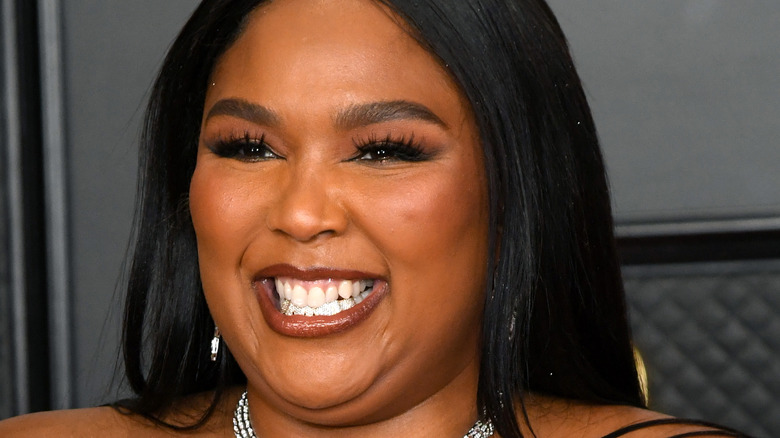 Kevin Mazur/Getty Images
Throughout her years in the public eye, singer (and sometimes rapper) Lizzo has had a dramatic shift in style. From her red carpet looks, to the 'fits she rocks on stage, and even to her streetwear choices, her personal style is a force to be reckoned with. And as longtime (and new) fans can surely recall, Lizzo's messages of self-love and body positivity in her party-starting anthems make us all feel, well, good as hell. 
According to Lizzo's stylist, Marko Monroe, the singer's natural talent and ability to look flawless in any look are reminiscent of Madonna, per Billboard. He adds that Lizzo is not afraid to "make a splash."
"She's confident, and style is about confidence," he explained. "It doesn't really matter what you wear as long as you have confidence in it. A lot of times we have a certain idea of what her body shape should fit into, but styling doesn't have to be so by the rules. At the end of the day, she just wants to feel good and sexy. I try to deliver that as best as I can."
Well, Lizzo appears to have made yet another splash in the pool of style. In a video the singer posted to TikTok, she can be seen showing off a brand new hairstyle to her 16.5 million TikTok followers – and it's a look we've never seen her rock before.
Fans are getting this vibe from Lizzo's new hair
In 2015, Madonna stunned the world when she showed up in Versace's Spring Campaign with bleached eyebrows. Well, it's no wonder that Marko Monroe compared Lizzo to the "Like A Virgin" singer, as Lizzo is jumping on the no eyebrows look, too. In her TikTok video, with the trending song "Shake That A** x Roll Me Up" by J.Earl, the "Truth Hurts" singer revealed her bleached blonde brows.
From Masie Williams to Katy Perry, and even Kim Kardashian, it would appear that the hottest eyebrow trend involves bleaching (via Vogue). Of course, Lizzo isn't known to keep things simple. She took things even further than her eyebrows and shocked fans with a brand new platinum blonde pixie hairstyle to match. But it's not Madonna that fans are comparing Lizzo to.
In 2020, Kris Jenner wanted to give the platinum blonde a try, but was intimidated with the grueling process that would be involved – so, she sported a wig for a while, per People. So with Lizzo's new 'do looking very similar, fans can't help but compare her to the famous Jenner. According to Us Magazine, one fan wrote, "All I see is Kris Jenner lol she killed it tho Lizzo can pull off anything." Another gushed, "Giving me very much blonde Kris Jenner Vibes."