The Truth About Kacey Musgraves' Relationship With Cole Schafer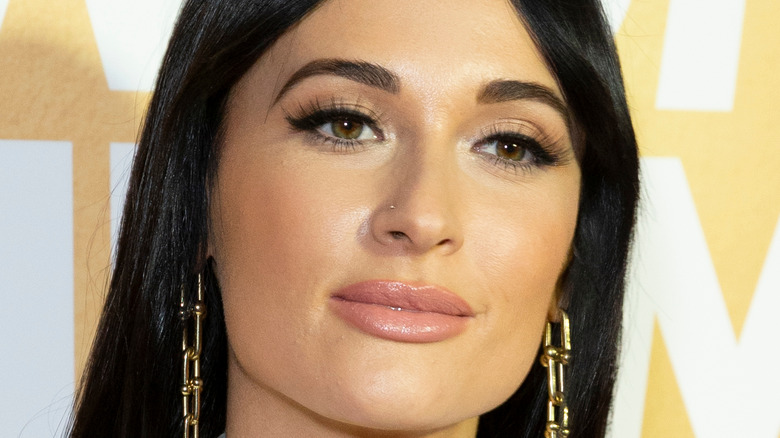 lev radin/Shutterstock
It's been a rough year for Kacey Musgraves following her divorce from Ruston Kelly in 2020 after three years of marriage. While divorces are certainly never a walk in the park, Musgraves told Elle that it was an "absolutely heart-wrenching" experience. "I felt, in many ways, on top of the world in my career, but in my personal life, I felt like I was dying inside," she explained. "I was crumbling. I was sad. I felt lonely. I felt broken." But the country singer appears to be entering a new chapter of her life, both professionally and personally.
Musgraves recently teased a brand new album that will be coming out, "Star-Crossed," as well as a corresponding short film of the same name (via Twitter). As the singer told Elle, the new music and film center around "two people who love each other so much, but they cannot make it work in the physical realm to be together, because it's just not written in the stars for them." Fans are absolutely buzzing and couldn't be more excited to hear — and watch — fresh content from the "Golden Hour" artist.
As for her personal life? Well, despite her new album covering content related to her painful divorce, it would appear that Musgraves has moved on to green pastures — pastures that take the form of a hunky, romantic poet.
Here's what we know about Kacey Musgrave's new beau
Kacey Musgraves is dating a new man, with the exciting news not just coming from whispers of tabloids but also from Musgraves herself. The lucky man is called Cole Schafer — otherwise known by his pen name, January Black (via Us Magazine) — and he's a published writer and a poet. So far, he's released three anthologies of poetry and short stories: "One Minute, Please?", "After Her," and "Quarantine Dreams," per his independent press company, Honey Copy. Words are definitely his forte, as he also works as a copywriter in advertising, a job which, per his website, he describes as "selling things with pretty words."
According to an interview with Musgraves in The New York Times, they met pretty inconspicuously at a restaurant one night. "He did not know who I was, which I loved," she told the outlet. She explained that this was important to her, as since becoming an artist within the public eye, she's constantly being approached by strangers — men in particular. 
The poet that he is, Schafer hasn't been able to keep his emotions quiet. On August 22, 2021, he took to Instagram to write some beautiful musings about his new love interest. "Here's to your aesthetic and your art being a close second to your heart. Here's to you making it through thirty-two and here's to you making history in thirty-three," he wrote. "It's been so damn pretty falling for you, Kacey." The romance is real.