Inside Aly Raisman's Relationship With Chris Evans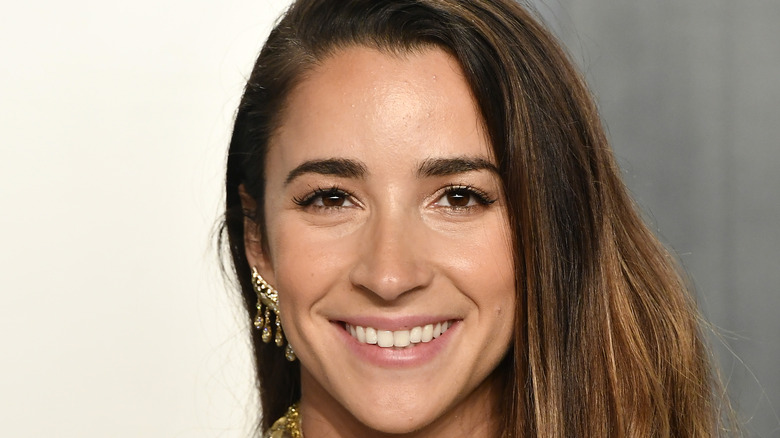 Frazer Harrison/Getty Images
We predict you'd be hard-pressed to find a person who has a single bad thing to say about Chris Evans. From Scarlett Johansson to Lizzo, it feels like every time we go onto social media, someone else is hanging out with the "Avengers" star or having a cute interaction with him on Instagram (via People). Well, it would appear that he's been recently hanging out with yet another celebrity BFF, and we can't help but wonder what the story is behind this unlikely pairing.
It all started when the 39-year-old actor was spotted hanging out with 26-year-old Aly Raisman. Raisman is an Olympic three-time gold medalist in gymnastics, and while she didn't compete in the 2021 Tokyo Olympics, she has most certainly had an eventful past few months. Indeed, she is a member of the group of gymnasts — including Simone Biles — who came forward with accusations of abuse at the hands of former USA Gymnastics team doctor Larry Nassar (via Business Insider).
Raisman and Evans appeared to be publicly linked for the first time via a video of their dogs playing together. Raisman posted the video to her Twitter account with a caption that read, "Dodger & Mylo play date @ChrisEvans," alongside a white heart emoji. 
Both Evans and Raisman no doubt bonded over their mutual love for dogs. Over the years, Evans has been quite vocal about his love for his dog Dodger, a mixed-breed boxer, posting a video in 2018 of the day he met Dodger and subsequently decided to adopt him.
Chris Evans and Aly Raisman bonded over a mutual love for their dogs
As for Aly Raisman, while she hasn't had her dog for as long as Chris Evans has had his, she certainly loves him just as much. In October 2020, Raisman took to Twitter to share that she had rescued a dog called Mylo, writing, "He was born July 16, 2020. I'm so excited to be his mom. I've already cried a few times because I feel so lucky. He's currently napping on my chest. I can't wait to get to know him," she gushed. Raisman even posted a video of Evans holding Mylo as a puppy with the caption, "Best buds."
Less than a year later, Mylo ran away after being spooked from some 4th of July fireworks. Raisman claimed to have spent "an awful week" looking for him. Captain America to the rescue — Evans even took to his Instagram account to ask his followers to "be on the lookout" for Mylo (via Republic World). After about a week, two girls who were out walking their dog spotted Mylo stuck behind a fence in Boston and contacted Raisman with the good news. "Mylo was jumping all over me and really excited and it was just such a crazy thing," Raisman said, recalling when she and Mylo were finally reunited. "It still feels a little too good to be true," she said, per the Boston Herald.
Are Evans and Raisman dating?
It's no wonder that Chris Evans and Aly Raisman share such a close bond, seeing how much they love their dogs — and how much their dogs love each other. "Our dogs have fun together, so it's nice," the gymnast told Us Weekly.
But surely these BFFs have a bond that extends past their love of dogs, right? According to Raisman, she and the "Captain America" star have actually known each other for many years and shared that Evans is "great" and "super nice." But there's very little information regarding how they met up in the first place. It's possible that perhaps they met in Boston, however, as they're both proud Bostonians.
Many fans have speculated that the two might be dating, but there's no real evidence to substantiate these claims. One user on Twitter commented on the video of Evans holding Mylo as a puppy, saying there are three important questions that she needs answers to: "1. Is Chris Evans dating Aly Raisman? 2. Is that the same sweater from 'Knives Out?' 3. Is Chris Evans dating Aly Raisman?"
Well, while we don't know if the two A-Listers are dating, one thing's for sure: that was definitely the sweater from "Knives Out" (via People).