What The NCIS Cast Really Thinks About Mark Harmon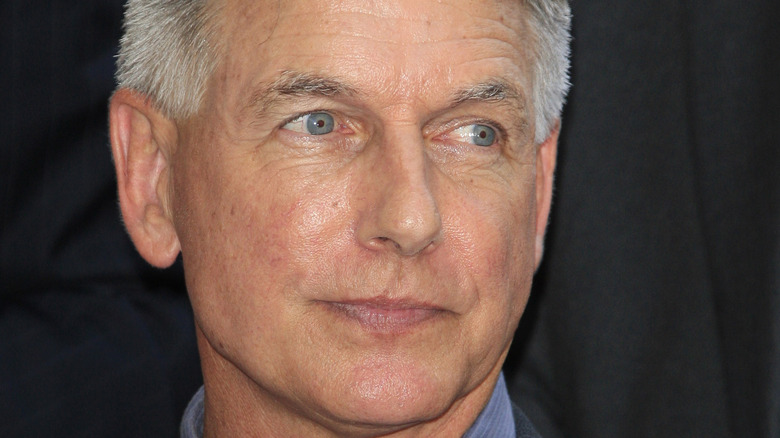 Joe Seer/Shutterstock
You've heard the rumors. Or, at least, The Hollywood Reporter has. Season 19 might be Mark Harmon's last season on NCIS, and, on top of it all, he's not (gasp!) expected to bless our screens regularly. In September 2021, CBS Entertainment President Kelly Kahl confirmed to Deadline that while Harmon would always "be part of the show ... in terms of his on-air appearances [as Leroy Gibbs], we're just going to have to see how it plays out going forward." It's a lot to take in, we know.
If the NCIS pillar stone is truly preparing to step back, it's unlikely that his decision is motivated by tensions with the cast. Okay, yes. There were those 2016 rumors that actress Pauley Parette (who you fell hard for as Abby) abandoned the show after a particularly ugly confrontation with Harmon. Don't remember? Harmon's dog apparently bit a crew member, who ended up with no less than 15 stitches. A source at that time told The Wrap that in the hairy aftermath, Harmon and Parette's relationship soured so much that the two flat out refused to shoot together. "She did her scenes on one day and he did his work on other days, and they still produced a great show," a person in the know reported.
Diona Reasonover (AKA NCIS Kasie Hines) who replaced Parette, however, told TV Insider in 2018 that "NCIS feels like a big family." We've done some digging. "Family" seems to be exactly how Harmon's coworkers think of him.
The NCIS cast are Mark Harmon superfans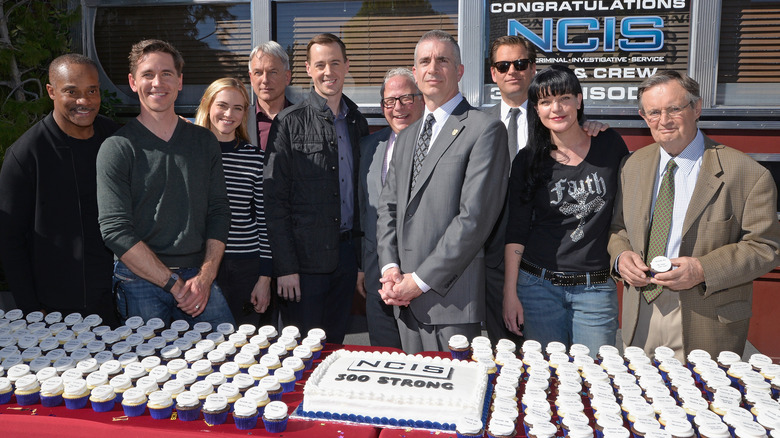 Michael Tullberg/Getty Images
It goes without saying that Pam Dawber — Mark Harmon's wife-in-the-flesh — has nothing but props for her husband. Dawber, who plays investigative journalist Marcie Warren on NCIS, gushed to EW that her husband is "is just a giving, great guy. He just gives me attagirls, you know?" The rest of the NCIS cast is almost just as head-over-heels over their co-star. 
Wilmer Valderrama, who lights up your screen as Special Agent Nick Torres — bragged to ET that he and Harmon "have quite a bromance going on," rhapsodizing that Harmon's "energy is beautiful." Sean Murray (everyone's favorite, Tim McGee) told Country Living that "Harmon is a very special individual," crediting his talent and leadership for the show's longevity. Rocky Carroll, who plays NCIS Director Leon Vance described Harmon as "the ultimate collaborator" to HuffPost. Brian Dietzen (the dependable Dr. Jimmy Palmer) thinks Harmon deserves an Emmy (via Twitter). Maria Bello — AKA  Jack Sloane's – farewell picture on The Gram (yes, she's leaving the show) is of her and Harmon hugging it out. "I've never worked with a kinder, more generous group of people." she wrote. Emily Wickersham — who you might know as Eleanor Bishop –  credits that kindness to Harmon. When she replaced the irreplaceable Cote de Pablo, she told Perth Now that the cast's contentment has to do with Harmon's sweetness. "I really believe that starts with him and trickles down," she said. 
As we said, Mark Harmon might be leaving NCIS. If so, it's not the cast who's kicking him out.