Is This Really The Age Tom Brady Thinks He Will Quit Playing Football?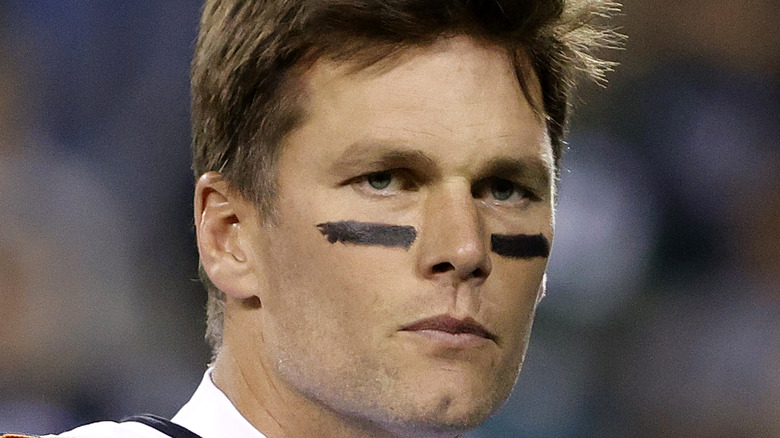 Tim Nwachukwu/Getty Images
Throughout the history of football, there have been countless NFL players that have refused to retire, despite to old age or injuries. From James Harrison and Randall Cunningham, to Emmitt Smith and Brett Favre, some athletes simply don't know when to quit — and ultimately need a lot of convincing to do so (via NBC Sports). It's no secret that while being a professional athlete is one of the most sought after careers for sports lovers, it can do some serious damage to a person's body — which is why the average age of retirement for an NFL player is 27.6, making football the league with the shortest career longevity, per an RBC Wealth Management study via As. But if you ask football superstar Tom Brady? Age is just a number.
Brady — the former Patriots quarterback, "Greatest of All Time" football player, insanely beloved by fans and decorated with a gamut of Super Bowl rings — is on the list of athletes that refuses to retire. At 44 years old as of publication, Brady is currently the oldest active player within the NFL (via Sporting News). And yet he believes his body is still going just as strong as it always has.
Here's why people say Tom Brady is the greatest football player ever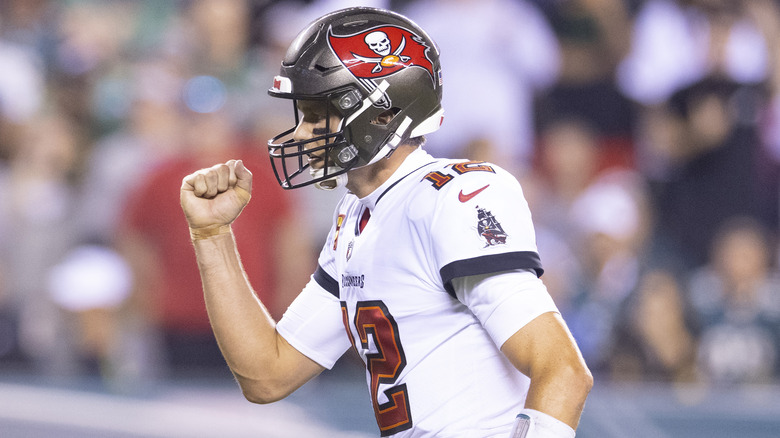 Mitchell Leff/Getty Images
It's a common sentiment that Tom Brady is one of the best football players of all time, regardless of whether or not you're a fan of his team (which by the way, is currently the Tampa Bay Buccaneers as of last year, after having been on the New England Patriots for 20 seasons, per The New York Times). Indeed, he's won seven Super Bowls — which is more than any other football player — three league MVPs, two Offensive Player of the Year awards, and 14 Pro-Bowlers, just to name a few of his impressive awards (via CBS Sports). Needless to say, the man is good at football. But regardless of his highly decorated career, fans should enjoy his presence in the NFL while it lasts, as he's recently made comments that would suggest the end could be in sight.
In a conversation with Andrea Kremer and Hannah Storm during the "Thursday Night Football" game featuring the Tampa Bay Buccaneers versus the Philadelphia Eagles on October 14, 2021, Brady chatted about the future of his career. "I really think I can play as long as I want," he boldly stated. "I could literally play until I'm 50 or 55 if I wanted to" (via People).
But don't get too excited — he quickly added that he "obviously" won't do that.
If Tom Brady quits, it would be for this reason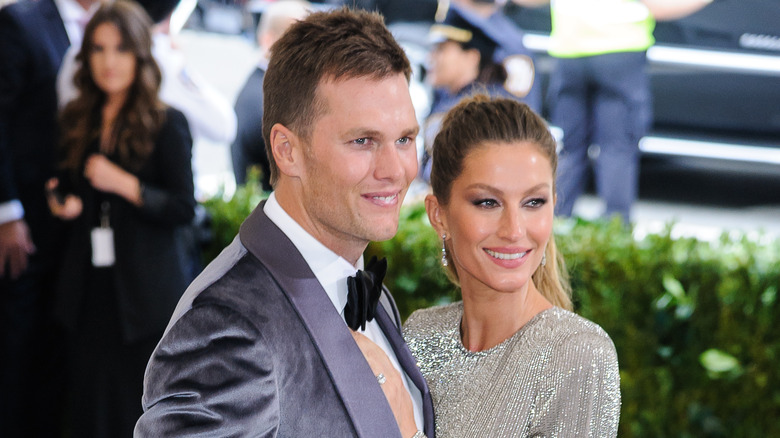 Sky Cinema/Shutterstock
Tom Brady explained that when he inevitably retires, it won't be because of any physical restraints. That "won't be the problem," he clarified, as noted by People. "I think it'll just be, I'm just missing too much of life with my family."
Brady has three children. He shares two of them — Benjamin and Vivian — with his wife, model Gisele Bündchen. He shares John "Jack" Moynahan with his ex-girlfriend, actress Bridget Moynahan (via StyleCaster).
Brady's good friend and teammate Rob Gronkowski equally believes that Brady's body could withstand many more years of playing the rigorous sport, which he shared in an interview last month. Gronkowski confidently asserted that Brady could play until he's 50, which wouldn't be "difficult" for him to do.
"Plus, in Florida, it's kind of a retiree state, so I feel like I can play and then just glide into retirement. I think I can. I think it's a yes," Brady added to the conversation, per People.
Perhaps hall of famer Joe Montana really was onto something when he called Brady the greatest football player of all time (via CBS Sports).