Jason Momoa Was Spotted Getting Cozy With An Unexpected Actress After The Oscars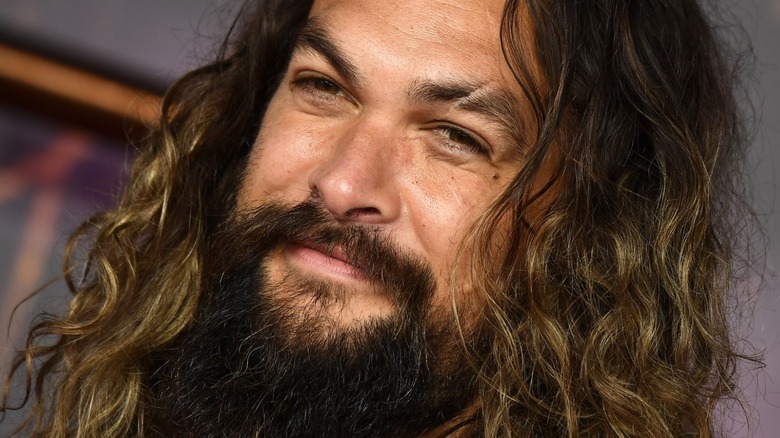 Jeff Spicer/Getty Images
When Hollywood's favorite couple Jason Momoa and Lisa Bonet announced their split on Instagram in January 2022, the sound of hearts shattering was heard all over the world. The sad news left fans piecing together clues that hinted at their divorce. In their 17-year relationship, the pair became the blueprint for what a loving, blended family should look like, per Us Weekly. Momoa and Bonet share 14-year old daughter Lola and 13-year old son Nakoa-Wolf, reports POPSUGAR, and Momoa's tight-knit relationship with stepdaughter Zoë Kravitz and her father Lenny Kravitz is legendary.
For Momoa and Bonet, family has always been at the center of everything. In their now-deleted Instagram announcement, the former couple attributed their divorce to the "changes of these transformational times", as reported by People. But above all else, Momoa and Bonet made clear their "unwavering devotion" to their children. In the midst of their divorce, Momoa continues to actively support Zoë and her projects. He was one of her biggest cheerleaders when she aced her gig hosting "Saturday Night Live," per Cinema Blend.
Fans have been hoping that the couple would get back together. But rumors are flying surrounding Momoa's potential new love interest.
Jason Momoa and Kate Beckinsale got super close at the Oscars after party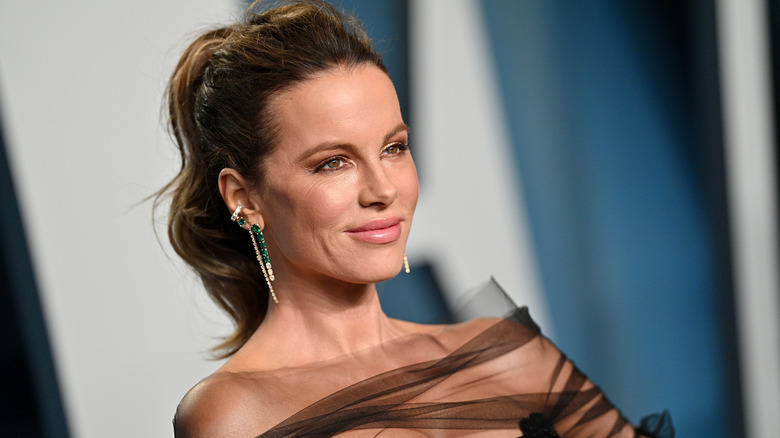 Lionel Hahn/Getty Images
On Sunday, March 27, the 2022 Oscars made headlines for all of the wrong reasons. Kourtney Kardashian and Travis Barker's awkward PDA on the red carpet, Will Smith's divisive (and physical!) defense of wife Jada Pinkett Smith, and In Memoriam snubs were just a few moments that defined the night. 
But all eyes were on Jason Momoa and Kate Beckinsale at the Vanity Fair Oscars after party where, according to the Daily Mail, he was seen giving the "JOLT" actress — who wore a stunning sheer gown — his jacket. In the leaked paparazzi photos, Momoa and Beckinsale's chemistry is on full display as they share a laugh outside of the venue, per Daily Mail. Multiple sources told E! News that they spent the night chatting and were giving off a "flirty vibe." One source told the entertainment outlet that Momoa and Beckinsale were very comfortable around each other, and he "put his arm around her a few times and she lit up with a big smile."
Though it's possible that Momoa was being a gentleman and helping Beckinsale keep warm in her gorgeous Zuhair Murad bodysuit/tulle gown, it will be interesting to see if anything comes of this night. The jury is out on whether or not this is definitive proof that the "Sweet Girl" star has moved on.
Jason Momoa opened up about his relationship status today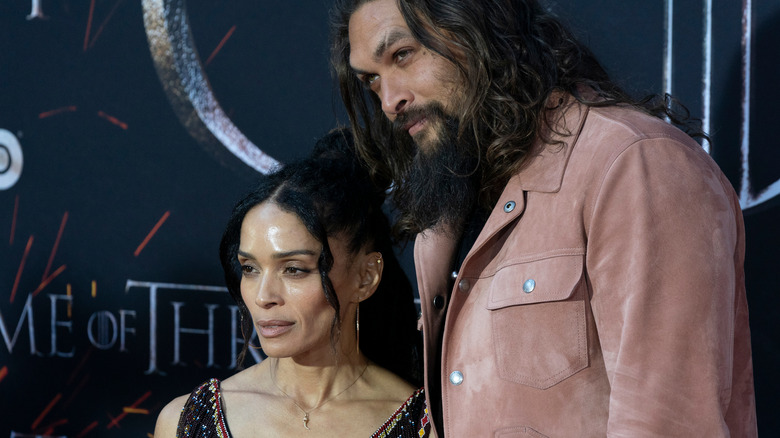 Lev Radin/Shutterstock
There's been much speculation surrounding Jason Momoa and Lisa Bonet's split, per Page Six, and whether or not they're getting back together. People reports that Bonet was seen wearing her wedding ring on Wednesday, March 16, which further fueled the flames.
But during a March 27 interview with Access Hollywood on the Oscars red carpet, Momoa refuted claims that he and ex Lisa Bonet were getting back together. "Oh, no, no, we're not back together," he corrected host Scott Evans. "We're family, you know. We have two beautiful children together ... We're family forever." Though Momoa and Bonet are not together, their love for their family still takes center place.
On March 1, he showed up to the premiere of "The Batman" with his kids in tow, per Page Six, and showered Zoë (who plays Catwoman) in love and praise in his red-carpet interview. He told E! News that both he and Bonet, who was unable to attend the premiere, couldn't be prouder of Zoë.
Two days later, Momoa got candid about the impact of his public split on Instagram. He posted a sweet picture of his family on the red carpet, and dedicated his caption to his unwavering support of Zoë's performance and his thanks to his fans and news outlet for giving his family much needed privacy. "Mahalo to the fans and press for being generous and giving us space for the children it's hard enough separating in the public eye," the caption read in part. "We appreciate the continued privacy through these times aloha j."