The Full House Stars Who Lived Together Before Playing Roommates On TV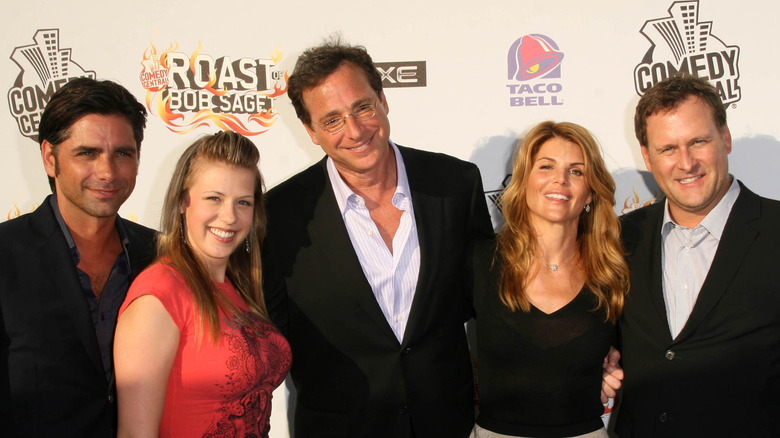 s_bukley/Shutterstock
Every so often, you find a bit of television magic where everything just works. From the cast to the plot to iconic props, everything seemingly fits together to craft the perfect binge-watch. A huge part of that small-screen sorcery comes down to the cast's chemistry, and few television shows showcase a more believable family dynamic than "Full House." The beloved sitcom ran for almost 200 episodes from 1987 to 1995 (via IMDb).
From the "Full House" cast's hilarious group chats to weddings and red carpets, the "Full House" family seems as close in real life as they were on the show. In fact, these days, the cast seems to be as close as ever, with Dave Coulier telling People in 2022, "It's incredible to have a group of people in our lives like this, where we know we're going to get that instant support system. It's pretty special."
While most of the cast members met once cameras started rolling, two "Full House" alums formed a close bond years before the world fell in love with the Tanner family. 
Art imitated life for Dave Coulier and Bob Saget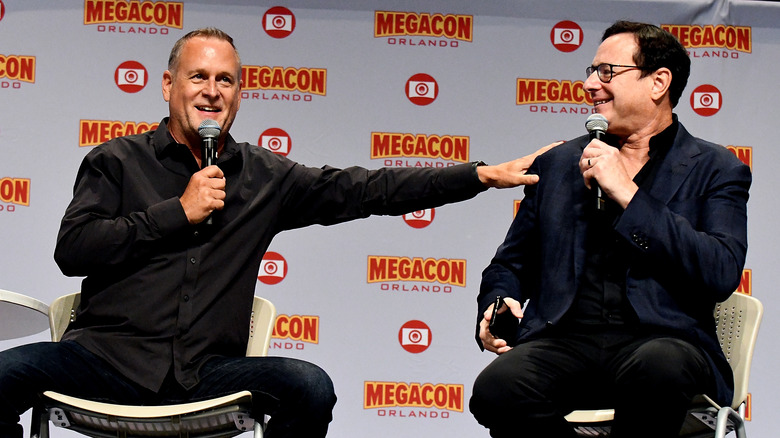 Gerardo Mora/Getty Images
"Full House" stars Dave Coulier and Bob Saget — who played Joey Gladstone and Danny Tanner, respectively — were close off-screen long before filming. "I met Bob when I was 18 years old, and he was on a comedy store tour here in Detroit," Coulier told Fox News. "And I was an 18-year-old comic and a wannabe, and he walked in and just blew this. It was a Monday night, new talent night, and he blew the rafters off this place."
Once the pair met, Coulier told Fox News that they became "instant friends." So much so, in fact, Coulier eventually ended up crashing on Saget's couch in Los Angeles. Their friendship grew while they were roommates pursuing their budding comedy careers. They didn't know then that their careers were about to take off in a massive way.
"Bob and I just became instant brothers, and art imitates life," Coulier told CBN News. "I end up doing 'Full House' with Bob. And [my character] Joey moves into [Saget's character] Danny Tanner's living room and sleeps on his couch." Just like their characters, Coulier and Saget were always there for each other. Their brotherhood continued through eight seasons of "Full House" and beyond, until Saget's death on January 9, 2022. 
Dave Coulier considered Bob Saget his 'brother'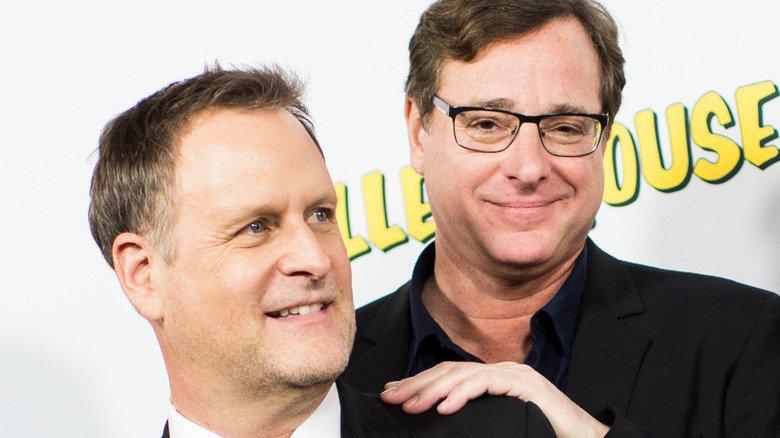 Emma Mcintyre/Getty Images
Bob Saget's death in early 2022 left the "Full House" cast, along with the rest of the world, speechless. Saget was mourned by both the entertainment industry and the everyday family. With his death, fans lost "America's Dad" (via The Los Angeles Times). Many "Full House" cast members took to social media to pay tribute to the actor. Saget's lifetime friend and honorary brother Dave Coulier was among them.
"I met Bob when I was 18 years old. I didn't know then that two, struggling standup comics would end up being brothers forever," wrote Coulier in a heartfelt Instagram post. "I wish I could lean on you right now through all these tears. I love you." 
When TV magic happens, it affects so much more than just characters on the screen. Lives are changed — both on and off-camera. From the audience to those who knew him personally, Saget's legacy of kindness and humor will always be remembered.