Princess Anne's Heartfelt Statement About Her Final Hours With The Queen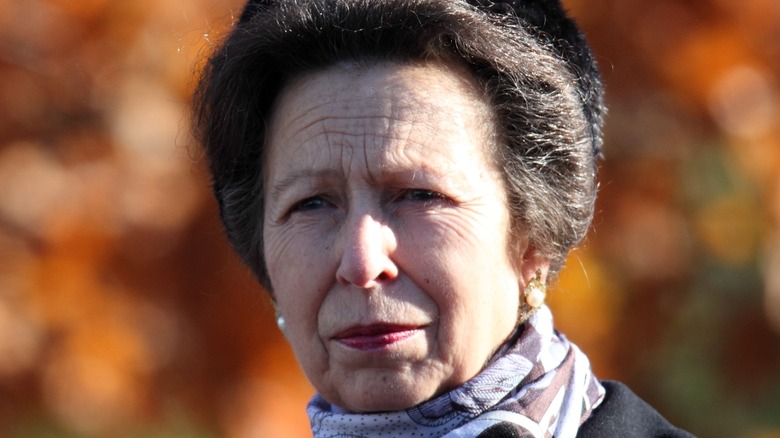 Art Babych/Shutterstock
The two royals who were with Queen Elizabeth II during the final hours before her death have become the two most public in the days since. King Charles III has officially ascended the throne — and aside from what body language experts speculate is a genuine reunion between Prince William, Prince of Wales, and his brother, Prince Harry, Duke of Sussex — it's Princess Anne who has been sharing the king's spotlight.
Following the example the queen set following Princess Diana's death, Princess Anne waited five days before issuing a statement, which royal contributor Victoria Arbiter shared in a tweet. The princess wrote she was "fortunate to share the last 24 hours" of the queen's life and that it has been "an honor and a privilege to accompany her on her final journeys."
During Queen Elizabeth's journey from Balmoral Castle, where she died, to her arrival in London on September 13, the Princess Royal has been beside her mother. About this, Anne wrote that "[w]itnessing the love and respect shown by so many on these journeys has been both humbling and uplifting."
"We will all share unique memories," she added, referring to both the queen's funeral and the ascension of her brother, King Charles III. "I offer my thanks to each and every one who share our sense of loss."
Princess Anne went on to admit that the loss of her mother reminded her "how much [the queen's] presence and contribution to our national identity we took for granted."
Princess Anne's involvement with the queen's funeral has been historic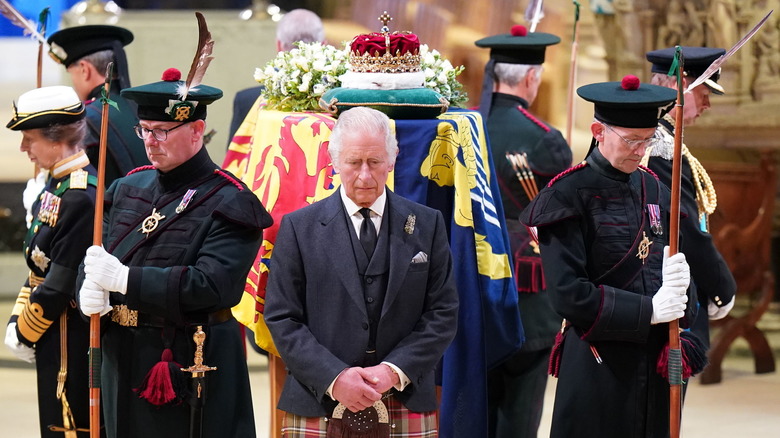 Wpa Pool/Getty Images
Part of Queen Elizabeth II's "final journey" included a six-hour procession from Balmoral to the Palace of Holyroodhouse. There, King Charles III was joined by Princess Anne and Prince Edward — both dressed in military uniform — as well as Prince Andrew, to walk the queen's casket to St. Giles' Cathedral (via AP).
Once at St. Giles' Cathedral, the casket was draped with the Royal Standard of Scotland before being adorned with a simple floral wreath and the Crown of Scotland, per People. Afterwards, the siblings took part in the tradition known as "The Prince's Vigil," during which they stood on all four sides of the queen's coffin in silent vigil for 15 minutes as the public paid their respects. Princess Anne's involvement in the tradition marks the first time a woman has been allowed to participate.
Getting from Balmoral to St. Giles' and "The Prince's Vigil" were only two steps of a longer journey, however. Hello! Magazine reports Princess Anne joined Queen Elizabeth II's coffin as it traveled by plane from Edinburgh to London on September 13. Video captured the look of grief on the Princess Royal's face as she watched her mother's casket be loaded onto the plane that would take her away from her beloved Scotland for the last time.
Princess Anne was at Buckingham Palace with other royal family members to receive the queen, when the hearse carrying the queen was greeted by a round of cheers. 
Princess Anne's feelings about the queen are clear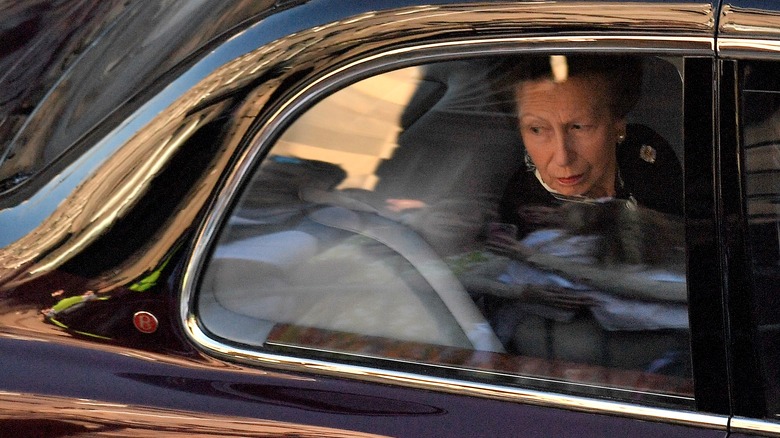 Wpa Pool/Getty Images
If there were any questions before about how Princess Anne, Princess Royal, felt about her mother, it's been made clear in the days following the death of Queen Elizabeth II. From the final curtsy Anne gave the queen's casket when it arrived at the Palace of Holyroodhouse to the look on her face when the princess watched her mother's casket being loaded on the plane in Edinburgh, Anne clearly respected, admired, and loved the queen.
In a previously unaired interview from 2017 with ITV's Royal Editor Chris Ship, Princess Anne spoke about the relationship she shared with her mother. Besides respecting and admiring the partnership her parents shared, Princess Anne said she and her mother also shared a passion for horses, something she explained was important in their "rather restricted life" because horses gave them "an opportunity to [get] right out of that 'zone'."
During that same interview, Anne talked about learning to be royal — she just had to follow the example her mother was setting. This included in 1997, when Queen Elizabeth II chose to stay at Balmoral Castle with Prince William, now Prince of Wales, and Prince Harry, now Duke of Sussex, in the wake of their mother's death. According to Oprah Daily, since the queen also waited five days to release a public statement, she was called "aloof" by critics.
Anne, however, felt her mother did what she was supposed to do: put family first.