How Life Will Be Different For Barron Trump After Leaving The White House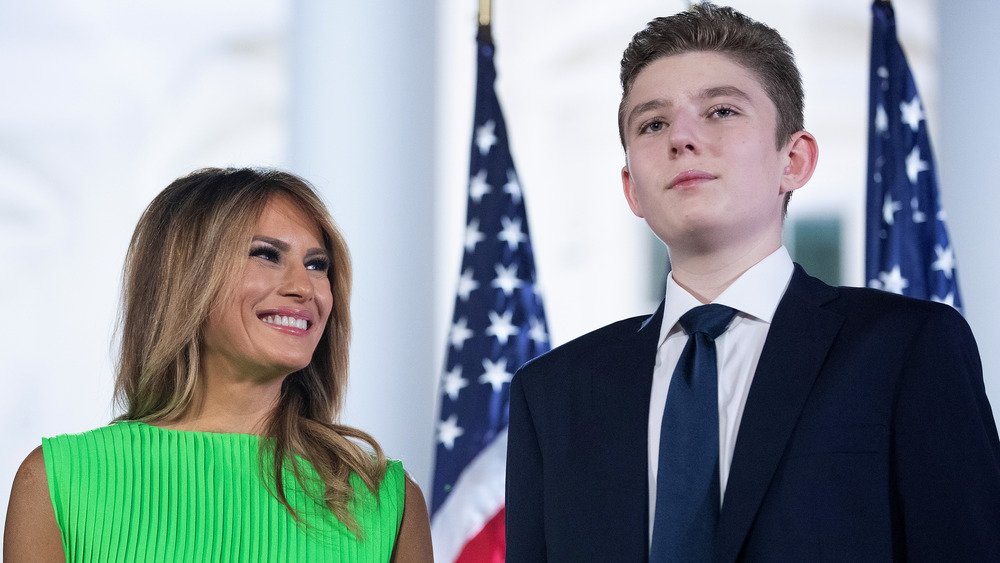 Chip Somodevilla/Getty Images
Former President Trump has five children. Young Barron, however, is the only one who could be said to have "grown up" while the 45th president served in the White House. You could say that phrase quite literally, too, as the youth was close to his mother's shoulder in height in 2017 and now towers over her by at least a head some four years later (via USA Today). While tall as an adult, Barron is still not fully grown so his parent's choices are likely to dictate much of the changes he experiences now that the Trump family has vacated the White House.
The Obamas chose to stay in the area for their daughter Sasha's schooling after leaving office. The Trump family, however, is not following suit for Barron Trump, who had previously attended a high school in Potomac, Maryland, about 20 miles from the White House. After People reported that the Trumps were renovating their Mar-A-Lago quarters in December of 2020, Forbes spotted in mid-January 2021 moving trucks outside of Trump's Florida resort.
But while Barron will undoubtedly have to get used to warmer climates, for a while at least, one thing won't change. Melania and the former president are entitled (but not required) to have Secret Service protection for the rest of their lives. Meanwhile, a mandate from Barack Obama's term only requires Secret Service protection for children of former presidents up to the age of 16 (via CBS News). This law means that Barron has at least another year of security service protection, as he makes his Florida transition.
This is where Barron Trump might attend school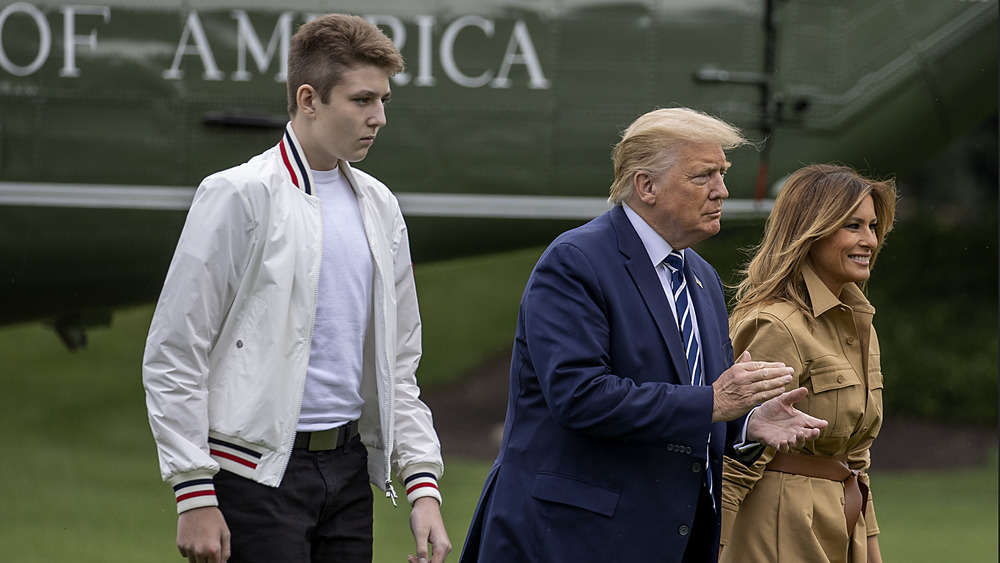 Tasos Katopodis/Getty Images
People's December 2020 sleuthing revealed that Melania Trump was sussing out Florida-based schools for her son. Just days later, Page Six whispered that her school of choice might be the $36,500-a-year Pine Crest School in Fort Lauderdale. When the Sun Sentinel reached out to the school for comment, they neither confirmed nor denied the rumors. Their privacy policy is doubtless a good thing for Donald Trump, as he'd be obliged to submit his tax returns as part of the admission process.
If Barron Trump transfers to Pine Crest, he'll be 40 minutes away from his parents in Mar-A-Lago. There, he'd be able to take advantage of tennis courts and an Olympic-sized pool for recreation purposes (via the New Times). According to the school's webpage, class sizes are limited to 20 pupils, meaning that young Barron would get plenty of one-on-one time. Approved laptops are necessary for attendance in the school (high-end Apple and Dell brands are preferred), although we doubt that would be a stumbling block for the Trumps.  
After school, Barron would also have 50 different clubs to choose from, where he could fill his free time with the other children of South Florida's rich and famous if he didn't want to head directly back to Mar-A-Lago. Finally, upon graduation, Barron Trump would join the ranks of other famous Pine Crest alum, including pop star Ariana Grande, actor Kelsey Grammer, and The Real Housewives of New York's former castmate Bethenny Frankel.
Many first kids have transitioned out of office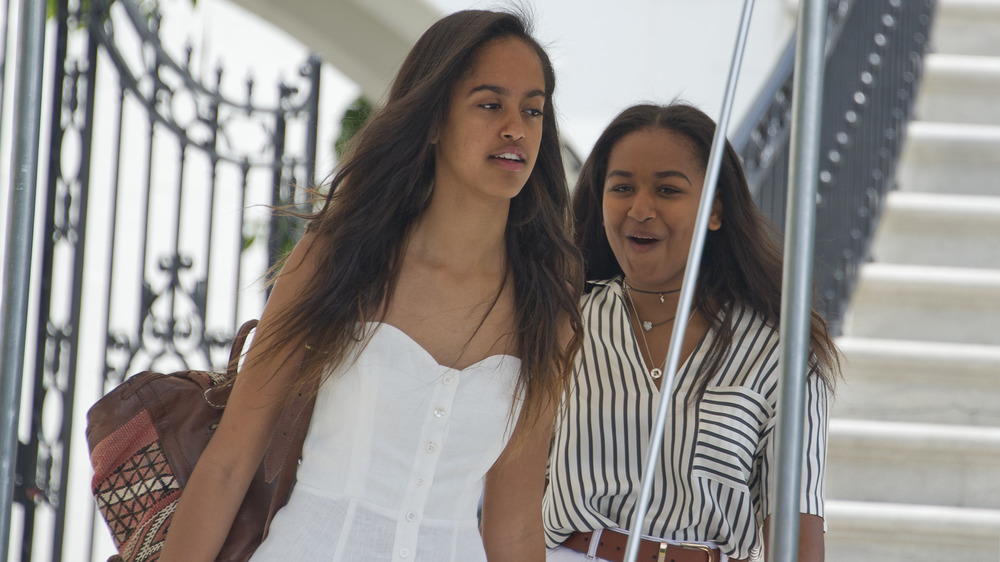 Pool/Getty Images
We can gain some ideas about what it's like to leave the White House from former first kids. For example, in the past, leaving and arriving White House residents have toured the home together. Jenna Bush Hager reflected in 2020 on how much fun she had showing the Obama sisters (then 7 and 10 in 2008) around and pointing out all the best hiding spots (via The Independent). Chelsea Clinton, a White House resident from 1993 to 2001, famously used her experience living next to the political center of the U.S. to inspire further study (via US Magazine). Once her father was free to travel as a private citizen, Clinton enrolled in graduate school at the University of Oxford, where she obtained a master's degree in international relations.
Malia Obama chose to take a gap year for college and wait to enroll until her father was no longer sitting president, so leaving the White House for her meant added freedom and less media during her college years (via The Washington Post). Like her sister Malia, Sasha's leaving the White House involved a move and also a change of culture — but maybe not a total change. Michelle Obama shares that the sisters still had security, even if it was a little different, and still had to be aware of public scrutiny (via E!).
Upon leaving the White House, Barron Trump will face many of the same changes as the first children before him, whether he chooses to follow tradition or not.