The Bachelor's Victoria Larson Finally Addresses Her Bullying Accusations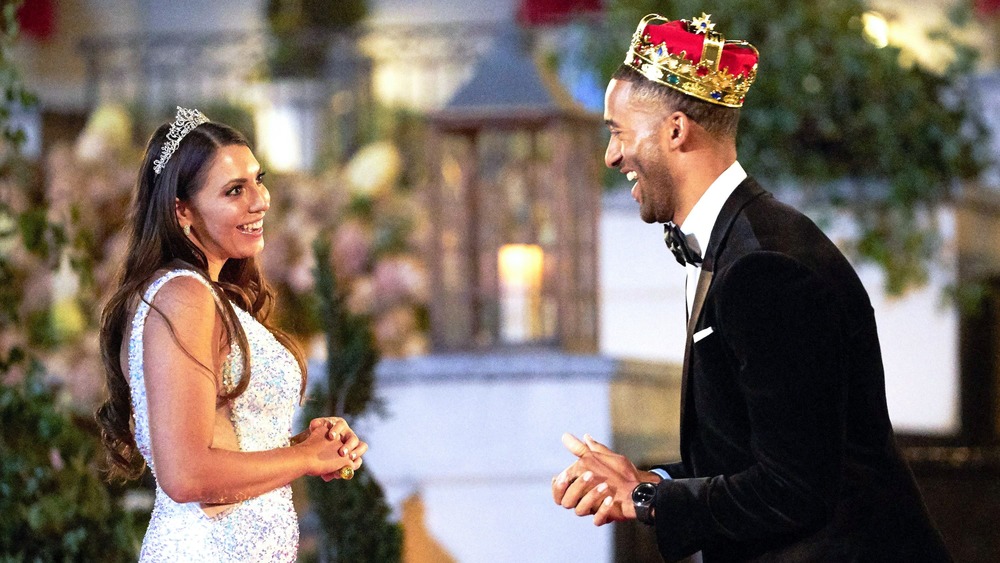 ABC
Victoria Larson is one of the most talked-about contestants on Matt James' season of The Bachelor. From listing "queen" as her job to causing drama with the other contestants, Larson has proven to be a highly controversial figure. In fact, fans of the show are convinced she's a "producer plant," including season 7's J.P. Rosenbaum who pointed out on Twitter how Larsons's "'villain' traits don't seem authentic." Likewise, Ashley Iaconetti, from season 19, wondered in a recap for Cosmopolitan whether the self-professed queen was a "hired actress."
ABC exec Rob Mills advised Variety that Larson was cast chiefly because she's not afraid to speak her mind, which naturally makes for good TV — he also noted that she's a potential good fit for James, who typically goes for strong women. However, it seems like the online chatter has gotten to Larson and now she's setting the record straight about just what kind of a person she really is.
'Queen' Victoria promises she isn't really a villain
Larson has been tussling with the other women since she first walked in the door, starting with Marylynn Sienna, who was sent home in the second episode as a result. Sarah Trott eliminated herself after becoming a target of the former flight attendant's ire. She even snatched a crown straight off Catalina Morales' head, possibly because only "Queen Victoria" should be allowed to wear one. However, in an interview with Good Morning America, Larson argued that her actions were "all in good fun" and apologized to anyone whose feelings might have been hurt as a result. "I'm not a bully, I'm really not," the Bachelor star argued, admitting she's received death threats since appearing on the show.
Larson followed up in a since-deleted Instagram Story, acknowledging, "I think in my effort to make my opinions heard it may have been perceived as bullying by some, and I feel bad if my words or actions offended anyone," (via Us Weekly). Larson promised she was taking time to reflect on her behavior, noting, "I think it's important to learn from the past, live in the present, and to always move forward with a positive attitude." The queen of James' season also revealed she'd made amends "privately" with cast-mates she'd upset along the way, noting she views "all women as queens." The Bachelor star finished up by promising to do better in future. "It truly was not malicious and I am so sorry," she advised.