Palace Staff Had This Harsh Nickname For Prince Harry Before His Wedding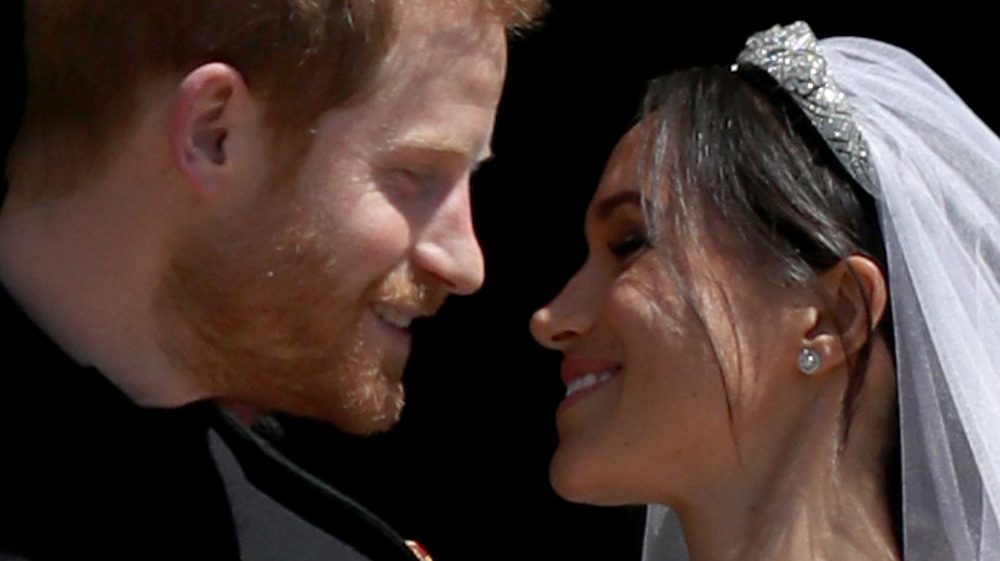 Wpa Pool/Getty Images
With just hours to go before the newsmaking Oprah interview with Prince Harry and Meghan Markle, sources on both sides of the palace walls are rushing to get their last say in. For every claim that the Duchess of Sussex was a bully during her time in the palace, there's a supporter coming forward to defend her rep as a sweet and caring woman. The latest bombshell comes courtesy of the Daily Mail. The British tab is quoting unnamed inside sources backing up the allegations against Meghan and attesting that Harry was sucked into her drama.
In the report, the insiders claim that palace staff secretly referred to the prince as "The Hostage," a beleaguered husband-to-be who felt obligated to indulge his fiancée's every whim before their May 2018 wedding. They cite an incident in which Meghan ordered a spur-of-the-moment hair consult and wanted to wear her tiara. Told by the queen's aide that the headpiece was too precious to be taken out for just any old occasion, Harry reportedly yelled, "What Meghan wants, Meghan gets!" 
The sources paint Meghan as a bridezilla who insisted that her day be as grand as that of Prince William and Kate Middleton's wedding, yet seemed unsatisfied even when she got it. They also claim that during their brief time as a working royal couple, they harangued their staff by sending emails round the clock, even on weekends.
Hostage or victim? Viewers will have to decide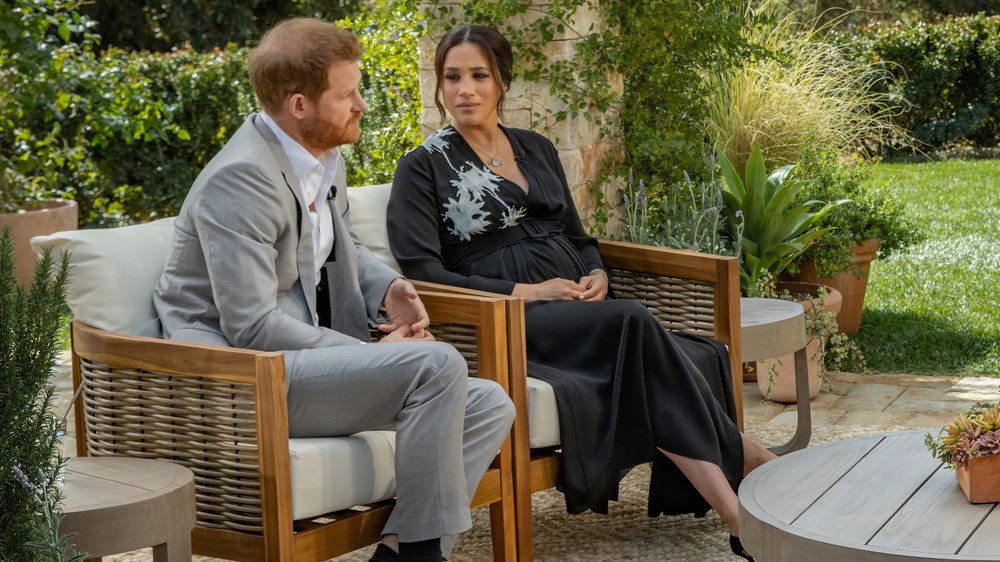 Handout/Getty Images
The ping-ponging of accusations from Team Palace and Team Meghan is getting dizzying. Is the duchess indeed a "Moaning Markle" (as conservative author Candace Owens has dubbed her) who wanted the prestige of royalty without having to conform to the restrictive lifestyle? Or is she a victim of the British press that had it in for her from the beginning?
At least one journalist feels that Meghan has gotten a raw deal. Royal biographer Omid Scobie recently pointed out to Glamour magazine that "outsiders" such as Wallis Simpson and Princess Diana have always gotten shabby treatment in the media. Some women rise above it — Kate Middleton went from her pre-wedding "Waity Katie" days to become a darling of the tabs — while others sink under the pressure.  
Harry, too, has been subjected to public tongue-wagging over the years. As opposed to his older brother's rep for being the responsible one, Harry's party-boy ways made him the family "black sheep" (via The Inquisitr) long before Meghan entered the picture. In the Oprah interview, he discusses his mother's ordeal as a shamed and divorced princess, and expresses his gratitude that he has Meghan by his side to weather any storms. Scobie has also told ET that Harry has a "great" relationship with his grandmum, the queen, so the reports of her being furious over the interview may be exaggerated.
Will this interview change the media's mind about the Sussexes, or confirm their status as family turncoats? Royal fans will be watching the headlines closely.