Did Meghan Markle Send An Email Complaint Involving Kate Middleton?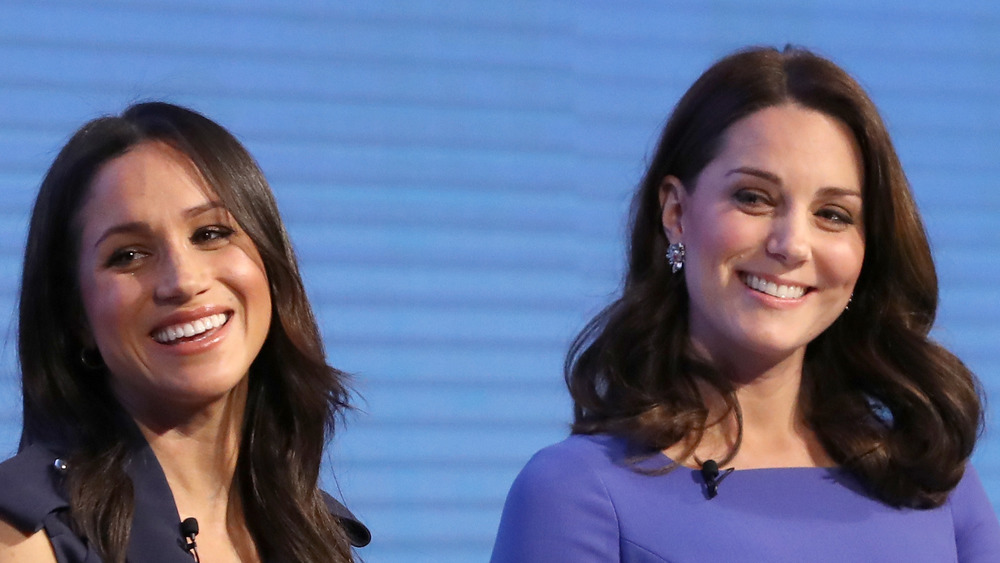 Chris Jackson/Getty Images
The shockwaves from Meghan Markle and Prince Harry's explosive sit-down with Oprah Winfrey have been reverberating all week. Although reports that an unnamed member of the royal family questioned Archie's skin color, and Markle was allegedly so unhappy during her time as part of the monarchy she became suicidal, have understandably dominated headlines, more gossipy revelations are gaining traction, too. As People notes, during the lengthy chat, Markle took aim at highly-publicized reports she made Kate Middleton cry in the lead up to her wedding.
Actually, as the Duchess of Sussex clarified, "The reverse happened." Markle elaborated, "I don't say that to be disparaging to anyone, because it was a really hard week of the wedding, and she was upset about something." The former Suits star confirmed the two ladies had squashed their beef, as Middleton brought her flowers and an apology note soon after. The media pitted Markle and Middleton against each other, frequently claiming the incumbent royal as the villain. It now appears that wasn't the case and, more to the point, Markle took it up with the palace.
The Duchess of Sussex allegedly requested more public support from the palace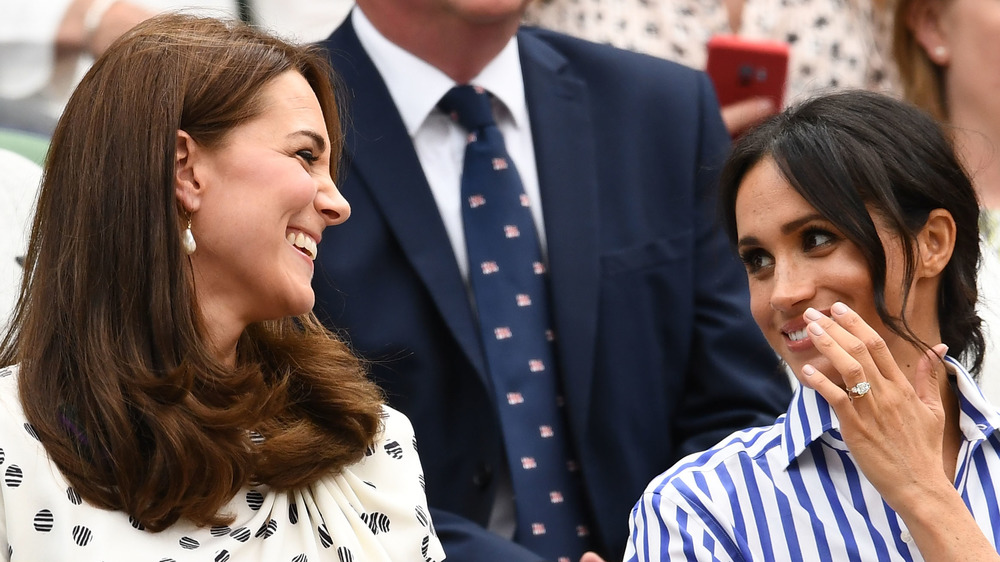 Clive Mason/Getty Images
Harper's Bazaar revealed an email exchange purportedly linked to the incident in question. Markle sent the note in 2020, in response to a request from a palace aide for Prince Harry to co-sign a statement denouncing an "offensive" report that claimed his brother, Prince William, "constantly bullied" him and Markle in the time leading up to Megxit. The former Suits star allegedly responded, "Well, if we're just throwing any statement out there now, then perhaps KP [Kensington Palace] can finally set the record straight about me [not making Kate cry]." Her suggestion was completely ignored, with Markle advised Middleton simply shouldn't be involved in mindless gossip. 
During the interview with Winfrey, the Duchess of Sussex took aim at how the U.K. tabloid press treated her in comparison to Middleton, kickstarting a conversation about institutional racism. "Kate was called 'Waity Katie' waiting to marry William. While I imagine that was really hard, and I do, I can't picture what that felt like," Markle argued (via Us Weekly). She continued, "Rude and racist are not the same. And equally, you've also had a press team that goes on the record to defend you, especially when they know some things are not true. And that didn't happen for us." As E! News advises, the royal family promised Markle they would have her back, leading the Duchess to do whatever she was told despite the increasingly hostile press intrusion.