Lady Gaga And Tony Bennett's Upcoming Concert Has Twitter Talking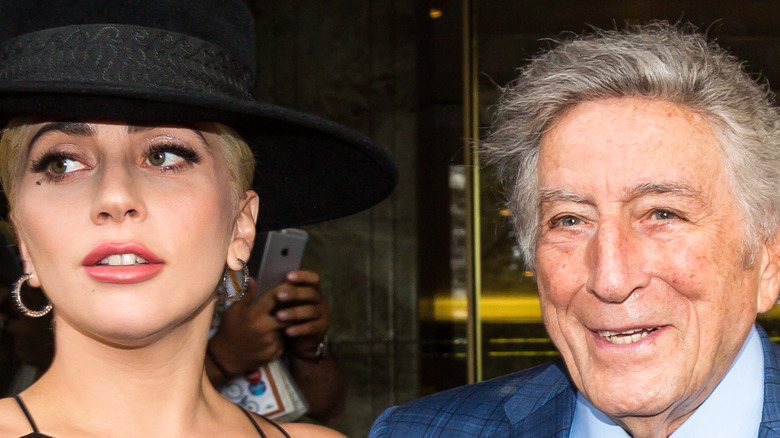 Shutterstock
In February 2021, the world learned per an article by AARP that Tony Bennett has Alzheimer's, and has been battling with it for over four years. In the lengthy, emotional piece, writer John Colapinto details his experience of entering the iconic singer's 15th floor high-rise apartment in New York City's Central Park and talking to Bennet in person. 
Colapinto shares what it was like to watch a once lively, effervescent symbol of old jazz quietly sink into an abyss of dementia, which Calopinto describes as a "barrier that had fallen between him and the rest of the world." As for the specific symptoms he has been dealing with, Gayatri Devi, the neurologist who diagnosed Bennet, shares that the worst of it takes the form of "cognitive issues, but multiple other areas of his brain are still resilient and functioning well." Devi added, "He is doing so many things, at 94, that many people without dementia cannot do. He really is the symbol of hope for someone with a cognitive disorder," per Rolling Stone.
Bennet's family revealed that while he was diagnosed in 2016, it wasn't until nearly two years later that he began to demonstrate a noticeable decline. This coincided with an album that he was recording with Lady Gaga at the time (via Page Six).
Lady Gaga and Tony Bennett have a special connection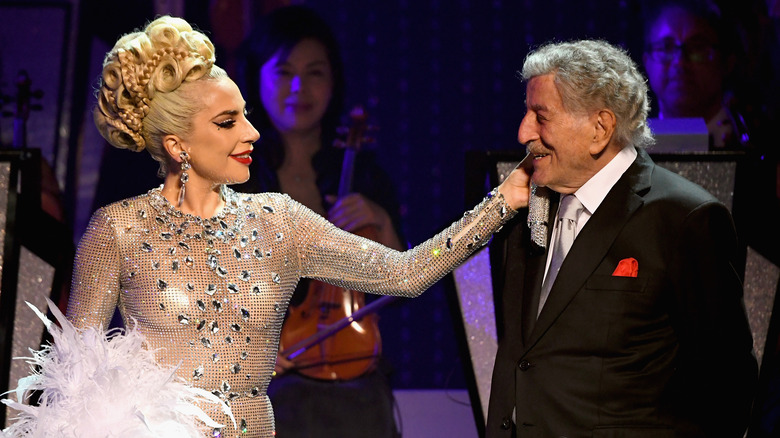 Kevin Mazur/Getty Images
Lady Gaga and Tony Bennett are no strangers to working together, as their very first collaboration took place with their 2014 hit, "Cheek to Cheek." But it would appear that the two loved working together so much that they decided to record yet another series of music, with Entertainment Weekly reporting that it will follow the same jazzy lines as their previous hit. 
Sound like an unexpected pairing of artists? Apparently Gaga thinks so too. According to John Colapinto's AARP article, Bennett is a huge fan of the artist. "The fact that Tony sees me as a natural-born jazz singer is still something that I haven't gotten over," Gaga gushed. But according to Out, there is currently no date or name announced for the project yet.
While the new album appears to have taken something of a backseat with no new information to share about it, "MTV Unplugged" has announced that Bennett will be performing live with Lady Gaga.
The pair will perform live on July 2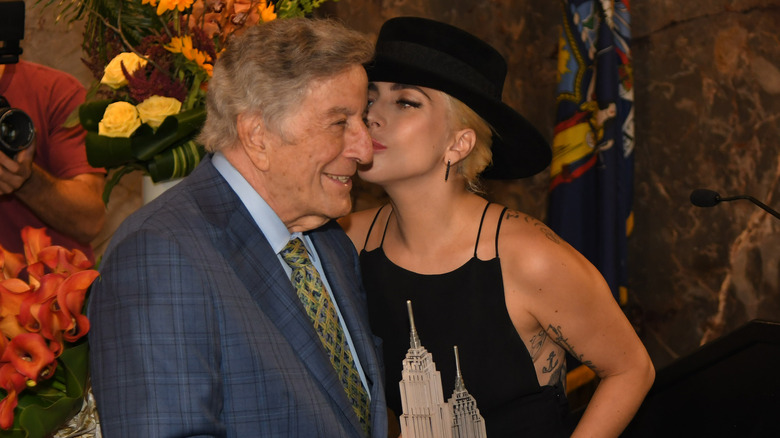 Andrew Toth/Getty Images
The show will take place on Friday, July 2 in New York City, and there is currently no information about whether it will air on TV or online. "Come witness a new chapter in Unplugged's history as Tony Bennett and Lady Gaga grace the Unplugged stage for the first time, performing fresh renditions off their brand new Jazz standards album — and a handful of surprises you definitely won't want to miss," MTV shared via the show's ticketing website.
Twitter is absolutely abuzz over the news of Gaga and Bennett's upcoming performance. One user wrote, "Oh wow that's great keep the mind moving working thinking!!" via Twitter. Another fan gushed, saying "YASSS TONY GAGA ARE BACK," and another shared the same sentiment, excitedly tweeting, "IM SO EXCITED ITS BEEN SO LONG OMG."
"There's a lot about him that I miss. Because he's not the old Tony anymore" shared Susan Crow, Bennett's wife and caretaker. But she couldn't help but smile at John Colapinto when she said, "But when he sings, he's the old Tony."