GAC's 2022 Holiday Movies You Need To Watch This Year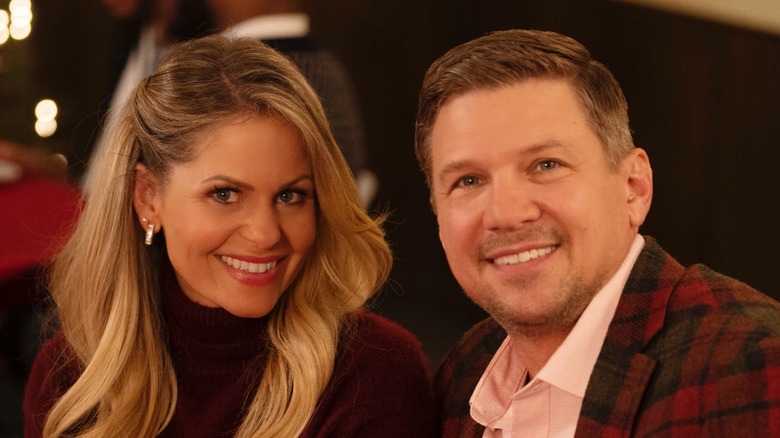 GAC
The Hallmark Channel has pretty much cornered the market on Christmas in recent years, enchanting TV viewers with a seemingly endless stream of holiday-themed romantic comedies guaranteed to get those jingle bells ringing. What viewers may not have realized is that Bill Abbott, chairman of Hallmark Media, parted ways with the company in 2020 and the next year acquired GAC, formerly known as Great American Country. He rebranded the channel as GAC, with the GAC Family and GAC Living channels. To bolster this new venture, Abbott proceeded to scoop up numerous stars of those beloved Hallmark movies and brought them over to star in Christmas movies for GAC Family.
In fact, GAC has assembled a holiday dream team of talent for its 2022 Great American Christmas programming event, including Daniel Lissing, Jill Wagner, Cameron Mathison, Danica McKellar, Cindy Busby, Jessica Lowndes, Andrea Barber, Candace Cameron Bure, legendary Empress of Soul Gladys Knight, and many more.
With all those familiar faces set to deck the halls in heartwarming holiday flicks, it's a no-brainer that many fans of Hallmark holiday movies will want to switch over to Great American Family for its annual Great American Christmas event, kicking off on October 22 with new holiday movies debuting each weekend through December. For a complete rundown, read on for a look at GAC's 2022 holiday movies you need to watch this year.
Destined at Christmas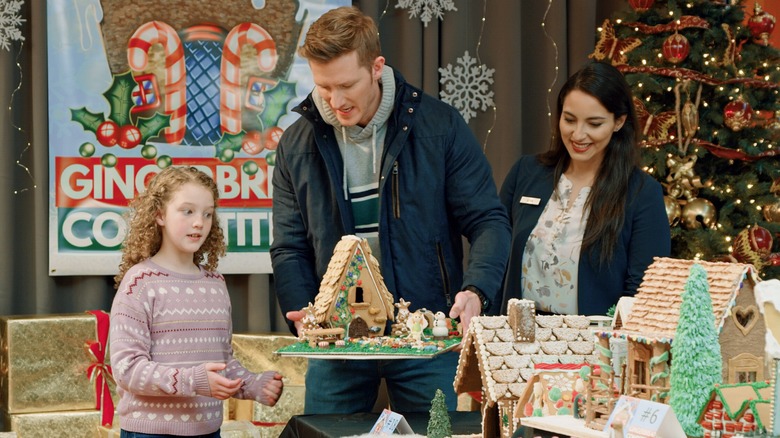 GAC
Shae Robins (who starred in "Hot Chocolate Holiday" and also plays the waitress in "Yellowstone") and Casey Elliott ("My One True Love") star as Kim and Theo, two singletons who randomly meet in the midst of a Black Friday shopping splurge. As they flirt, both can't ignore the undeniable attraction they have to each other. Before a next move can be made, an unexpected power outage in the store creates panic and chaos, and the two lovebirds are unexpectedly separated — without having given each other their names or contact info.
As they each prepare for the holidays, neither can get the other out of their thoughts. Desperate to find each other, but with precious little info to go on, the only hope to bring this star-crossed couple back together is some Christmas magic and a bit of luck.
"Destined at Christmas" is something of a family affair. Elliott's real-life daughter, Eve, plays Ashley, his character's daughter. Plus, as Robins teased on Instagram, her adorable baby daughter Sadie (whom she shares with her husband, singer-actor Brad Robins) makes a cute cameo appearance, so keep those eyes peeled.
"Destined at Christmas" will debut on GAC on Saturday, Oct. 22.
Catering Christmas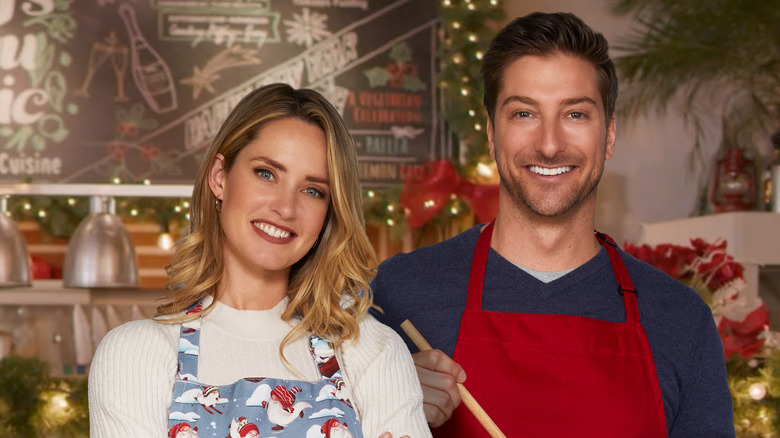 GAC
Fledgling caterer Molly Frost (Merritt Patterson of "The Royals") has just launched her business when she lands a big contract to cater the annual Christmas gala dinner for the Harrison Foundation. Hired by the foundation's perfectionist director, Jean Harrison, Molly has her hands full. Enter Carson Harrison (Daniel Lissing of the Hallmark Channel hit "When Calls the Heart"), a 30-something photographer with zero ambition of accepting his expected destiny of taking control of his wealthy family's foundation. He reluctantly accepts when his aunt assigns him to ensure the catered dinner goes off without a hitch — which leads him to meet Molly. Sparks fly, and the oven isn't the only thing generating heat in the kitchen.
Stars Patterson and Lissing spoke to Entertainment Tonight from the set in the Ontario town of Sudbury, where "Catering Christmas" was filmed. He pointed to the lavish set decoration that conjured Christmas, noting, "You can't help feel, like, warm and fuzzy with every frame of this movie."
"I feel like my character's a little bit cheeky when we first meet him and wants to distance himself a little bit," said Lissing of the onscreen romance. "But through this beautiful relationship with Merritt's character, Molly, he kind of grows up a little bit in this movie. I hope."
"Catering Christmas" will premiere on GAC on Saturday, Oct. 29.
A Royal Christmas on Ice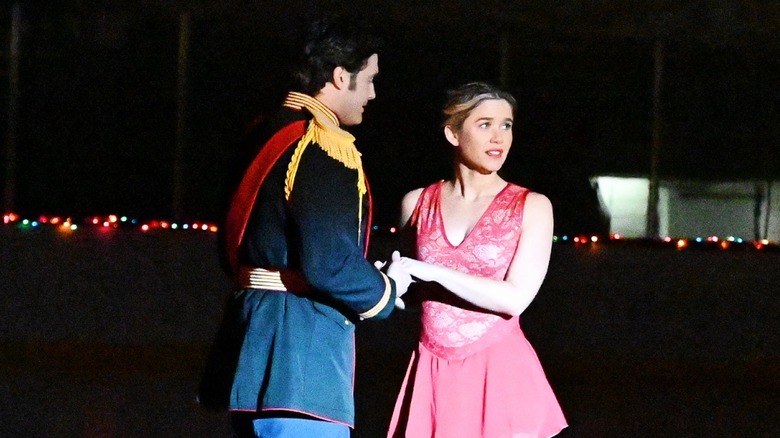 GAC
Jonathan Stoddard (whose credits include "The Young and the Restless" and "Furry Little Christmas") stars as Prince John, the dashing heir to the throne of one of those fictional European nations that exist in holiday rom-coms, where royalty inexplicably have British accents. Fed up with the shallowness of his royal life, the prince flees to a small town in upstate New York to start a business, keeping his royalty a secret from everyone around him.
It's there that he meets Abigail (Anna Marie Dobbins, who costarred with Vivica A. Fox in 2020's "Christmas Together"), a former Olympic ice skater. As the two fall for each other, the prince keeps his true identity a secret — but how will Abigail respond when she discovers the truth? As a bonus, William Baldwin of "Flatliners" fame is also part of the cast.
Dobbins dished about her role during a recent interview with We Are Entertainment News. "I play Abigail, a retired Olympic figure skater who has her whole life turned around when someone tries to buy out the ice skating rink that will put her out of business," she explained. "We filmed in Buffalo, New York and it was directed by Fred Olen Ray. That was my first time filming in real snow. I have never worn so many personal heating devices on my body before (ha)!"
"A Christmas on Ice" will premiere on GAC on Saturday, Nov. 5.
Love at the Christmas Contest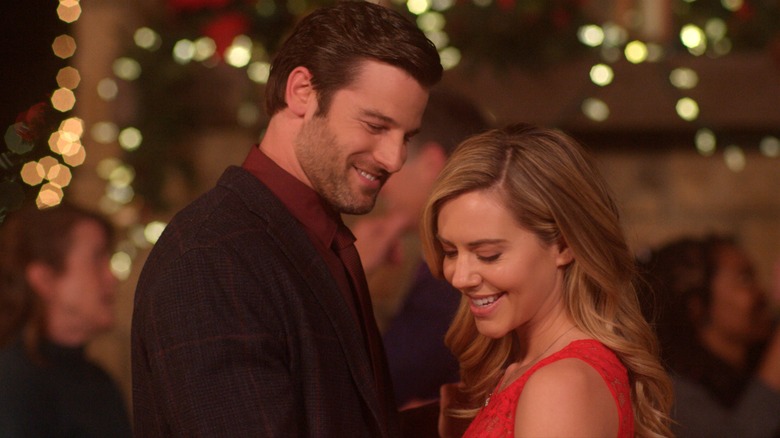 GAC
Growing up in a small town, Angie's (Samantha Cope) favorite part of Christmas has always been the annual tree lighting in the town square each Christmas Eve. But this year marks her first Christmas since losing her mother, and the last thing she feels like doing during this holiday season is celebrating. 
Then, she learns something she never knew about her mother: Her long-held dream was to win the town's tree-decorating contest and have her winning tree lit up in the square for everyone to see. Angie sees an opportunity to lift herself out of her funk while also honoring her mom by entering the contest and giving it her all. What she didn't count on, however, is that David (Ross Jirgl), her one-time high school flame, has also entered the contest, joined by his young daughter Gabby (Eliza Donaghy). 
Given that David is recently widowed, Gabby and Angie find common ground by sharing their grief over losing their mothers. Meanwhile, long-buried feelings start to rekindle as she and David rediscover their love for each other. As Angie pays tribute to her mother's memory, she also begins to create some new Christmas memories of her own.
"Love at the Christmas Contest" will air on Sunday, Nov. 6.
A Merry Christmas Wish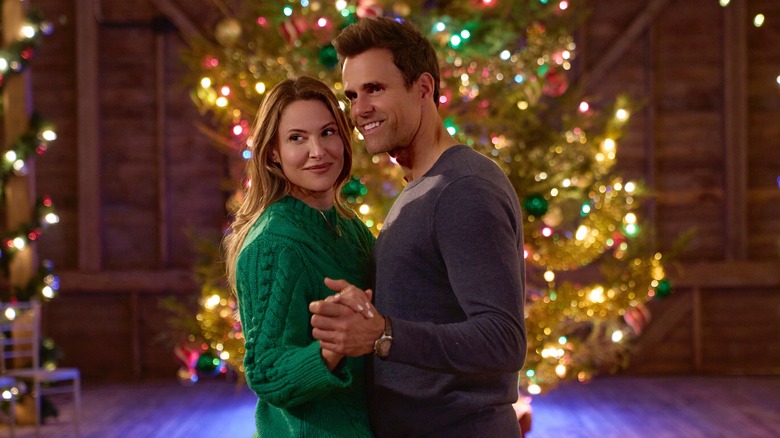 GAC
In a plot reminiscent of many Hallmark holiday flicks, Hallmark Channel vet Jill Wagner (whose voluminous credits include "Punk'd," "Teen Wolf," and "Wipeout") plays Janie, a Manhattan advertising executive who returns to her hometown of Woodland Falls after her great-uncle dies and leaves her the family farm in his will. Her plans to sell the place and return to the Big Apple take a U-turn, however, when she winds up reconnecting with her childhood friend (fellow Hallmark Channel alum Cameron Mathison) and gets involved with organizing the yearly Winter Wonderland — which traditionally takes place on the property she's keen to sell.
During filming in Canada, Wagner and Mathison shared their impressions of "A Merry Christmas Wish" in an interview with Us Weekly. "The reason why it's so great to do these films with GAC again, another Christmas movie, is for me, particularly, I feel very lucky, first of all, to get to do this. To be in people's homes, I guess it's kind of like a hug on Christmas," Wagner shared.
"For me, what's most special is spreading love and spreading positivity in these movies, these sweet stories, and telling these stories," added Mathison. "And really, our main job in these movies is, sure, to tell the story and make it as realistic as possible, but really it's to spread love, spread positivity, spread joy, and to have the opportunity to do that, you gotta pinch yourself, you know?"
"A Merry Christmas Wish" will premiere on Saturday, Nov. 12.
My Best Friend's Christmas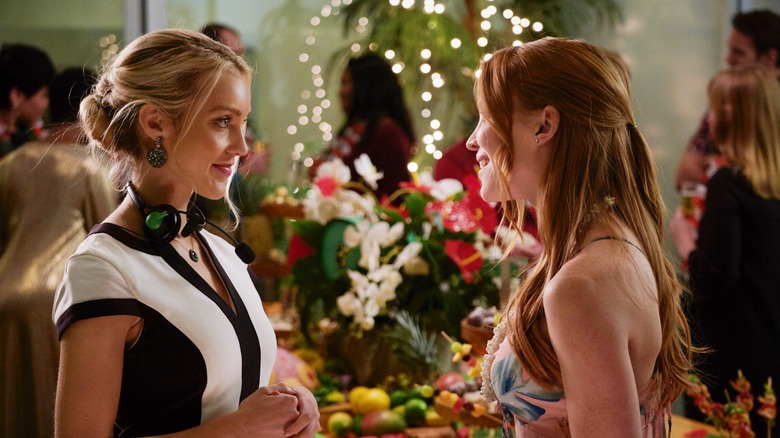 GAC
When Ashley (Breanne Hill) returns home for the holidays, she's dismayed to discover that her former boyfriend (Tanner Novlan) has moved on and found a new love, cozily ensconced in a relationship with another woman. Not wanting her ex to think that she's pathetic for remaining single after their breakup a decade earlier, she enlists her best friend Liam (Colton Little) to pretend to be her boyfriend over the Christmas season. As the two play make-believe, what are the odds that their friendship will blossom into true love as they continue their faux romance? 
If Hill seems familiar, it's because she has an impressive roster of previous screen credits under her belt. She starred alongside Dwayne "The Rock" Johnson (twice, in both 2015's "San Andreas" and again in 2018's "Rampage"); opposite Jason Momoa in the TV series "Frontier," which ran for two seasons between 2016 and 2018; and headlining the 2019 Lifetime TV movie "Deadly Assistant."
"My Best Friend's Christmas" will debut on Sunday, Nov. 13.
Christmas at Pine Valley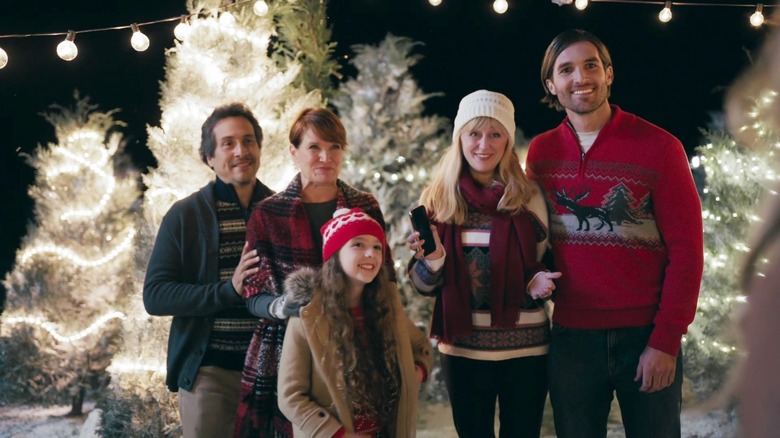 GAC
Natalie (Kristina Cole of the made-for-TV rom-coms "Romantic Rewrite" and "The Wedding Arrangement") is the proprietor of a small-town shop that sells farming supplies and home goods, achieving enough success that she winds up attracting the attention of a major magazine. To get the scoop, the magazine sends a reporter Josh (Andrew Biernat) to write a profile on the company, under the belief that it's run by Natalie and her family.
What the magazine's editors don't know is that Natalie actually runs the store with the help of her longtime friends Mary (René Ashton), Carlos (Demi Castro), and Lisa (Amie Dasher) — with no actual family involved. Not wanting to kibosh the article and the potential business it can bring, Natalie convinces her pals to pretend to be her "family" in order to show Josh the perfect homespun Christmas, replete with yuletide "traditions" they make up on the spot. 
As Josh hangs around Natalie and her fake family to get his story, she nearly blows her cover when Lisa's friend Dave (Marc Herrmann) shows up unannounced. Panicked, Lisa introduces Dave to Josh as Natalie's fiancé, adding another layer of deception to Natalie's elaborate ruse. Meanwhile, Natalie and Josh find themselves falling for each other — until he finally discovers she's been lying to him. Can the magic of Christmas rescue their romance in the midst of this mess?
"Christmas at Pine Valley" will premiere on Saturday, Nov. 19.
My Favorite Christmas Tree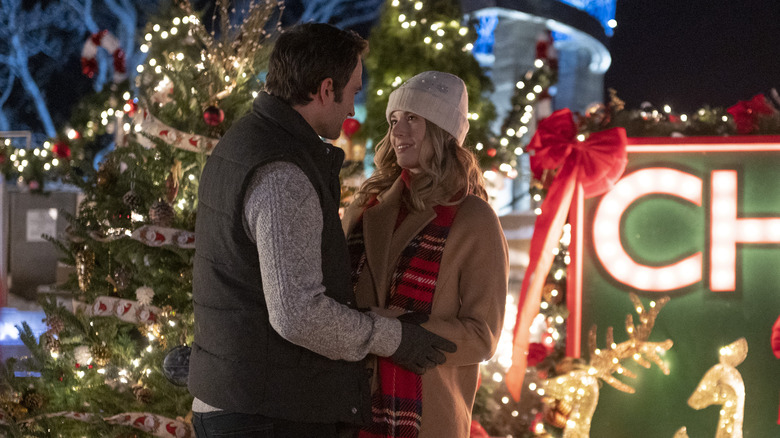 GAC
Kyla (Emma Johnson, who previously starred in the Hallmark Channel holiday movie "Time for Us to Come Home for Christmas") is a top genealogy researcher who's built a successful career putting together family trees for others. Her own family history, however, has always been somewhat murky, something she hopes to change after uncovering some previously unknown information about her mother's mysterious extended family.
In order to learn more, Kyla and her sister (Marnie Mahannah) make a trip to the small Michigan town of Conifer, where she hopes to find the missing pieces of her own ancestry. Her search leads her to a Christmas tree farm that's been owned by the same family for generations. The farm is currently run by Joel (Giles Panton, "The Picture of Christmas"), whose rugged good looks are matched only by his stubbornness — which doesn't prevent Kyla from being drawn to him. As she and Joel find themselves falling in love, however, she makes a shocking, game-changing discovery about their respective ancestors that threatens the future of the Christmas tree farm — and their budding romance. 
"My Favorite Christmas Tree" will air on Sunday, Nov. 20.
Christmas at the Drive-In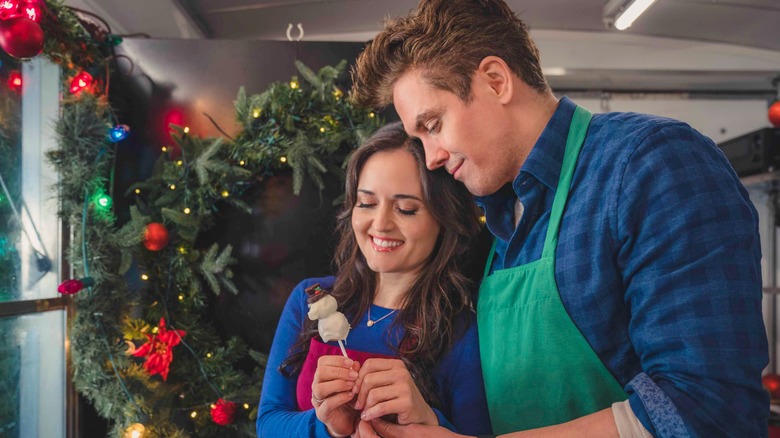 GAC
Danica McKellar stars as a small-town property lawyer who pulls out all the stops to ensure that the town's drive-in theater, a local institution for generations, remains open during the holiday season. She runs into a major obstacle, however, when the guy who owns the property (Neal Bledsoe) — who also happens to be her childhood sweetheart — is determined to sell the land and demolish the drive-in. As she tries to prevent him from selling, the two find their one-time romance reigniting amid the magic of Christmas. 
McKellar, a staple of Hallmark Channel movies, discussed making the jump to GAC with this film — on which she also serves as executive producer. "I'm thrilled to be executive-producing and starring in my very first holiday movie for Great American Family, 'Christmas at the Drive-In,'" she shared in a statement to Country Living. 
As McKellar pointed out, she and Bledsoe have worked together previously in several movies, and she was excited to reunite for this one. "Neal is one of my favorite costars — we had a great time with our last movie for Great American Family, 'The Winter Palace,' and we're excited to join forces again to bring our fans a heartwarming, entertaining story filled with that nostalgic Christmassy feeling we all love so much," she added.
"Christmas at the Drive-In" will premiere on Friday, Nov. 25.
I'm Glad It's Christmas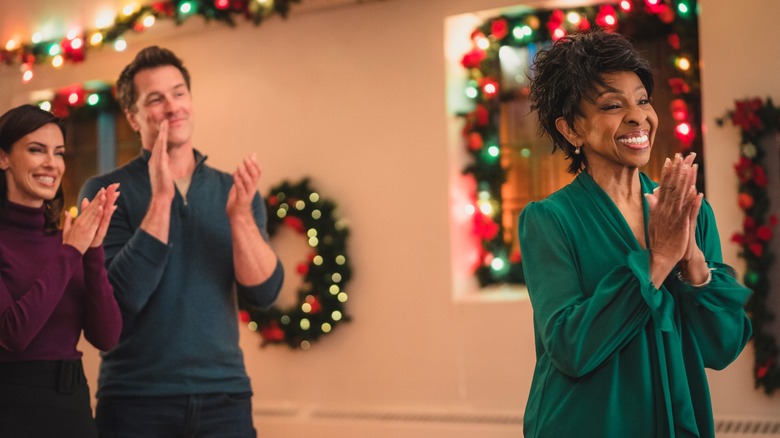 GAC
Jessica Lowndes ("Angel Falls Christmas," "Too Close for Christmas") stars as Holly, a sales clerk and part-time chorus girl who aspires to Broadway stardom. As the end of the five-year deadline she's given herself to achieve her goal draws nearer, she meets Jason (Paul Greene, aka Dr. Carson Shepherd on the Hallmark Channel series "When Calls the Heart"), a jingle writer and single dad. The two find themselves drawn to each other, but Jason is hesitant to bring someone new into his young daughter's life. 
Enter Cora Ross (music legend Gladys Knight), a wealthy landlord who's taken charge of their town's annual Christmas concert. Recognizing the spark between Holly and Jason, Cora hatches a plan to bring them together for the Holiday Lane Christmas concert, casting Holly in the lead role while charging Jason with writing what she hopes will be a new Christmas classic — while also playing Cupid behind the scenes.
"As anticipation builds for year two of Great American Christmas, we are delighted to be working with the incomparable Gladys Knight, who has inspired generations of fans by pushing musical boundaries with her numerous hit songs," said Great American Media President and CEO Bill Abbott, via Southern Living. "With high-caliber performances from Knight and the talented Jessica Lowndes and Paul Greene, 'I'm Glad It's Christmas' is a truly magical Christmas movie steeped in original music that audiences will want to see again and again."
"I'm Glad It's Christmas" will debut on Saturday, Nov. 26.
A Christmas...Present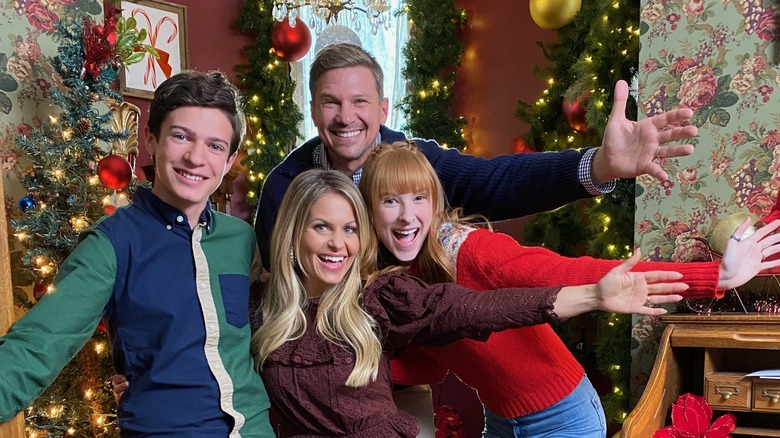 GAC
"Full House"/"Fuller House" star Candace Cameron Bure co-stars with Marc Blucas as married couple Maggie and Eric, parents of two teenagers who take a trip to visit Maggie's widowed brother for the holidays. As an overscheduled, type-A real estate agent, Maggie has an idea of the "perfect" Christmas that doesn't line up with that of her brother — until she encounters a series of transformative incidents that teach the constantly hustling career woman to slow down and fully experience the magic of the Yuletide season.
Not only is Cameron Bure starring in the film, but she's also the executive producer through her Candy Rock Entertainment production company. "Candy Rock Entertainment's mission is to bring to life compelling stories that the entire family can enjoy while feeling a sense of togetherness and connection," Cameron Bure said in a statement, via Us Weekly. "I'm so proud of the first of these projects because they are exactly that."
GAC Media President Bill Abbott also issued a statement about the movie to Deadline, referencing his long relationship with Cameron Bure through the myriad Hallmark Channel movies she's starred in over the years. "Candace is an incredibly talented and collaborative filmmaker whom I have had the pleasure of working with for more than 15 years," said Abbot. "I am thrilled to be kicking off our partnership with a must-see film like 'A Christmas...Present,' which will delight our fans this holiday season ..."
"A Christmas...Present" will air on Sunday, Nov. 27.
Christmas on Candy Cane Lane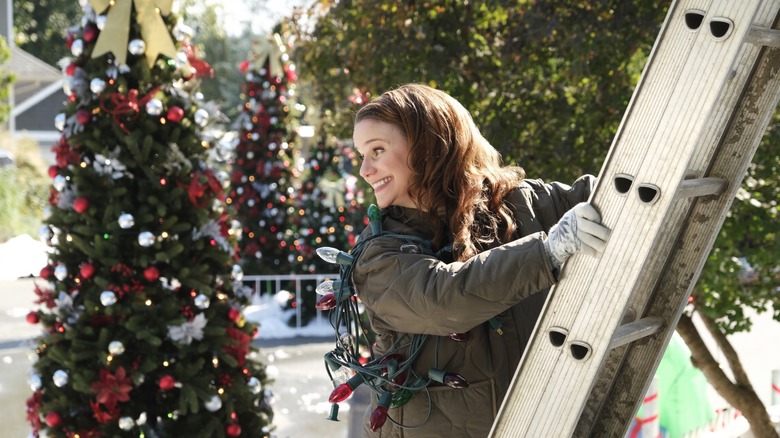 GAC
Candace Cameron Bure isn't the only "Full House" alum to join the GAC family. In "Christmas on Candy Cane Lane," Andrea Barber (aka Kimmy Gibbler) stars as Ivy, who's having a tough time coping with the outsized expectations thrust upon her as Christmas approaches. That's because her recently deceased mom was something of a local Yuletide legend in their hometown of Icicle Falls — she was head of the annual Candy Cane Lane Lights Extravaganza, owner of local shop The Christmas Haus, and a former TV star so associated with the holidays that her adoring fans nicknamed her the "Christmas maven." 
Ivy winds up experiencing her own holiday miracle when a series of comedic coincidences and unexplained events combine to bring the town together so seamlessly that even the "Christmas maven" herself would be envious. 
The film is the second project from Candace Cameron Bure's Candy Rock Entertainment production company. "It brings me great joy to bring you the incredibly talented and funny Andrea Barber," producer Cameron Bure said of the film, as reported by MovieWeb. "Having a 30-year bestie friendship both on and off camera has allowed me to find the perfect project to introduce the Christmas genre audience to her brilliant comedic skills, her heartwarming authenticity, and vulnerability that is a rare gem today ... audiences will fall in love with Andrea's warmth and relatability, and chuckle along with her all the way down Candy Cane Lane."
"Christmas on Candy Cane Lane" will debut on Saturday, Dec. 3.
B&B Merry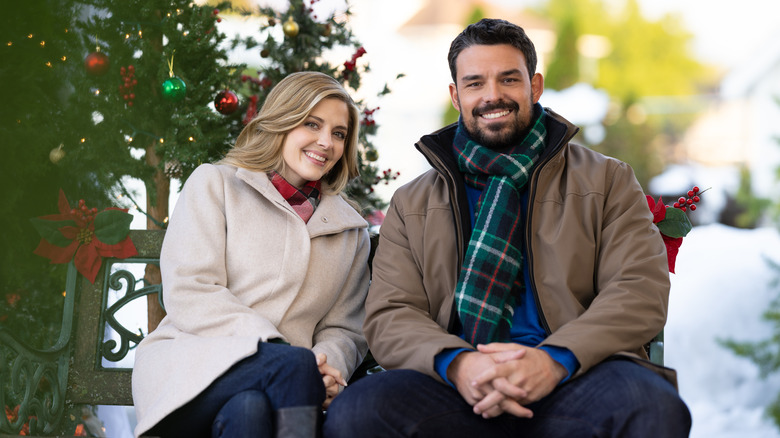 GAC
Jen Lilley stars as Tracey Moore, a renowned blogger focusing on luxury travel. When she's invited to a freebie Christmastime vacation in exchange for reviewing a small-town B&B, her first instinct is to take a place. However, her inner good Samaritan wants to help out the property's owners, so decides to take them up on their offer. 
Jen's reservations about the place melt away thanks to its sheer charm — to say nothing about the owners' hunky son, Graham (Jesse Hutch). As their mutual attraction grows and love blossoms, Tracy allows Graham to teach her that all of life's experiences can earn five-star ratings — so long as they're shared with someone special. 
Loyal viewers of GAC holiday movies who tune in to "B&B Merry" will be seeing a lot of more of Lilley in the future; as Deadline reported, the movie is part of a multi-picture deal she entered into with GAC. "Aside from being an immensely talented and hardworking actor, Jen is a generous and kindhearted person who is a perfect fit for GAC," said GAC Media President Bill Abbott in a statement. "Many of us on the GAC team have known Jen for years, and we are excited to welcome her to the family as we work together to bring even more entertaining movies to our fans."
"B&B Merry" will premiere on Sunday, Dec. 4.
Big Box Christmas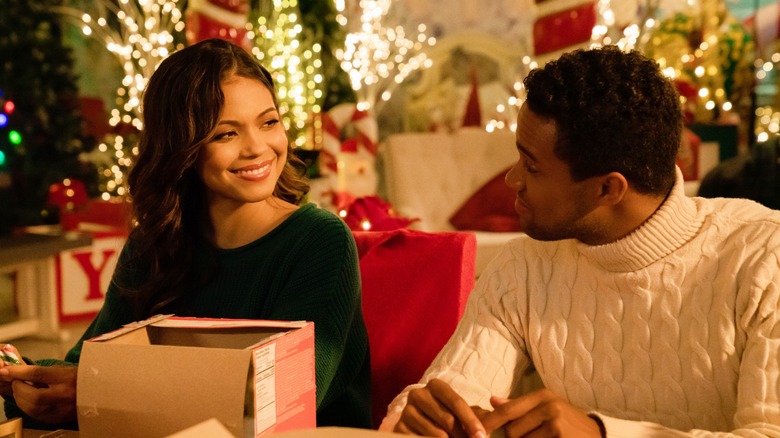 GAC
Jennifer Freeman and Garrett Watson star as exes who unexpectedly run into each other while doing some Christmas shopping in a big box store — just as a freak snowstorm pummels the region and leaves them stranded in the store just before Christmas. Forced together by circumstances beyond their control — and with no cell service or Wi-Fi to distract them — they wind up reconnecting in a powerful and meaningful way as familiar sparks fly. 
While Freeman has an extensive roster of acting credits – and is best known for her longtime role in the ABC sitcom "My Wife and Kids" — Watson is more of a newcomer. As his IMDb credits indicate, since 2019 he's had a handful of TV appearances and roles in just two movies. 
Watson referenced that fact when he shared a photo from the set of "Big Box Christmas" to mark the end of filming. "That's a wrap on my 3rd feature film!" he wrote in an Instagram post. "The cast here in LA was top-tier fun to work with. Couldn't have asked for a better experience. (Crew included!!) Will update you guys on this amazing Christmas romance film release, which will be VERY soon!"
"Big Box Christmas" will premiere on Friday, Dec. 9.
A Prince for the Holidays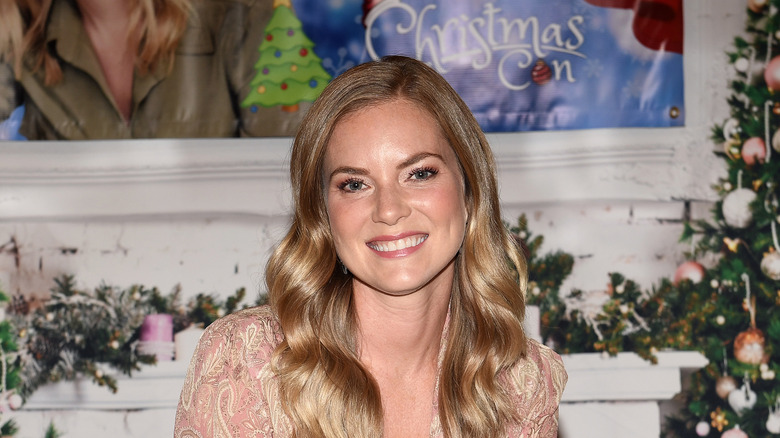 Michael S. Schwartz/Getty Images
Aspiring musician Madison (Cindy Busby, who starred in last year's GAC holiday movie "Joy for Christmas") becomes fed up with her overbearing family's constant focus on her love life — or, to be more specific, lack thereof. To get them off her back, she half-lies, half-jokes that she's dating a mystery man, who just so happens to be the prince of a small European country. 
As her joke snowballs, the only way she can see to save face is to entice her friend and co-worker Sebastian (Jilon VanOver) to pretend to be European royalty and join her for a Christmas visit with her family in New Jersey. Unbeknownst to Madison, however, Sebastian has been keeping his own secret from her all this time — what are the odds that he's actually a bona fide prince?
Interestingly enough, Busby trod similar ground in the 2018 TV movie "A Christmas in Royal Fashion," in which she played a PR exec who winds up falling for a handsome prince.
"A Prince for the Holidays" will debut on Saturday, Dec. 10.
A Belgian Chocolate Christmas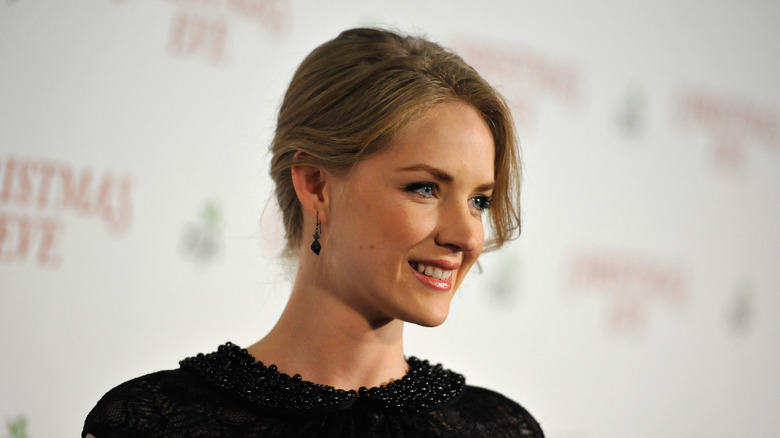 Michael Tullberg/Getty Images
A photographer named Kate (Jaclyn Hales) agrees to sub in when her best friend is unable to attend a course she'd booked at a famed Belgian culinary school during the holidays. Impersonating her pal, she winds up forming a special connection with the chocolatier who's instructing the class (played by Zane Stephens). As romance begins to bloom, there's one teeny problem: Because Kate is pretending to be her friend in order to take the class, she's forced to maintain the deception even as their relationship begins to deepen. When she finally does tell the truth, will it be too late? 
Hales, whose credits include such TV series as "Mayans M.C." and "Legion," can also be heard in the audio drama podcast "The Bystanders," in which she's part of a cast that includes Kristin Chenoweth, Jane Lynch, and "The Office" alum Oscar Nuñez. Stephens also has an extensive resume of TV credits, including appearances on such series as "The Vampire Diaries," "MacGyver," "The Resident," and the Showtime historical drama "The First Lady."
"A Belgian Chocolate Christmas" will premiere on Sunday, Dec. 11.
A Brush with Christmas Romance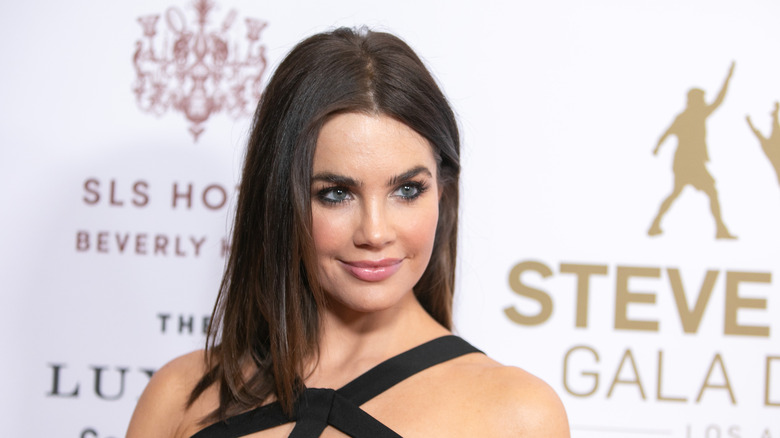 John Wolfsohn/Getty Images
Jillian Murray stars as Charlotte, an aspiring artist in a small town whose creative desires have been supplanted by helping her mom run the family-owned restaurant. Meanwhile, she's been struggling to break into the local art scene, but with little success to show for it. During the week leading up to Christmas Day, Charlotte finds herself feeling particularly disheartened and unable to find time to focus on her art.
Feeling as if she's hit a dead end, Charlotte has a meltdown and throws her latest painting in the trash — only to subsequently discover that it was rescued from the landfill by an anonymous donor who submitted it as an entry for the annual Christmas art festival. 
And just who was it who discovered her painting and felt it worthy enough to submit? That would be Wyatt (Joseph Cannata), an artist from out of town who's visiting for the holidays. It turns out that Wyatt had a hidden agenda in submitting the painting: As a visiting artist, he stumbled upon Charlotte's discarded work and was so impressed that he simply had to meet whoever created it. As a result, he hatched a clever plan to use the exposure the painting received at the festival as a way to draw out the artist in order to meet her.
"A Brush with Christmas Romance" premieres on Saturday, Dec. 17.
The Art of Christmas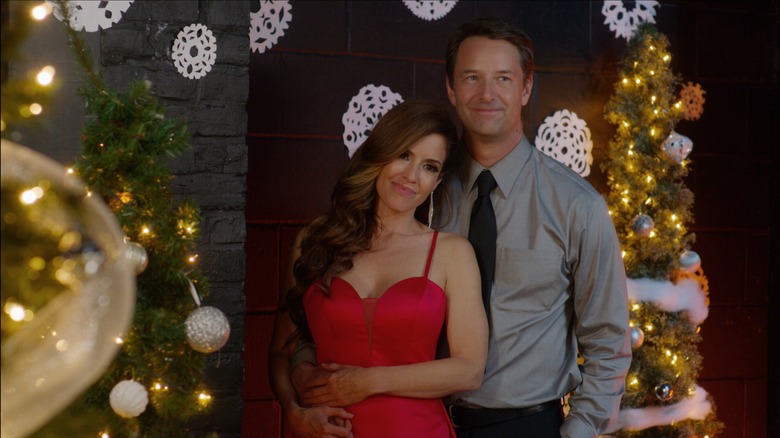 GAC
For anyone who thought there could be no possible way for GAC to deliver more than just one art-focused Christmas movie in a single year, prepare to be proven wrong with the aptly titled "The Art of Christmas." 
The storyline surrounds gallery owner Liv James (Brigitte Kingsley), who finds her life turned upside down when her most recent gallery exhibition literally goes up in flames. At loose ends and desperate for money, she reluctantly decides to accept a job teaching art to kids at a local elementary school. 
As she becomes more comfortable with her new environment, Liv comes to the unexpected discovery of her true self while also finding a sense of purpose that her life had been lacking. She also finds a surprising attraction when her new job leads her to meet her dream guy (Joe Towne), sparking a surprising romance that she didn't see coming.
"The Art of Christmas" will debut on Sunday, Dec. 18.