Fans Are Convinced Something's Up With The Latest Kardashian Family Pic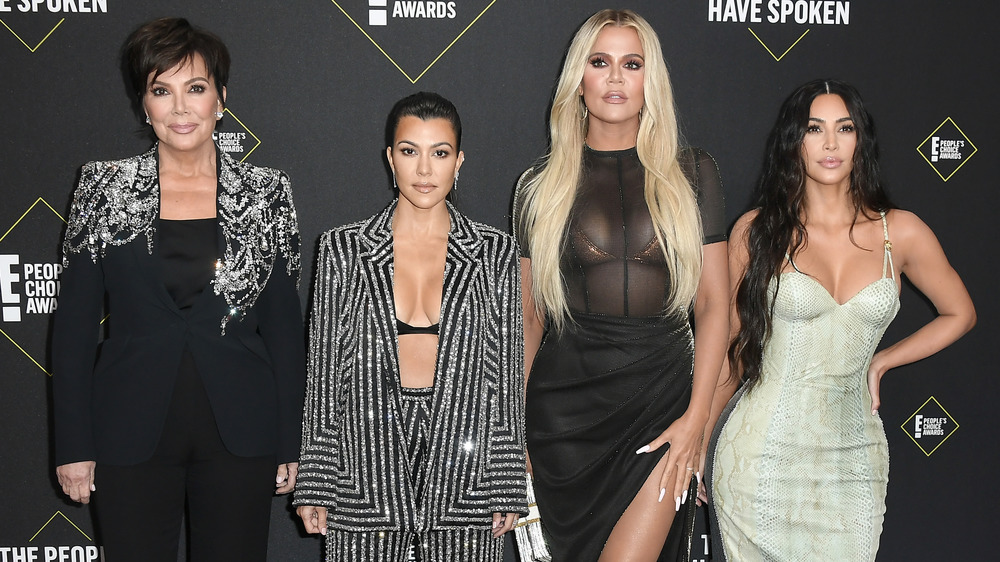 Frazer Harrison/Getty Images
The Kardashians have endured more than their fair share of photoshopping accusations over the years, whether it was Kylie's pool-adjacent body, or the nails coming out of Kim's hair. Most recently, eagle-eyed fans noted Kim's arm was missing in a shot from her controversial 40th birthday trip. For the occasion, the KKW Beauty founder had whisked her nearest and dearest away to a private island to celebrate, leading social media to call her out for being completely out of touch.
The COVID-19 pandemic featured heavily towards the end of the 19th season of Keeping Up With the Kardashians, with Khloe falling victim to the virus and the siblings struggling with having to stay apart, although the family doesn't appear to be adhering to the rules in real time. To that end, the entire clan hot-footed it to Lake Tahoe just a few weeks ago for a much-needed break in spite of Los Angeles County's stringent, recently imposed stay-at-home order (via InStyle).
Did Kourtney actually go to Lake Tahoe?
Maybe the trip was technically for work, however, which means the family isn't violating the rules. A source confirmed to E! News, "The Kardashians spent three nights at Edgewood Tahoe filming for the show." Alongside Corey Gamble and Scott Disick, some of the kids joined them and were playing outside, hanging out by the fire, and roasting marshmallows as well as enjoying an ice skating session on a private rink, indulging in a hot chocolate bar, and even enjoying a fireworks show. 
Fans were offered several glimpses at the winter getaway, but one Kardashian family photo in particular gave them pause. The seemingly innocuous shot showed Corey, Kris, Kendall, Khloe, Kourtney, Scott, and Kim posing against a stunning backdrop. Whether it was a lighting issue or something else entirely, commenters on social media were quick to point out how different Kourtney looked to everyone else — almost as though she'd been digitally added to the shot after the fact.
"I think we can all agree that Kourtney was photoshopped into the latest Kardashian family photo," opined one user, to which someone responded, "She looks like a hologram." Another suggested it was Kourtney's head that was the issue, while the well-publicized issue with whether she even wants to be a Kardashian anymore cropped up, as people reasoned that Kourtney wasn't invited or maybe doesn't even exist anymore. Clearly, this is one Kardashian Konspiracy we're going to have to figure out on our own.