Mariah Carey's Hilarious Message To Shawn Mendes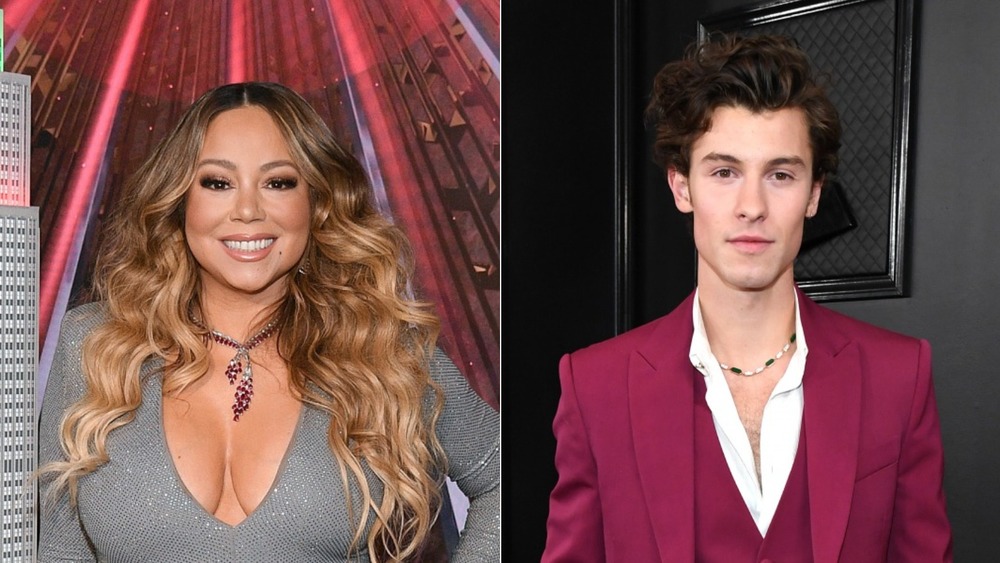 Dia Dipasupil, Kevin Mazur/Getty Images
Mariah Carey is an icon, primarily because of her celebrated music career but also due to the fact she's an insanely compelling person. From her obsession with Christmas to the infamous "I don't know her" moment, Carey has proven herself time and time again to be the very definition of one-of-a-kind. She's a bit eccentric, but that's why we love her. To that end, the legendary singer's Instagram is a treasure trove of glamorous shots and surprising political statements. 
Nestled amidst the glitter, however, was one post that caught fans' attention immediately. It shows a smiling Carey enjoying the great outdoors, alongside a caption which reads, "Grateful. The sun, tea, my health, my family, old Shawn Mendes songs, music, humans!!!" Unsurprisingly, Carey isn't simply expressing her love of the guitar-slinging pop star and PDA aficionado. In true elusive chanteuse fashion, she's playfully responding to something he wrote first. 
Mariah Carey blessed Shawn Mendes with her attention
On January 27, Mendes posted a shot of himself shirtless (obvs) outside, basking in the sunlight, accompanied by the caption, "Grateful. The sun, coffee, my health, my family, old Mariah Carey songs, music, humans!!!" Carey, then, was evidently paying homage to it with her own post, which the In Wonder star acknowledged by sharing it on Twitter alongside a whole bunch of hearts (Carey responded with some kiss emojis, FYI). Social media had a field day over the hilarious exchange, with a couple fans even wondering whether the two would be teaming up on a song soon. 
Several others suggested Carey was throwing shade at the young pop star for referring to her "old" songs. Mostly though, the general consensus was that Mendes should feel honored to have been noticed by the iconic singer (she can't claim not to know him — not that it'd stop her). Seventeen notes Mendes' pals Charlie Puth and Sam Smith demanded to know which Carey songs he was listening to, with the Brit suggesting maybe it was "Always Be My Baby," but he wouldn't be drawn on his choice. As for what Carey had chosen from Mendes' back catalogue, we can only speculate.