Here's What Rob Gronkowski Did After His Super Bowl Win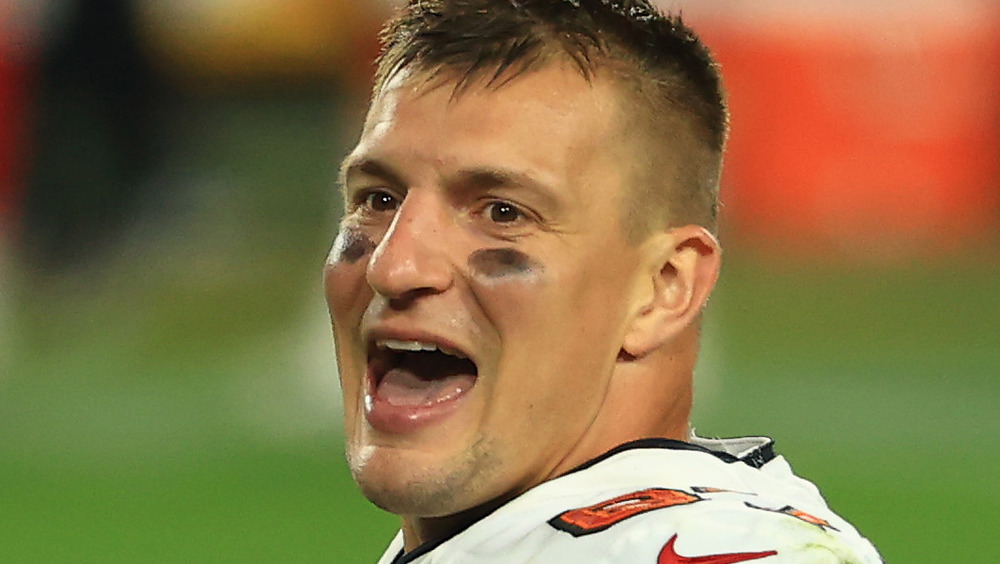 Mike Ehrmann/Getty Images
Despite the coronavirus pandemic making things look a little different than we're used to, it would appear that some things never change. This past weekend with Super Bowl LV, in which the Tampa Bay Buccaneers defeated the Kansas City Chiefs 31-9, GOAT Tom Brady captured his seventh Super Bowl, while Rob Gronkowski won his fourth.
Athletes who are lucky enough to reign victorious in the Super Bowl have fallen into the tradition of announcing that they'll be going to Disney World in light of their win — which is exactly what Brady and "Gronk" did. "Tom Brady and Rob Gronkowksi," the announcer said. "You and the Tampa Bay Buccaneers have just won the Super Bowl. What are you gonna do next?" In unison, the football stars responded, "We're going to Disney World!"
The Disney tradition began in 1987, after then-New York Giants quarterback Phil Simms coined the iconic line (via Travel and Leisure).
Gronkowski puts his skills to the test as a Jedi
While Tom Brady hasn't yet made his way to the Happiest Place on Earth, Gronkowksi has been absolutely living it up amongst the Disney Magic. Videos showed Rob Gronkowksi enjoying Hollywood Studios' newest Star Wars theme park and its subsequent "Rise of the Resistance" ride. Videos also revealed him putting his football skills to the test in an epic lightsaber battle with his young nephew. His nephew walks through the ride and holds Gronkowksi's hand, accompanied with the caption "Uncle Rob" followed by a series of heart emojis (via the Daily Mail).
Reports say that Disney's annual Super Bowl parade has been canceled this year due to COVID-19, with a theme park source writing, "Disney Parks hopes to be able to bring back our other Super Bowl traditions next year, including letting football and Disney fans see and cheer on their favorite player in the park" (via CNN). But Gronkowksi still gets to enjoy the park as a VIP, and was even honored with Cinderella's Castle being lit up in red to celebrate the winning team.