Royal Expert Reveals Why Kate Middleton Is Mortified By Meghan Markle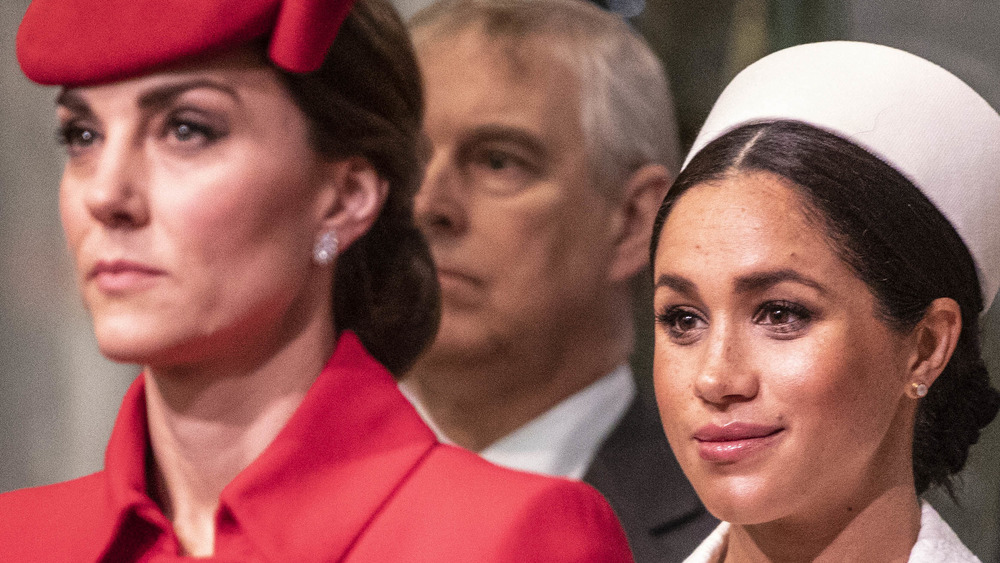 Wpa Pool/Getty Images
Of the many bombshells revealed during Oprah's interview with Meghan Markle and Prince Harry, the report that an unnamed member of the royal family allegedly questioned the color of baby Archie's skin is, understandably, gaining the most traction. It kicked off a discussion about whether the British tabloid press is inherently racist, and even led controversial TV host Piers Morgan to step down from his job. Meghan's admittance that she was suicidal at one point and received no support from the royal family hit equally hard (via Elle). 
For several years, the U.K. press pitted Meghan Markle and Kate Middleton, who married into the monarchy several years before Meghan did, against each other. As a Black American divorcée, Meghan took the brunt of the criticism and, while speaking to Oprah, she reiterated how unfair it was. Meghan took particular issue with one widely-publicized story about the former Suits star supposedly making Kate cry during preparations for Meghan's wedding.
As Meghan clarified, it was actually the other way around — Kate made her cry. "And I don't say that to be disparaging to anyone ... she was upset about something, and she owned it and she apologized," Meghan explained during the interview. She went on to say that "there wasn't a confrontation, and ... I don't think it's fair to her to get into the details of that because she apologized and I've forgiven her" (via Elle). Despite the Duchess of Sussex's clarifications, the Duchess of Cambridge is reportedly taking Meghan's side of the story hard.
Kate Middleton was blindsided by an old story resurfacing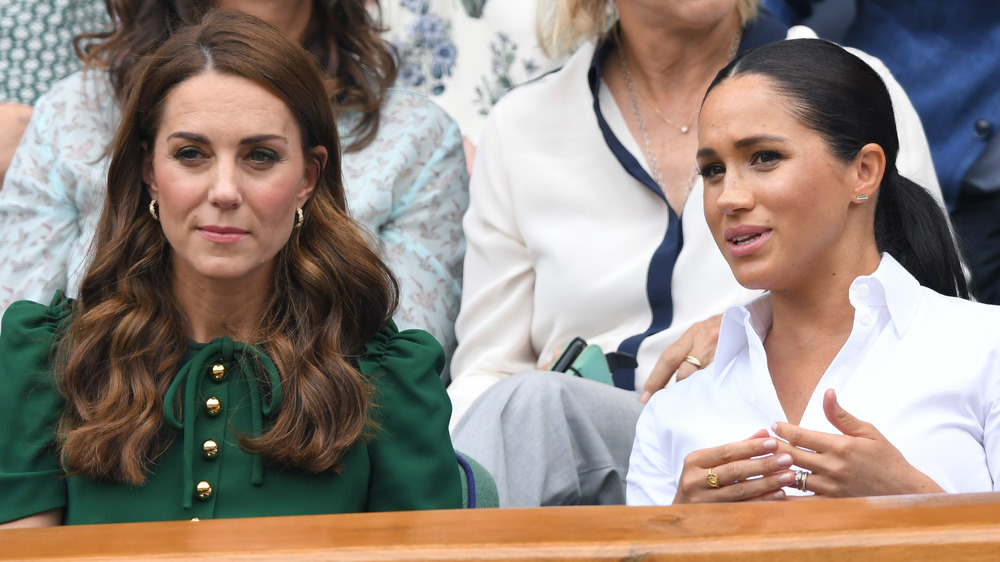 Karwai Tang/Getty Images
Royal expert Katie Nicholl, author of Kate: The Future Queen, revealed in a new interview with OK! that Kate is finding it difficult to deal with the crying story resurfacing (via The Sun). As Meghan Markle explained it to Oprah, there was an issue over Princess Charlotte's bridesmaid dress and that something upset Kate a week before the wedding. The former actress also acknowledged that Kate brought her apology flowers in the end.
However, Nicholl argued, "From what I hear, there are different versions of the bridesmaid story, not just the one Meghan discussed. Kate felt it was all sorted, so to have it brought up again was mortifying. Kate is not in a position to respond and Meghan and Harry know that." Nicholl described Kate as "saddened, disappointed and hurt," noting she was careful not to give any indication of issues with Meghan while they were both still part of the royal family.
Meanwhile, another source gossiped to the Australian news outlet New Idea that "I have never seen Kate so angry." The source reflected, "I don't blame her ... she was dragged into this ... and hasn't been able to fight back. She usually adopts the queen's 'never complain, never explain' approach, but this has gone too far." Insiders further told the media platform that the Duchess of Cambridge asked for permission to speak out publicly with her version of the story. Kate Middleton purportedly feels that going on the record is the only way for the monarchy to recover before "it's time for her family to inherit the crown."
How does Kate really feel about Meghan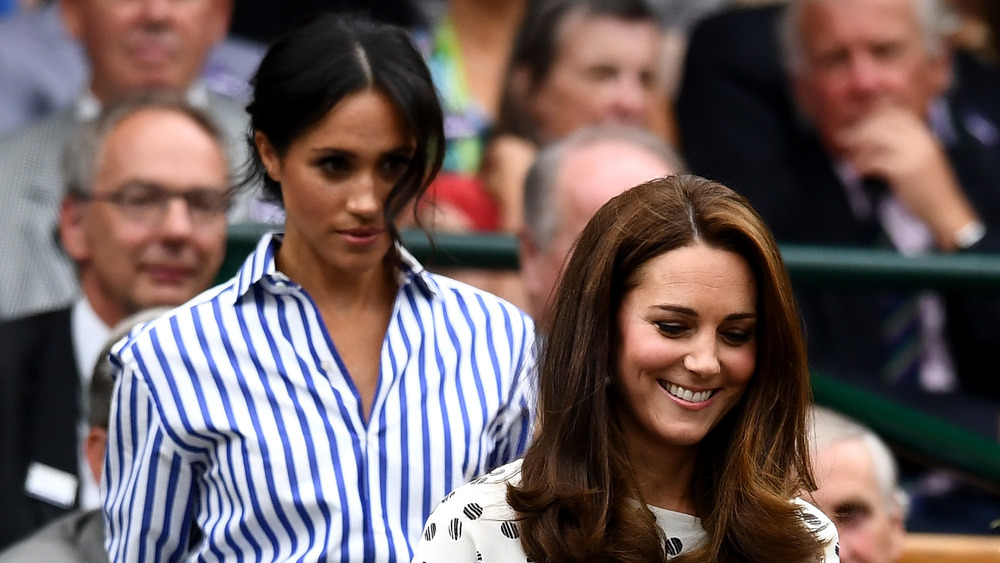 Clive Mason/Getty Images
Insider has compared Meghan and Kates' relationship to that of Princess Diana and Sarah Ferguson, a friendship that it claims was "torn apart" by divisive media coverage in the U.K. At the time of Diana's death, they hadn't spoken to each other in over a year. The comparison is particularly eerie, as, according to Us Weekly, Kate and Meghan haven't spoken "directly in over a year." The purported "real animosity" between Harry and William has affected Kate and Meghan's relationship, "making it very hard for them to be friends or even friendly," a source with knowledge told the news outlet. 
It seems unlikely that Kate Middleton and Meghan Markle will patch things up anytime soon. Katie Nicholl told OK! that, "Kate and William feel they were hugely welcoming to Meghan and Harry. Any accusations against the monarchy are accusations against their family. It's hurtful and they feel let down. Obviously, they still love Harry and Meghan, but this interview has ruffled feathers" (via Page Six).
As to what really happened with the Duchess of Sussex's bridesmaid dresses? That's still anyone's guess. New Idea insists the altercation was about hemlines and not tights. Omid Scobie, royal expert and author of Finding Freedom, which details the Sussexes' struggle, revealed last week that Meghan petitioned the royal family to set the record straight in the press about what really happened between her and Kate before the wedding. But the request was ignored as aides informed the duchess that her sister-in-law doesn't involve herself with mindless gossip (via ET).