The Truth About Doja Cat's Latest Collaboration With The Weeknd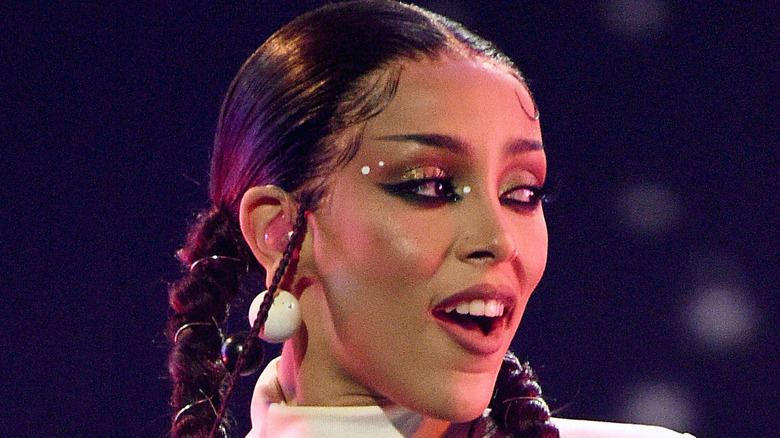 Kevin Mazur/Getty Images
This has truly been the age of Doja Cat. It seems like everywhere we go, the musical sensation is there; whether that's on our Spotify playlists, while scrolling through TikTok, or performing on the stage of the 2021 Billboard Music Awards, as she did on May 23, 2021.
Doja Cat's evening got even better when she took home an impressive arm-full of awards with her, including Top New Artist, Top R&B Artist, Top R&B Album for Hot Pink and Top R&B Song for "Say So," via E! News. Last night marked her the receival her very first Billboard Awards, which explains why she was so taken aback by the weight of the trophies, saying "Wow! It's heavy," upon presentation.
But while her career as a solo artist has absolutely flourished, she has equally made moves to incorporate some pretty epic collaborations into her work that have made her even more popular. Some of her musical mashups include Ariana Grande, Saweetie, and SZA, who also joined in during her BBMA performance, (via Billboard). But it's this artist, that she's worked with in the past and will be collaborating with again, that fans are going crazy for.
Doja Cat and The Weeknd will be collaborating on Doja's next album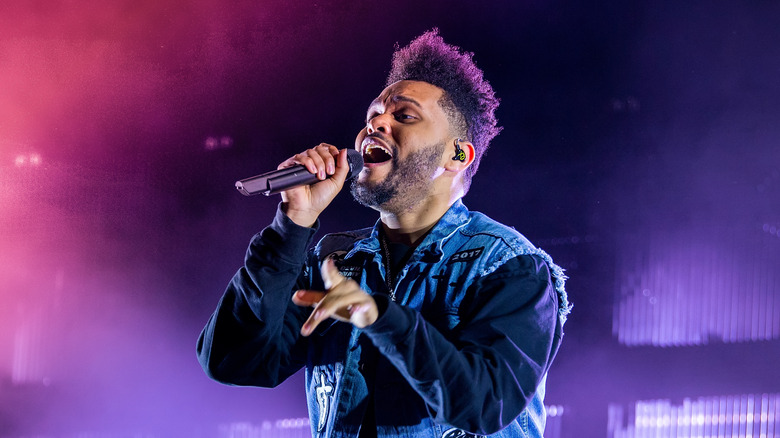 Shutterstock
It's no wonder that Doja Cat wanted the chance to work with The Weeknd on another song, as he has a hugely successful career himself. At the Billboard Music Awards, he went home with 10 of the 16 awards he was nominated for, beating out Drake, Juice WRLD, Pop Smoke, and even Taylor Swift, (via Billboard).
Doja Cat shook the world when she partnered up with The Weeknd in a remix of his song, "In Your Eyes," off his 2020 album, "After Hours." The two are working hard to shake things up yet again with another musical collaboration, only this time it'll be on Doja's album "Planet Her." Sources tease that the new album will be dropping summer 2021 and will contain the musical duo's newest bop, "You Right," (via iHeart).
In an interview with E! News, Doja revealed that the process of working with The Weeknd went differently to how she had expected it to. "We played [The Weeknd] one song and we thought it was the perfect song, but it ended up not working," she explained. But allegedly, after The Weeknd heard a different song on the album, which would end up being "You Right."
Doja Cat and The Weeknd are each other's' biggest fans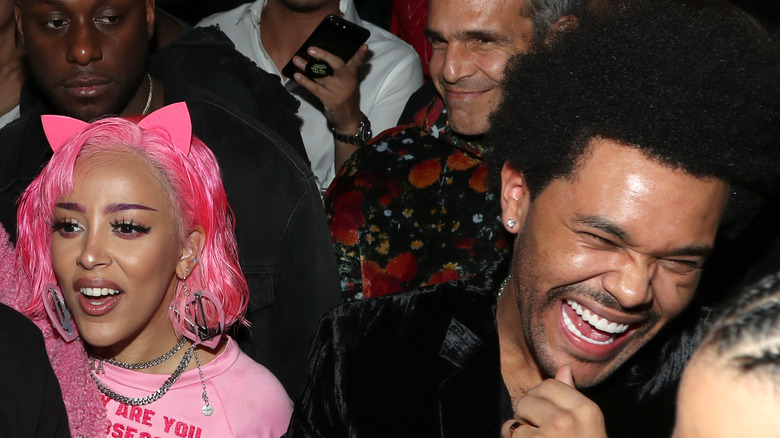 Jerritt Clark/Getty Images
"He was obsessed with it," Doja said of The Weeknd's first impression of the song, per People. "It had already been finished with two verses but he was obsessed with it and that's kind of all I wanted was a very good reaction. It's a beautiful, beautiful song."
The Weeknd confirmed the collab with Doja Cat, and even described the song to iHeart as being "steamy." What makes their work together so effective, despite their respective incredible talent, is how they're just as fond of one another as fans appear to be of them. "Doja is a star, and has created a unique universe you just want to lose yourself in," The Weekend gushed, via iHeart. "She's got such drive and vast creative vision that we will be seeing her impact for a very long time to come."
And indeed, Doja knew that The Weeknd is exactly who she wanted to make an appearance on her next album, despite not really even having a plan for their collaboration.