The Celebrity Miley Cyrus Wants To Kiss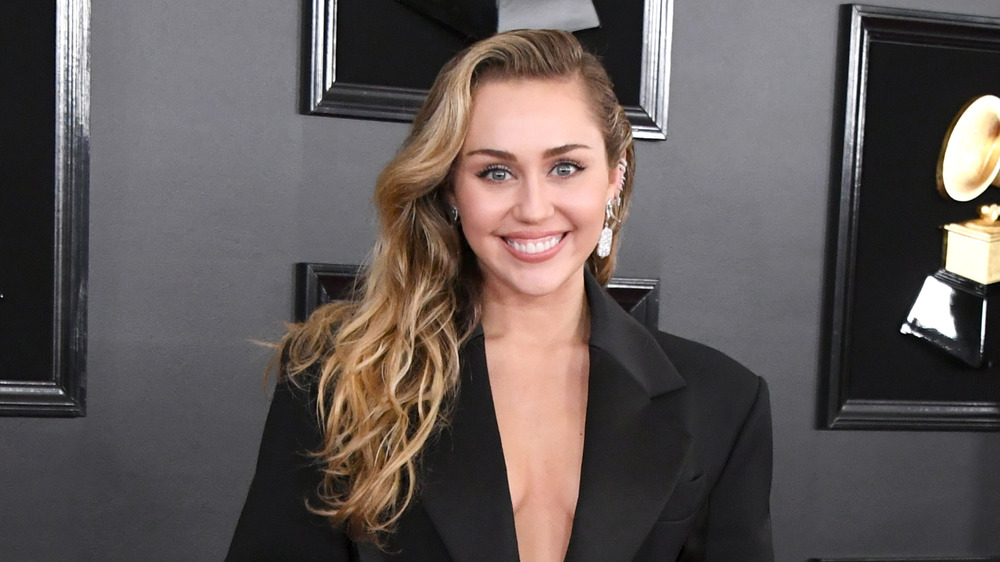 Jon Kopaloff/Getty Images
Miley Cyrus wears her heart on her sleeve, whether she's opening up about her devastating divorce or defending the relationship that followed it. It's been a rough few years, romance-wise, for the Tennessee native with her short dalliance with Cody Simpson fizzling before it could truly sizzle. Most recently, Cyrus cavorted with fellow pop star Dua Lipa in the video for their duet "Prisoner," but the two ladies are just friends — even though they'd definitely make a hot couple IRL. 
During a recent chat with Joe Rogan, the singer-songwriter revealed that she's looking for a deeper connection with her next love interest. Cyrus also argued, "I don't need a man or a woman that's going to take care of me. I can take care of me 'cause I've got money, I've got all the things that I need to take care of myself. I need them to be able to take care of them." Although the "Midnight Sky" hit-maker isn't looking for anything right now, she does have her eye on someone very special.
Miley Cyrus thinks Harry Styles might be the one for her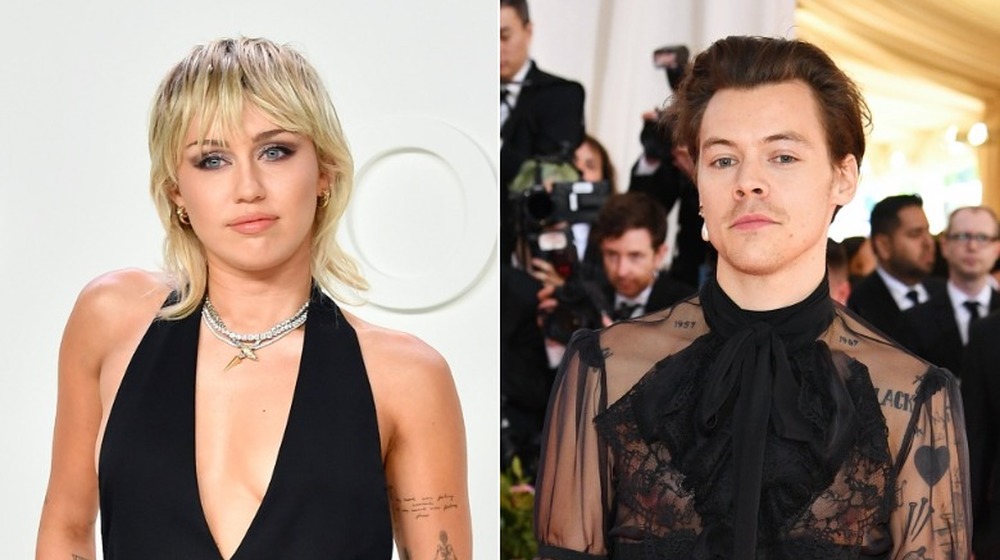 Cyrus was taking part in a virtual interview with the UK's Heart Radio that was predominantly Christmas-themed, answering questions ranging from her favorite thing about the holidays (family) to whether she prefers to give or receive gifts (give). The quick-fire round of questions landed on whether she'd rather kiss Dua Lipa or Cardi B under the mistletoe, with Cyrus reasoning the Bronx rapper made more sense because technically she's already kissed Lipa. When the choice between Justin Bieber or Harry Styles was raised, true to form the Hannah Montana icon answered without skipping a beat, "Harry, that's easy." 
Cyrus explained, "Justin Bieber I've known way too long, it's like family. Harry Styles, he's looking really good," before winking at the camera. She elaborated, "I'm into the fishnets," referencing the British singer's penchant for androgynous getups. Taking it even further, Cyrus reasoned that the two have similar taste so in clothing so, "sharing a closet, sharing a life together, it just makes sense."  Sharing a clip from the interview on Twitter, Heart Radio said what every woman in the world was thinking while watching it; "Get in line @mileycyrus, you're not the only one who wants to snog @harry_styles!!!"