The Truth About The Property Brothers' First Job As Entrepreneurs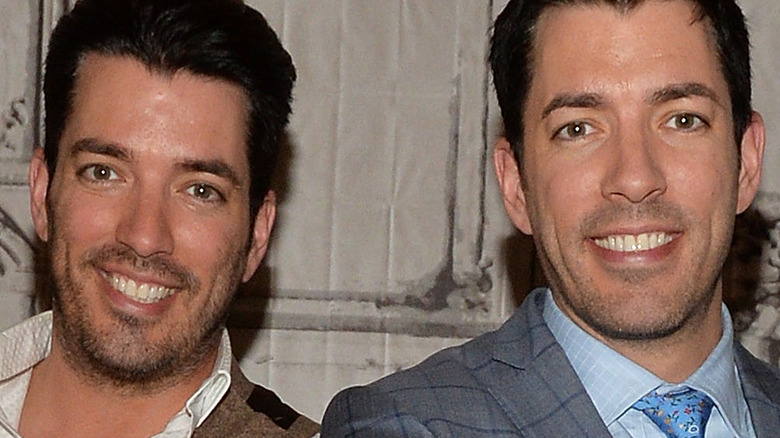 Slaven Vlasic/Getty Images
Most HGTV shows feature sweet married couples as their co-hosts, but "Property Brothers" breaks the mold in a big way with a couple adult twin brothers from Canada, both of whom have harbored dreams of stardom for most of their lives. Drew and Jonathan Scott were simply meant to be on television, whether they were acting, practicing magic, or, as it's turned out, renovating houses. Suffice to say, the Scotts make a helluva team. Aside from their own series, they've featured in several successful spinoffs, including "Brother Vs. Brother," "Property Brothers: At Home," and "Celebrity IOU." During an interview on WGN Radio, Jonathan explained the two work so well together because "we have a no B.S. policy." 
He advised that if either of them is annoyed about something they bring it up immediately rather than letting it fester (via Cinema Blend). The reality star acknowledged, "We have our disagreements, we do have our arguments, but we also recognize each other's strengths and weaknesses, and it just works." Likewise, not taking themselves too seriously and always striving to have a good time no matter what they're doing helps enormously. As Jonathan admitted, "We laugh all day, and I'm amazed we get any work done." He opined that their energy comes through onscreen, but it also keeps them "humble." As it turns out, the Scotts have had plenty of practice because they started working together real young.
Drew and Jonathan Scott owned their first business at 7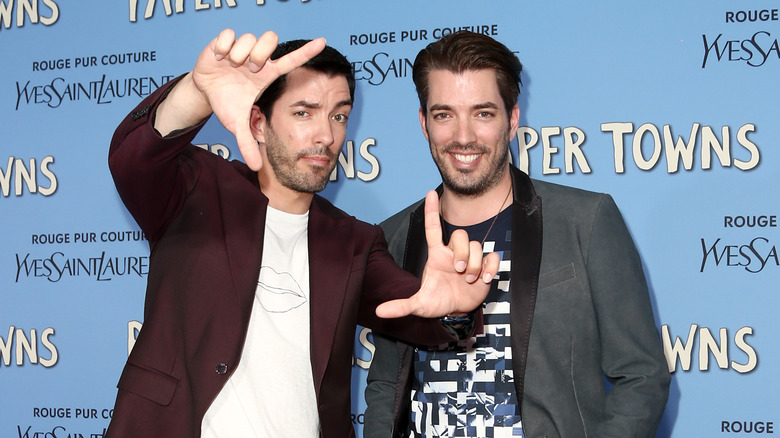 Shutterstock
While speaking to WGN Radio, Jonathan Scott noted he and brother Drew "started our first business together at 7," (via Cinema Blend). The "Property Brothers" star wasn't being hyperbolic either, revealing to Glamour that their father made the boys find work. The Scotts advised, "our very first job was a company we started called JAM Enterprises [it was for Jon, Andrew, Mom] and we made those hangers that weave nylon around it and there's a little rose on it." The kid-company was hugely successful, too, with the reality stars confirming thousands were sold, ultimately leading them to join forces with a Japanese woman "who owned a bunch of American paraphernalia stores" and "bought them by the crates!"
The "Property Brothers" hosts learned the value of hard work from birth, confirming in an interview with CBC that they grew up on a ranch, where nobody opts out of the chores. Drew noted, "You're out there feeding the animals, taking care of the land. You get an appreciation for the environment and the livestock." They were encouraged to get jobs outside of the home "so that we could learn work ethic from someone other than our parents."
Evidently, it was the right move because the Scotts bought their first investment property straight out of high school, for a down payment of just $250. The rest is HGTV history. Nowadays, Drew and Jonathan are likely glad they were pushed to start so young.