Nearly 35% Of People Say This Type Of Sandal Is Their Favorite Summer Style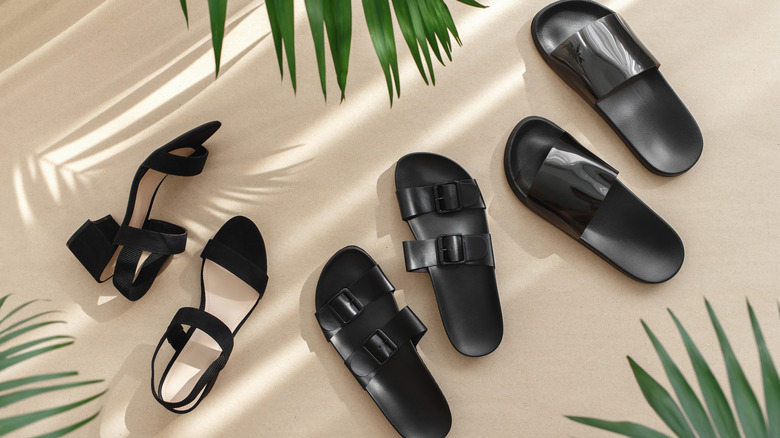 Nesolenaya Alexandra/Shutterstock
Summer 2022 has had many names, from hot girl summer to hot vax summer, and even feral girl summer had a moment. Whatever we're calling it these days, this summer we are ready to party. Whether you're attending a summer concert series in the park or meeting up with your besties for a beach bonfire, you need the perfect pair of shoes that will keep your feet protected and supported while keeping you cool in the rising summer temps.
Sandals have been trendy since the times of ancient Greeks, Romans, and Egyptians. According to Brittanica, sandals were believed to be the Greek Gods' shoe of choice, Hermes, the god of trade and travelers, even accessorized the sides of his sandals with wings.
Nowadays, everyone can sport a sandal when it's too hot for tennis shoes, or when you want to show off your new pedicure. According to Fashionista, sandals are one of the five essential shoe styles you'll ever need to buy. Even celebrities and influencers have been spotted in a strappy sandal on the red carpet or a casual slide while running errands.
But with all the different styles of sandals available today, we wondered which ones people are sliding on most often this season before braving the heat. A survey conducted by The List asked 573 people, "Which is your favorite style of sandal?" The results have us checking our shoe size as we fill up our shopping cart with this trendy summer shoe.
Do you have a pair of these adorable sandals in the back of your closet?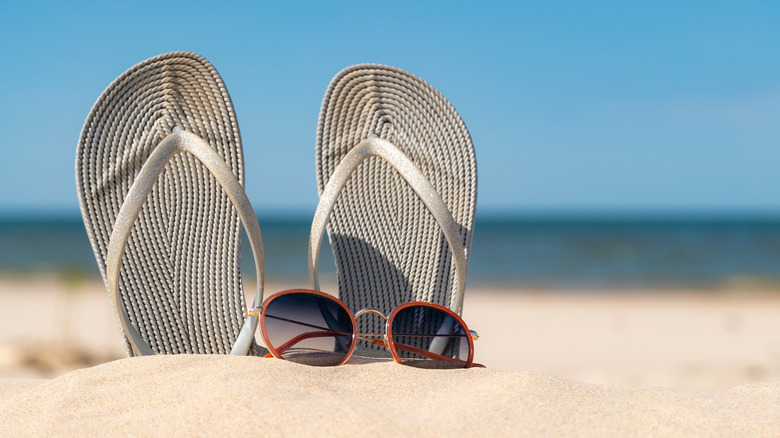 Ja Crispy/Shutterstock
According to The List's survey, the shoe flying off the shelves this summer is: flip flops! The lightweight and versatile shoe earned the top spot with 34.21% of the overall vote. Sometimes referred to as "slides," this style of sandal is usually crafted from a vibrant plastic or rubber, dividing the toes for a sturdy hold as you walk through your day (Via Footwear News). While flip-flops may not be credited as the most luxurious sandal on the market, the comfort and security they provide for your feet on hot summer days make them the top choice.
In second place with 30.02% of the vote was the casual and flat sandal, another classic style anyone can pull off with straps that cover the top of your foot to provide support and comfort. Tied for 3rd place are dressy heeled sandals and Birkenstocks. Around 11.34% prefer the stylish lift a strappy sandal with a heel provides, while another 11.34% enjoy the comfort and style of a flat Birkenstock that forms to your foot as you wear it. Wedges, a more supportive heeled sandal sometimes called espadrilles, earned 9.25%, while the once popular gladiator sandal trailed behind with only 3.84% of the overall vote.
Keep your feet happy and healthy with these sandal tips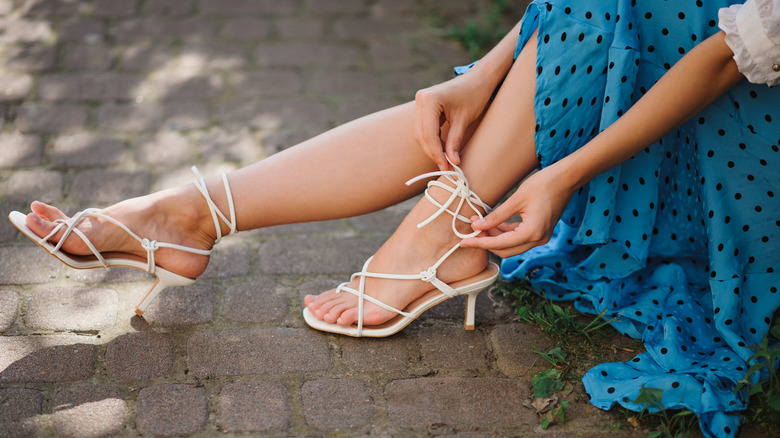 Victoria Chudinova/Shutterstock
A reliable pair of sandals will support you all summer long, and there are so many ways to style your favorite shoe. Grab the fan favorite flip-flops and pair them with your favorite yellow bikini and a knit cover-up before you head to the pool, and don't forget to put on sunscreen! A cute dressy heeled sandal is the perfect accessory to any vibrant sundress for your midday picnics. Dress down for your next date night in with a sturdy and fashionable Birkenstock, or show off your walking conversation piece as you casually bring back the Y2K platform flip-flops.
Not only are sandals super cute, but they can actually be good for your feet — open-toed shoes allow your feet to breathe and prevent bacteria build-up and ingrown toenails that could totally ruin your night (via View The Vibe). But be wary of wearing your sandals all day: Vogue warns that the frictions from the stiff leather soles can cause seriously painful blisters, especially when you're rocking a brand new pair of shoes. To avoid summertime blisters, dermatologist Alicia Barba of Barba Dermatology recommends breaking in your shoes slowly before a long journey, moisturizing your feet daily, and investing in blister cushions and bandages when the discomfort does occur.
Whether you're thriving in your hot girl summer era or you are counting down the days to falling leaves and Pumpkin Spice Lattes, sandals are the perfect fashionable shoe to strap on for the hot months ahead.